{"title":"Cirque du Soleil unveils an art garden | Art Public Montr\u00e9al","thisUrl":"https:\/\/artpublicmontreal.ca\/en\/2017\/06\/cirque-du-soleil-unveils-an-art-garden\/","body_class":"post-template-default single single-post postid-63403 single-format-standard apm lang-en apm-full-js nav-env-classic","query_hud":null,"active_filter":null,"alternate_language_url":"https:\/\/artpublicmontreal.ca\/2017\/06\/le-cirque-du-soleil-inaugure-son-jardin-doeuvres-dart\/","clear_filter_collection":"clear","clear_filter_tour":"clear","data_attributes":{"data-view-type":"post"},"filter_root_url":"\/collection\/"}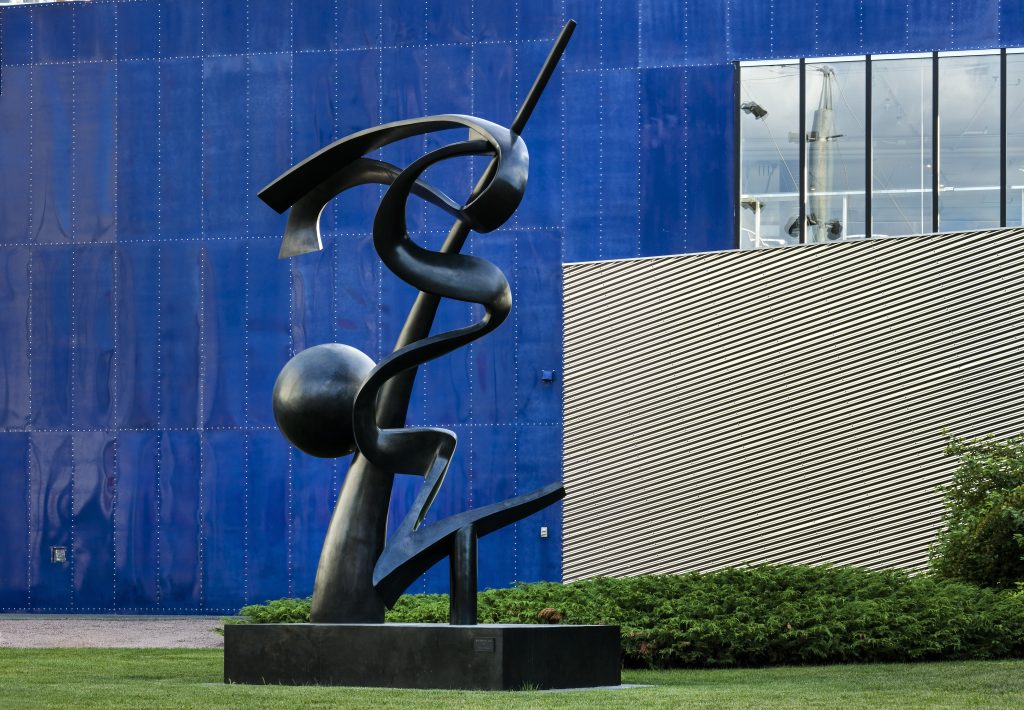 Cirque du Soleil unveils an art garden
June 7th 2017
Art public Montréal is proud to announce its partnership with the City of Circus Arts to showcase public works acquired by Cirque du Soleil, the National Circus School and TOHU.
Cirque du Soleil – Montréal, June 7th 2017 – Today, to mark the 20th anniversary of its involvement in the St-Michel district, Cirque du Soleil inaugurated an art garden, in the presence of its President and Chief Executive Officer, Daniel Lamarre, its founder, Guy Laliberté, and Montreal Mayor Denis Coderre. Offered as a gift for Montreal's 375th anniversary, the garden presents 16 major works of art. The project was born out of Cirque du Soleil and Guy Laliberté's desire to establish art in public spaces for the benefit of the surrounding community.
The flagship pieces of the new landscape design, which features a vegetable garden and a labyrinth devised by Cirque du Soleil employees, include Quebec artworks such as Armand Vaillancourt's imposing L'Enchantement and the remarkable sculptures Dans le jardin du roi heureux, by Glen Lemesurier, and La Contorsionniste, by Philippe Allard. Creations by Catherine Sylvain, Andy Goldsworthy, Richard MacDonald, Anne-Sophie Morelle, Andrew Rogers, Jim Dine, Tom Doyle, Simon Gudgeon and Rolf Knie complete the art garden.
The 16 works of art were chosen from the Cirque du Soleil corporate collection, which includes nearly 1,000 pieces. Launched 20 years ago to support the artistic community, the collection focuses on young creators and reflects a variety of art forms, such as painting, photography and sculpture. The collection also promotes a work environment that stimulates openness and creativity through contact with the arts.
"Since creativity is at the core of Cirque du Soleil's DNA, it is important for us to build inspiring and stimulating work environments. Art opens the dialogue with employees, artists and creators, who contribute in their own way to the success of Cirque du Soleil. By making part of our collection accessible to the community, we want to highlight the work of artists and position ourselves as an agent of change. I encourage everyone in Montreal, and especially our neighbours in the St-Michel district, to come and explore our magnificent art garden," stated Daniel Lamarre.
Guided tours
Tours of the art garden are offered punctually. These visits provide exceptional access to the garden's private sector, including the iconic sculpture The Arch by British artist Andy Goldsworthy, the first work of Guy Laliberté's collection, as well as Richard MacDonald's Blind Faith, Heroic and Search of Enlightenment by Simon Gudgeon. The City of Circus Arts tour on the Art public Montréal website is an invitation to discover the works at Cirque du Soleil, the National Circus School, TOHU and the St-Michel Environmental Complex. Descriptions of the works of art and biographies of the artists can be found.
For more information : https://tohu.ca/en
20 years of involvement in St-Michel
Since the opening of its international headquarters in the St-Michel district in 1997, Cirque du Soleil has contributed to the rejuvenation of one of the most disadvantaged neighbourhoods in Montreal, with an investment of over $15 million. One of its local projects is the Arts Nomades program, which, to date, has benefited over 5,700 students in the neighbourhood's primary schools. This innovative educational approach aims to foster the acquisition of artistic, personal and social skills through circus arts, dance and visual arts workshops.The new art garden is a continuation of the company's efforts to develop and maintain solid ties with the community.
Cirque du Soleil
From a group of 20 street performers at its beginnings in 1984, Cirque du Soleil went on to reinvent the circus arts and become a global live entertainment leader. Headquartered in Montreal, the company has brought wonder and delight to over 180 million spectators in over 450 cities in some 60 countries on six continents. Cirque du Soleil has over 4,000 employees, including 1,300 artists, from nearly 50 different countries.
For more information about Cirque du Soleil, please go to  www.cirquedusoleil.com.
Information for the media:
Frédérique Gagnier
Cirque du Soleil
(514) 723-7646, poste 7496
frederique.gagnier@cirquedusoleil.com
Photo: Rhythms of life, Andrew Rogers. © Andrew Rogers –
Crédit photo : Cirque du Soleil Inc, Michel Dubreuil (2016)