{"title":"Dougherty's sculptures : odes to nature in the Botanical Garden | Art Public Montr\u00e9al","thisUrl":"https:\/\/artpublicmontreal.ca\/en\/2017\/07\/doughertys-sculptures-odes-to-nature-in-the-botanical-garden\/","body_class":"post-template-default single single-post postid-63763 single-format-standard apm lang-en apm-full-js nav-env-classic","query_hud":null,"active_filter":null,"alternate_language_url":"https:\/\/artpublicmontreal.ca\/2017\/07\/sculptures-jardin-botanique\/","clear_filter_collection":"clear","clear_filter_tour":"clear","data_attributes":{"data-view-type":"post"},"filter_root_url":"\/collection\/"}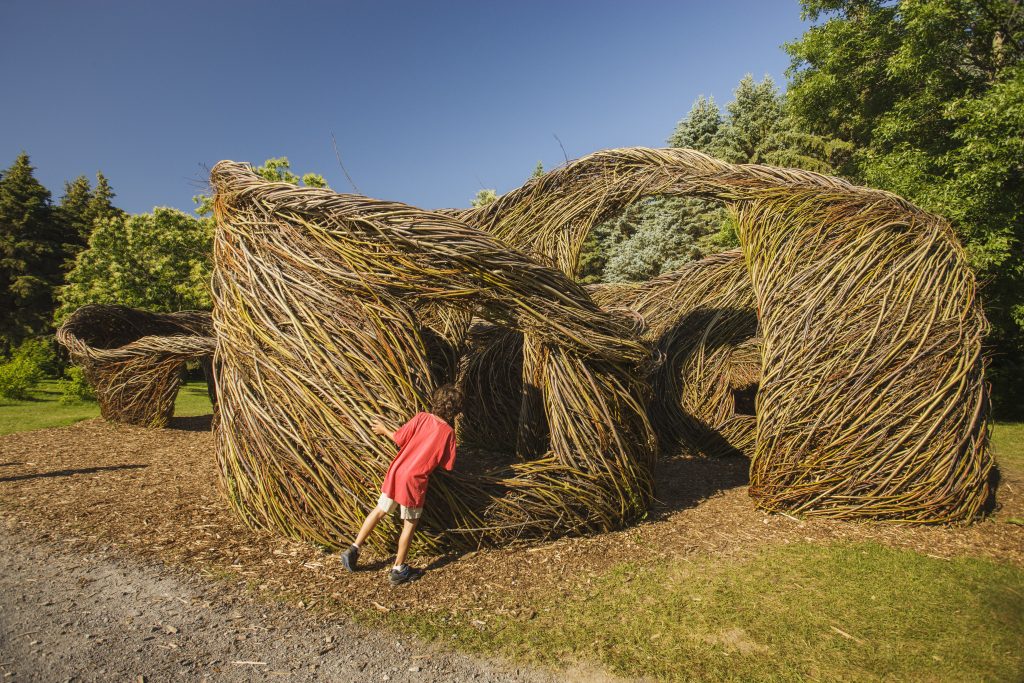 Dougherty's sculptures : odes to nature in the Botanical Garden
July 6th 2017
In the Botanical Garden Arboretum, land artist Patrick Dougherty creates in situ monumental pieces from willow branches.
Internationally renowned artist Patrick Dougherty invites audiences to discover trees from an artistic and creative angle. Inspired by the incomparable beauties of the Arboretum, the artist will be fashioning two signature pieces "live". A first composition, entitled Celtic Knot, is completed and is visible in the garden. The second sculpture is being created since July 3 and will be completed by Friday, July 21.
For the first time in his career, the artist will also be laying the groundwork for a third, collective piece that visitors ages 10 and up can help to create over the summer, from June 24 to September 4. There's something for younger visitors, too: they can find out how to weave willow branches and learn about the properties of this fascinating plant and how it can be used to decontaminate soil. It's sure to be a memorable natural experience!
The artist will be on hand and at work from 9 a.m. to 5 p.m., July 3 to 21 (except July 15 and 16). Do not miss this unique opportunity to learn from the artist and contribute to the creation of the participatory work.
Patrick Dougherty is an american land artist. Combining his carpentry skills with his love of nature, Patrick Dougherty began to learn more about primitive techniques of building and to experiment with tree saplings as construction material. His work quickly evolved from single pieces on conventional pedestals to monumental scale environmental works, which required saplings by the truckloads. Over the last thirty years, he has built over 275 of these site-specific, temporary works, and become internationally acclaimed. His sculpture has been seen worldwide—from Scotland to Japan to Brussels, and all over the United States.
For more information : Espace pour la vie, Monumental Dougherty