{"title":"Projection inspired by a masterpiece by Bruegel l\u2019Ancien | Art Public Montr\u00e9al","thisUrl":"https:\/\/artpublicmontreal.ca\/en\/2017\/10\/projection-inspired-by-a-masterpiece-by-bruegel-lancien\/","body_class":"post-template-default single single-post postid-64665 single-format-standard apm lang-en apm-full-js nav-env-classic","query_hud":null,"active_filter":null,"alternate_language_url":"https:\/\/artpublicmontreal.ca\/2017\/10\/videoprojection-dapres-une-toile-de-bruegel-lancien\/","clear_filter_collection":"clear","clear_filter_tour":"clear","data_attributes":{"data-view-type":"post"},"filter_root_url":"\/collection\/"}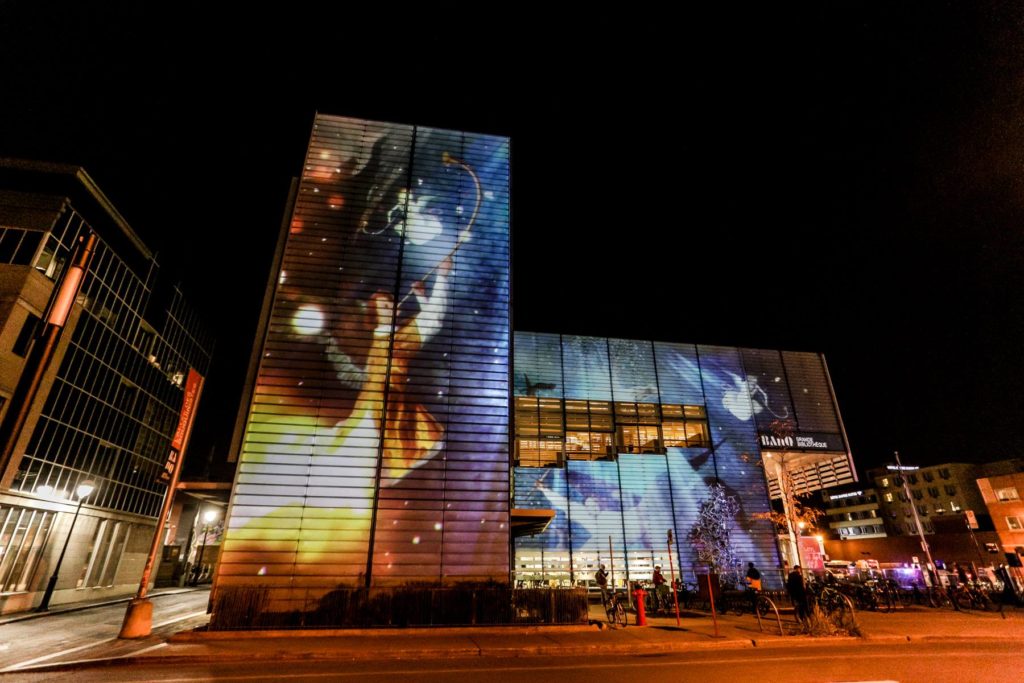 Projection inspired by a masterpiece by Bruegel l'Ancien
October 28th 2017
The facade of the Grande Bibliothèque comes alive with a monumental interactive video projection depicting The Fall of the Rebel Angels, a work by Pieter Bruegel the Elder.
Until November 12th, visitors can admire an adapted version of the canvas of the Flemish school painter, made in 1562. The original is kept at the Royal Museums of Fine Arts of Belgium, in Brussels. The Royal Museums of Fine Arts of Belgium launched this project jointly with the Google Cultural Institute in anticipation of the 450th anniversary of Bruegel's death, in 2019. The project brings together major international museums, many of which are European, around the focal figure of Bruegel the Elder. This innovative concept is the fruit of in-depth thinking on current transformations in the field of museology as it adapts to the digital era.
While the artist and his paintings are instantly recognisable worldwide, every composition also depicts a whole host of characters – some surprising, others familiar – and vignettes that provide the subtext of history, which are masterpieces worthy of exploration in their own right.
This project is a collaboration between the Royal Museums of Fine Arts of Belgium, the Quartier des Spectacles Partnership and the Grande Bibliothèque.
Façade of the Grande Bibliothèque, 475, boulevard De Maisonneuve Est
October 27th  –  November 12th
Everyday, 17h – 23h