{"title":"Silo No. 5 illuminated in Leonard Cohen\u2019s honour | Art Public Montr\u00e9al","thisUrl":"https:\/\/artpublicmontreal.ca\/en\/2017\/11\/silo-no-5-illuminated-in-leonard-cohens-honour\/","body_class":"post-template-default single single-post postid-64717 single-format-standard apm lang-en apm-full-js nav-env-classic","query_hud":null,"active_filter":null,"alternate_language_url":"https:\/\/artpublicmontreal.ca\/2017\/11\/le-silo-no-5-illumine-en-lhonneur-de-leonard-cohen\/","clear_filter_collection":"clear","clear_filter_tour":"clear","data_attributes":{"data-view-type":"post"},"filter_root_url":"\/collection\/"}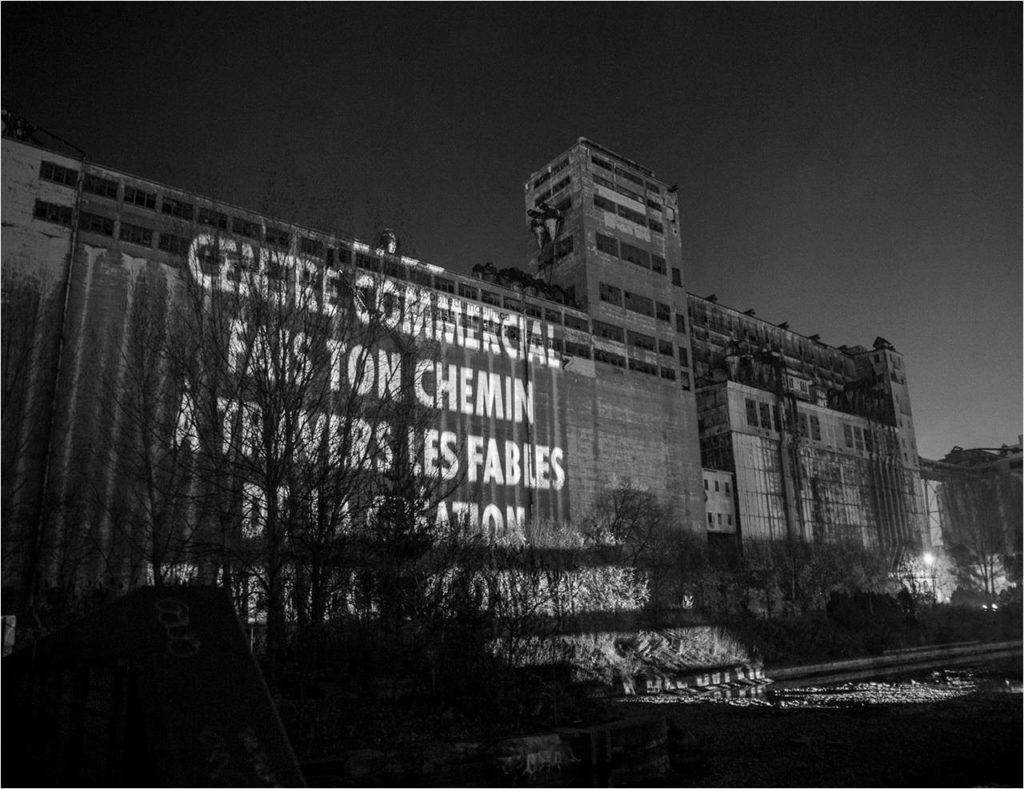 Silo No. 5 illuminated in Leonard Cohen's honour
November 6th 2017
On the first anniversary of Leonard Cohen's passing, the Musée d'art contemporain de Montréal invites Montreal and Leonard Cohen enthusiasts to come together at the foot of Silo No. 5 to commemorate the remarkable wordsmith.
The MAC will be inaugurating a silent, majestic installation by artist Jenny Holzer as part of its Leonard Cohen: Une brèche en toute chose / A Crack in Everything exhibition, which will open at the MAC on November 9, 2017. Presented by CBC/Radio‑Canada, the exhibition is part of the official program for Montreal's 375th anniversary celebrations.
The MAC has commissioned neo-conceptual American artist Jenny Holzer to create a piece consisting of a giant projection of select phrases from Cohen's poems, songs, and other writings—in both French and English. This unique and ephemeral work will be visible for five nights only, from 6 p.m. to 11 p.m., starting on November 7 and going until November 11.
It's unusual for the MAC to venture beyond its walls and take over an urban space to give Montrealers a one-of-a-kind, public, collective experience. It was important for us to organize a sizeable, free event for Montrealers on the occasion of Montreal's 375th anniversary. It is also a moment we wanted to offer anyone wanting to mark the first anniversary of Leonard Cohen's death. In this sense, Jenny Holzer's majestic piece is a heartfelt, creative and touching silent tribute to the poet who left us so recently."
— John Zeppetelli, Director and Chief Curator at the MAC, and co-curator of the Leonard Cohen: Une brèche en toute chose / A Crack in Everything exhibition.
Jenny Holzer has projected light onto buildings and landscapes since the early 1990s, creating large-scale, text-based installations, which seek to illuminate and reveal. Taking inspiration from the urban projections realized on the Castel Sant'Angelo in Rome, on the pyramid of the Louvre in Paris and on London's City Hall, Jenny Holzer revisits the fine line between the written word and the image, thus transforming the text into the object of observation. The integration of Cohen's writing into such large-scale work will also offer an alternative perspective on the author's original underlying meanings and messages. This creation will present a temporary tribute marked by a deep admiration for the Montreal poet on the occasion of the 1st anniversary of his death and the 375th anniversary of his hometown.
Click here for a clip of For Leonard Cohen
* Please note the real artwork will be silent.
Opening: Tuesday, November 7, from 6 p.m. to 11 p.m, Silo no. 5
Join us at the corner of McGill and de la Commune in Old Montréal.
To discover the artist's work: http://projects.jennyholzer.com/projections