{"title":"Moving Dunes in the Sculpture Garden of the Montreal Museum of Fine Arts | Art Public Montr\u00e9al","thisUrl":"https:\/\/artpublicmontreal.ca\/en\/2018\/06\/moving-dunes-in-the-sculpture-garden-of-the-montreal-museum-of-fine-arts\/","body_class":"post-template-default single single-post postid-65300 single-format-standard apm lang-en apm-full-js nav-env-classic","query_hud":null,"active_filter":null,"alternate_language_url":"https:\/\/artpublicmontreal.ca\/2018\/06\/des-dunes-emouvantes-dans-le-jardin-de-sculptures-du-musee-des-beaux-arts-de-montreal\/","clear_filter_collection":"clear","clear_filter_tour":"clear","data_attributes":{"data-view-type":"post"},"filter_root_url":"\/collection\/"}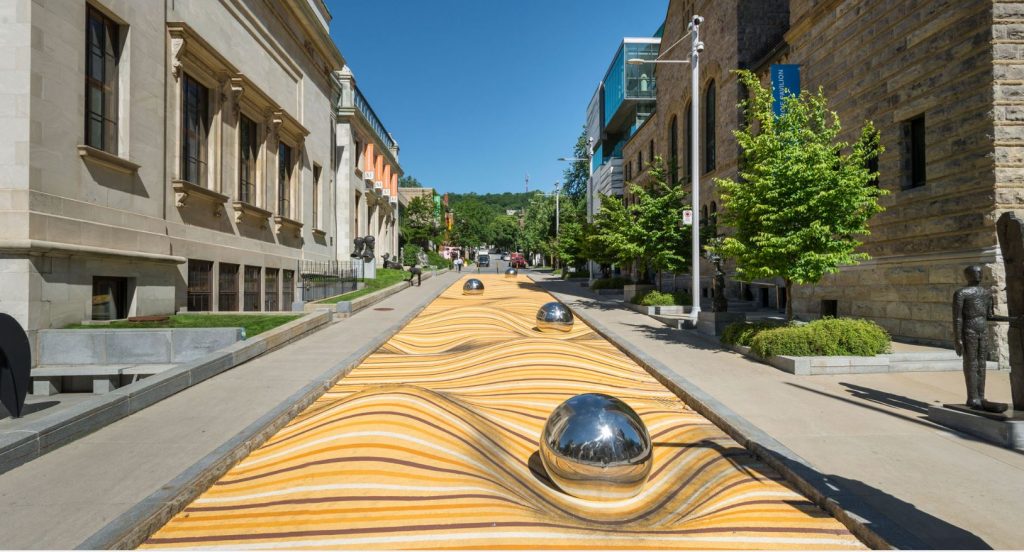 Moving Dunes in the Sculpture Garden of the Montreal Museum of Fine Arts
June 27th 2018
It is not a mirage: What you are seeing is Moving Dunes, the Montreal Museum of Fine Art's (MMFA) seventh annual transformation of Du Musée Avenue into a pedestrian street. This latest temporary installation is inspired by the MMFA's exhibition From Africa to the Americas: Face-to-face Picasso, Past and Present. In place until October 29, 2018, it will transport visitors into an off-kilter abstract geometric landscape. Moving Dunes was created by NÓS Architectes and produced in collaboration with MU. It was made possible thanks to the generous support of the Ville de Montréal – Ville-Marie Borough.
Moving Dunes
The presence of the dunes – motifs distorted by an illusion called anamorphosis – gives Du Musée Avenue an expressive dimension. "Through anamorphosis, we wanted to add virtual amplitude to Du Musée Avenue. This optical illusion creates a sense of imbalance and, in so doing, establishes a new relationship between the observer and his environment; a nod to the approach used by cubist painters inspired by non-Western art," explains Charles Laurence Proulx, architect at NÓS Architectes. All along the installation, the spheres reflect the Museum's various pavilions and their respectively unique architecture and history. With this clever illusion, NÓS throws into the question the singular point of view of modern pictures, often frozen in time and generic. In this installation, real and virtual come face to face, intermingle and awaken the senses. Moving Dunes is meant as a mirage in the heart of Montreal.
This pedestrian zone bordering the MMFA's Sculpture Garden – a hotspot for Montrealers and tourists alike – will be set up throughout the summer.
About NÓS Architecte
Founded in 2016 by Gil Hardy and Charles Laurence Proulx, NÓS is composed of a group of creators possessing a diverse and complementary array of skills, and for whom each project presents an opportunity to invent a unique living environment that coincides with its users. Each request, regardless of scale, is approached as a new challenge that is met with a bold, realistic proposal that integrates the particular details of the given environment. NÓS embodies the spirit of today's generation. Incorporating both art and architecture, it sensibly materializes locales and spaces in keeping with its pluralistic identity. As such, just one year after it launched, NÓS already boasts an enviable portfolio. The team has carried out such large-scale projects as the Parc Union condominium complex in Montreal and numerous art and event installations, such as the major setting of Montreal's "Station FMR." n-o-s.ca
Image: Dunes [é]mouvantes, 2018, NÓS Architectes en collaboration avec MU
Photo: MBAM, Denis Farley