{"title":"45 29 40 + 8 73 37 30 + 8 | Art Public Montr\u00e9al","thisUrl":"https:\/\/artpublicmontreal.ca\/en\/oeuvre\/45-29-40-8-73-37-30-8\/","body_class":"apm_artwork-template-default single single-apm_artwork postid-63971 apm lang-en apm-full-js nav-env-filters","query_hud":null,"active_filter":null,"alternate_language_url":"https:\/\/artpublicmontreal.ca\/oeuvre\/45-29-40-8-73-37-30-8\/","clear_filter_collection":0,"clear_filter_tour":"clear","data_attributes":{"data-view-type":"apm_artwork"},"filter_root_url":"\/collection\/","artworkNav":false,"mapMarkers":[{"id":63971,"slug":"45-29-40-8-73-37-30-8","title":"45 29 40 + 8 73 37 30 + 8","permalink":"https:\/\/artpublicmontreal.ca\/en\/oeuvre\/45-29-40-8-73-37-30-8\/","year":"2005","loc":{"lat":"45.49648073431878","long":"-73.62746596375428"},"artist_names":"<span>Mich\u00e8le<\/span> <strong>Lapointe<\/strong>","thumb":"https:\/\/artpublicmontreal.ca\/wp-content\/uploads\/2017\/07\/7-1-254-1-Lapointe-Simonne-Monet-150x150.jpg","infoBox":false,"cat_color":"#e50f09","env":"outdoor","singleArtwork":true}]}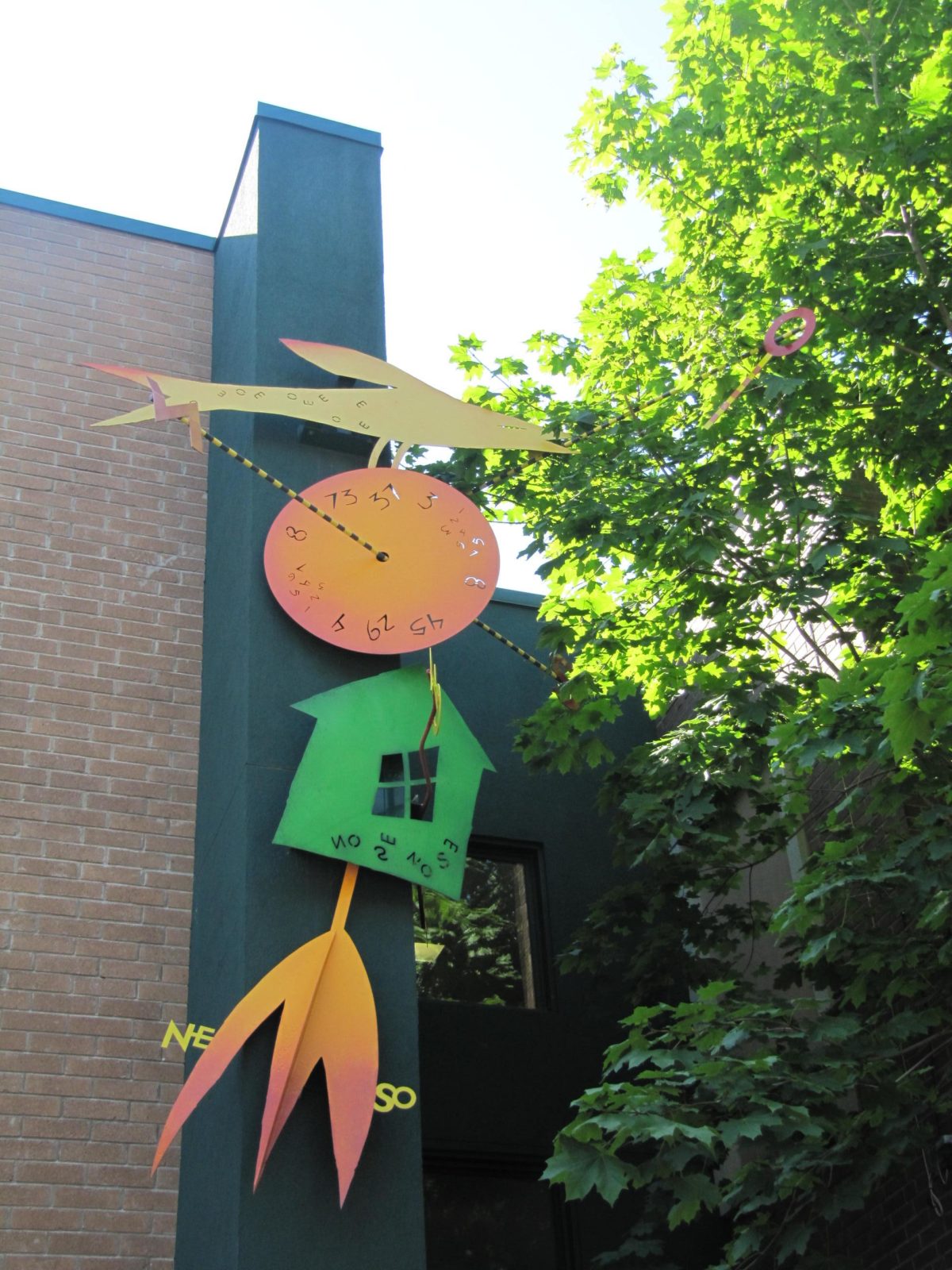 © Michèle Lapointe (2017) -
Crédit photo : Chaire de recherche du Canada en patrimoine bâti (2011)
45 29 40 + 8 73 37 30 + 8
2005
Michèle Lapointe lives and works in Montréal. She has created about a dozen public art pieces in the Montréal region since 1986. They include sculptures and murals for schools, CLSCs and cultural spaces. In addition to public art, the artist pursues a career both in Québec and internationally, exhibiting solo and as part of a group in celebrated spaces. Her work is part of major museum collections, including the Musée national des beaux-arts du Québec, the Montreal Museum of Fine Arts and the Musée du verre de Sars-Poteries en France. She also teaches at the Espace VERRE school-studio, which offers college-level education in the crafts, specializing in glasswork.
Read more
Details
Acquisition mode
Politique d'intégration des arts à l'architecture et à l'environnement, Government of Quebec
Materials
anodized aluminum, epoxy paint
Overall size
350 x 220 x 240 cm
Technique(s)
cut, painted
Location

Location
Location
École Simonne-Monet
Adress
3850, avenue Dupuis, Montréal, Qc H3T 1E6
Artwork description
The 45 29 40 + 8 73 37 30 + 8 wall sculpture symbolizes a wind rose. It shows the four cardinal points and the latitude and longitude position of the École Primaire Simonne-Monet. This reference to the geographical location of the school reinforces the connection between the art and the building on which it is located. Like a wind vane, in the past a wind rose was installed on top of buildings, a display of vernacular art in the public space. Similarly, with this piece the artist offers art, in this case contemporary, for all to see.