{"title":"Cache-cache - La chasse aux Totems | Art Public Montr\u00e9al","thisUrl":"https:\/\/artpublicmontreal.ca\/en\/oeuvre\/cache-cache-la-chasse-aux-totems\/","body_class":"apm_artwork-template-default single single-apm_artwork postid-65805 apm lang-en apm-full-js nav-env-filters","query_hud":null,"active_filter":null,"alternate_language_url":"https:\/\/artpublicmontreal.ca","clear_filter_collection":0,"clear_filter_tour":"clear","data_attributes":{"data-view-type":"apm_artwork"},"filter_root_url":"\/collection\/","artworkNav":false,"mapMarkers":[{"id":65805,"slug":"cache-cache-la-chasse-aux-totems","title":"Cache-cache - La chasse aux Totems","permalink":"https:\/\/artpublicmontreal.ca\/en\/oeuvre\/cache-cache-la-chasse-aux-totems\/","year":"2016","loc":{"lat":null,"long":null},"artist_names":"<span>Patrick<\/span> <strong>B\u00e9rub\u00e9<\/strong>","thumb":"https:\/\/artpublicmontreal.ca\/wp-content\/uploads\/2018\/08\/oiseau-rose-001-150x150.jpg","infoBox":false,"cat_color":"#e50f09","env":"indoor","singleArtwork":true}]}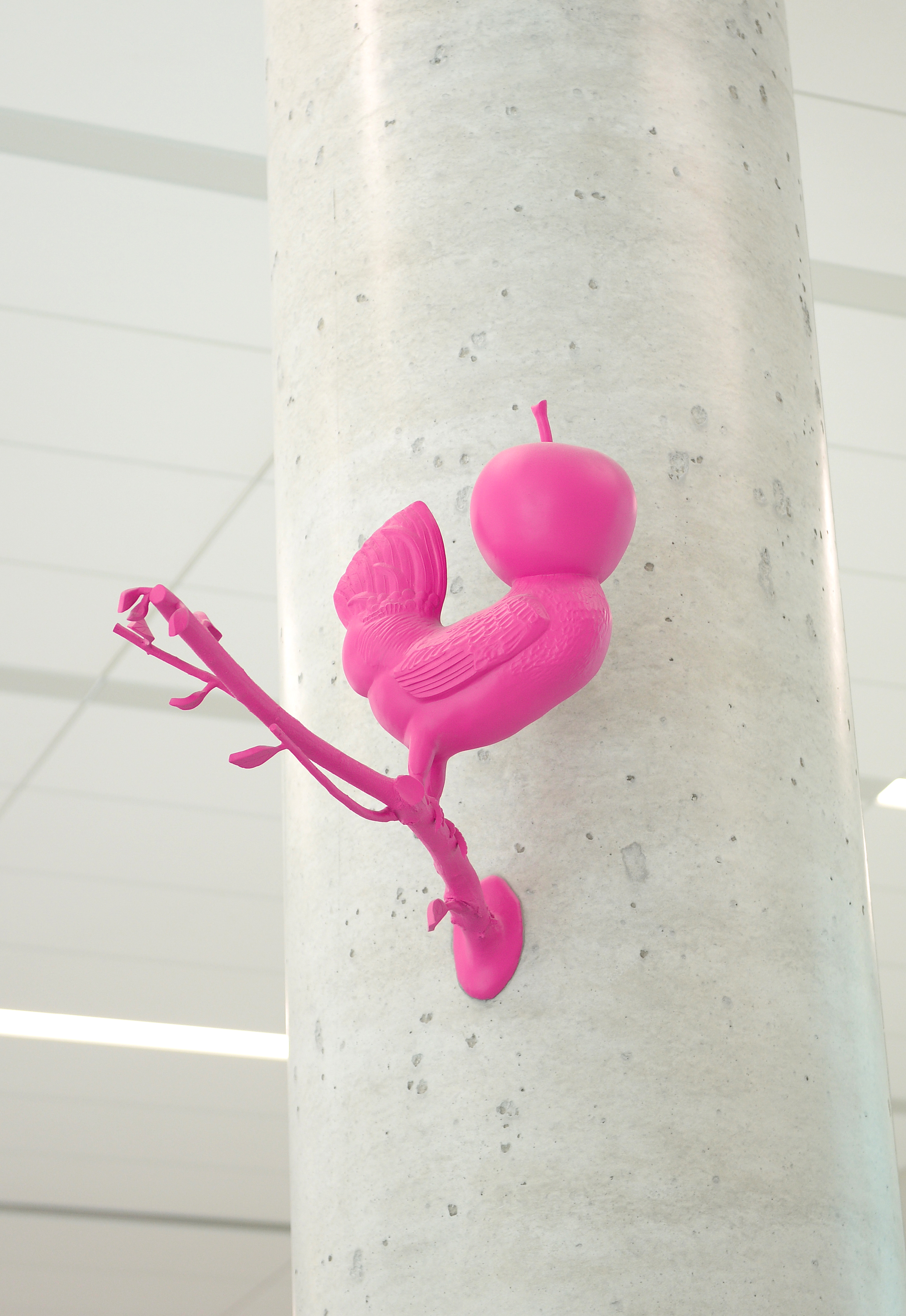 © Patrick Bérubé -
Crédit photo : CHU Sainte-Justine
Cache-cache – La chasse aux Totems
2016
Patrick Bérubé obtained a Master's Degree in Visual and Media Arts from Université du Québec à Montréal in 2005. A finalist for the Pierre Ayot Prize in 2010 and 2011, he has shown his work at a number of national and international exhibitions and major events. He gained recognition, notably, in 2010 at the exhibition "This is not a Casino" at Casino Luxembourg in Luxembourg City and at the Villa Merkel in Germany. In 2005, he won the jury prize at the 3rd Manifestation internationale d'art de Québec. He has also completed several artist residencies, including the Conseil des arts et des lettres du Québec in Spain in 2009, in Paris in 2007 and in Bordeaux in 2011. He held his very first solo exhibition in New York City in January 2013. Patrick Bérubé is an active member of the Clark Gallery and a founding member of the Collectif Pique-Nique.  Since 2010, he has created three works integrating architecture. He works mainly in sculpture, installation and public intervention. Space and place are very important in his work, both in the creative process and in the work itself. He poses questions about our behaviours and reactions to different situations of powerlessness and vulnerability. By creating anomalies and discontinuities, Patrick Bérubé destabilizes, surprises and compels the passer-by to stop and ask questions about these irregularities.
Read more
Details
Acquisition mode
Politique d'intégration des arts à l'architecture et à l'environnement, Government of Quebec
Source mention
© Patrick Bérubé
Materials
aluminum, electrostatic paint
Technique(s)
cast, moulded, painted
Location

Location
Location
Centre Hospitalier Universitaire Sainte-Justine
Localization
Bloc 11 - Niveau A - 1 -4 -6 -7
Adress
3175 Chemin de la Côte-Sainte-Catherine, Montréal, H3T 1C5
Accessibility
9 a.m. to 5 p.m.
Artwork description
The sculptures represent different figures superimposed on one another. They are made up of geometric shapes, animals, objects and their related environment. Children and visitors will be invited to seek, identify or simply discover them by chance. They are colourful, and will be very visible and easy to recognize. These sculptures are primarily emblems, protectors or lucky charms. Visitors will enjoy exploring this fragmented work as they try to piece together all its parts.