{"title":"La femme-entonnoir | Art Public Montr\u00e9al","thisUrl":"https:\/\/artpublicmontreal.ca\/en\/oeuvre\/la-femme-entonnoir\/","body_class":"apm_artwork-template-default single single-apm_artwork postid-63172 apm lang-en apm-full-js nav-env-filters","query_hud":null,"active_filter":null,"alternate_language_url":"https:\/\/artpublicmontreal.ca\/oeuvre\/la-femme-entonnoir\/","clear_filter_collection":0,"clear_filter_tour":"clear","data_attributes":{"data-view-type":"apm_artwork"},"filter_root_url":"\/collection\/","artworkNav":false,"mapMarkers":[{"id":63172,"slug":"la-femme-entonnoir","title":"La femme-entonnoir","permalink":"https:\/\/artpublicmontreal.ca\/en\/oeuvre\/la-femme-entonnoir\/","year":"2017","loc":{"lat":"45.561773","long":"-73.616166"},"artist_names":"<span>Catherine<\/span> <strong>Sylvain<\/strong>","thumb":"https:\/\/artpublicmontreal.ca\/wp-content\/uploads\/2017\/04\/C_Sylvain_Entonnoir-150x150.jpg","infoBox":false,"cat_color":"#e50f09","env":"outdoor","singleArtwork":true}]}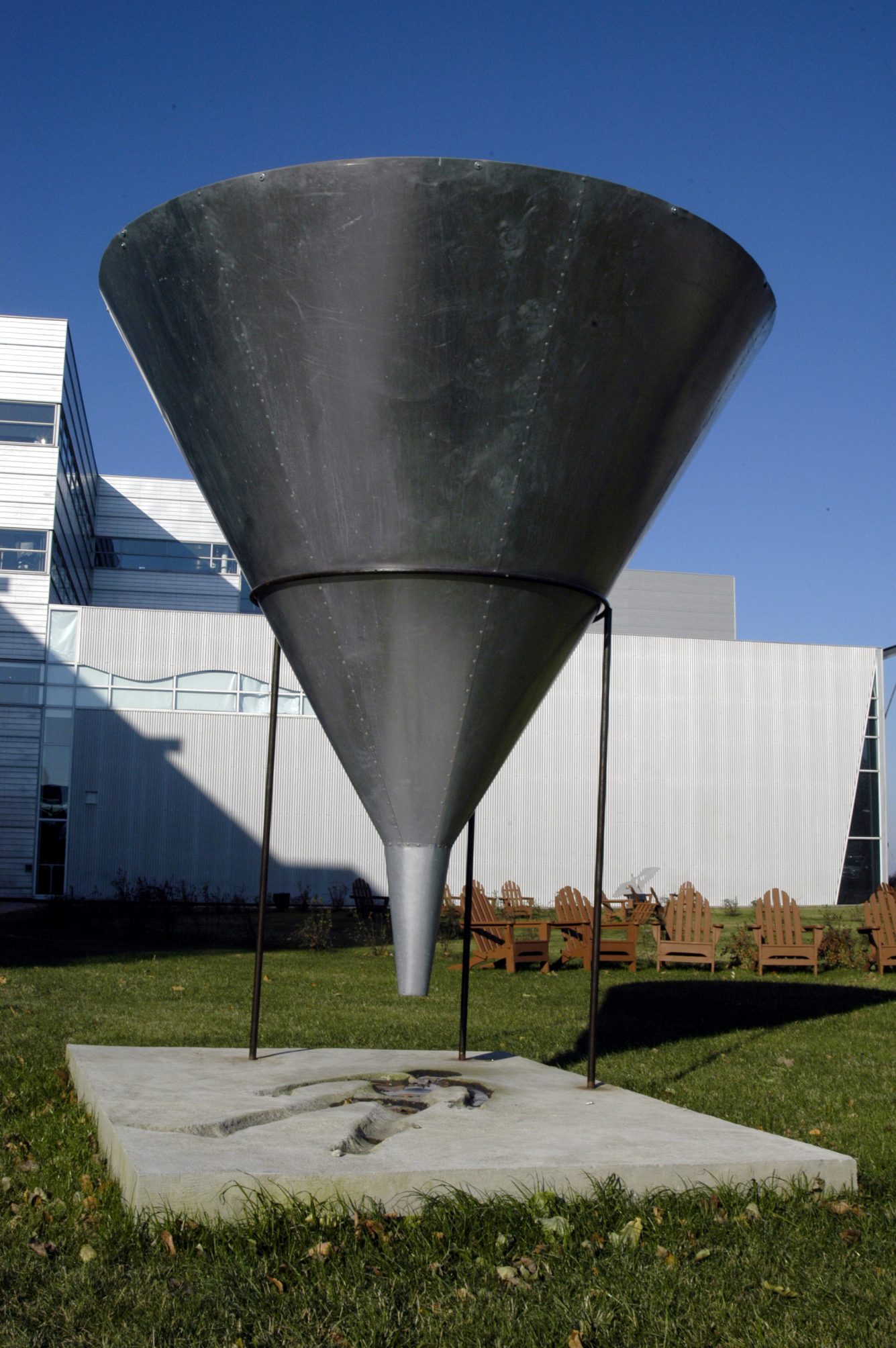 © Catherine Sylvain (2017) -
Crédit photo : Cirque du Soleil Inc., Caroline Bergeron
La femme-entonnoir
2017
Multidisciplinary artist Catherine Sylvain creates artworks that question our relationship with the world. Point d'origine is her third integration of art with architecture project, after those for the Grands-Vents elementary school, in Sainte-Marthe-sur-le-Lac, and the Memphrémagog regional sports centre, in Magog. Solo exhibitions include Galerie Horace (Sherbrooke, 2006), Expression, centre d'exposition de Saint-Hyacinthe (2005), and the CIRCA exhibition centre (Montréal, 2004). In group exhibitions, her work has appeared at the Liverpool Biennale (2010) and the Musée national des beaux-arts du Québec (2008). Educated at Université Laval (BFA, 1999) and Concordia University (MFA, 2003), Sylvain teaches visual arts at CÉGEP de Saint-Hyacinthe.
Read more
Details
Alternative title
Funnel-Woman
Acquisition mode
Purchase
Source mention
Work is currently on loan "La Balade pour la paix - Montreal Museum of Fine Arts," from April 17 to November 27, 2017
Materials
reinforced concrete, stainless steel
Overall size
2,80 x 2,40 x 1,70 m
Location

Location
Location
Cirque du Soleil's International Headquarters
Adress
8400, 2e avenue, Montréal H1Z 4M6
Artwork description
In the form of an object-sculpture, Catherine Sylvain created a gigantic funnel positioned above her silhouette, which is cast in a concrete slab. La femme-entonnoir was first presented at the Quebec Triennial for up-and-coming artists under the title "L'art qui fait boom" (2nd edition in 2003). Presented as a performance, the artist lies down with her ear to the funnel end to "soak up the noise of the world, letting it in, letting it shape the listener." When the artist is not at the exhibit, spectators are invited to listen themselves, to explore the world in a different way, to experience it as much through hearing as through seeing. In addition, the enormous difference of scale between the work and the human confronts spectators, reminding them of their place in the world. These aspects make La femme-entonnoir a work that challenges people to go beyond their fears in respect to sharing, interacting and communing with each other.
For Catherine Sylvain, the human identity is defined by the relationships we have with each other and our environment. By creating installations and object-sculptures that use and feature the body, the artist seeks to define human beings and encourage people to question how they appropriate space and inscribe their identities.
Touched by her work, the Cirque du Soleil acquired the sculpture in 2003 and installed it outside its head office in the Saint-Michel neighbourhood. In 2016, under the direction of the artist, the work was rebuilt with more sustainable materials to give it a longer life.