{"title":"L'ange de pierre | Art Public Montr\u00e9al","thisUrl":"https:\/\/artpublicmontreal.ca\/en\/oeuvre\/lange-de-pierre\/","body_class":"apm_artwork-template-default single single-apm_artwork postid-50315 apm lang-en apm-imported-item apm-full-js nav-env-filters","query_hud":null,"active_filter":null,"alternate_language_url":"https:\/\/artpublicmontreal.ca\/oeuvre\/lange-de-pierre\/","clear_filter_collection":0,"clear_filter_tour":"clear","data_attributes":{"data-view-type":"apm_artwork"},"filter_root_url":"\/collection\/","artworkNav":false,"mapMarkers":[{"id":50315,"slug":"lange-de-pierre","title":"L'ange de pierre","permalink":"https:\/\/artpublicmontreal.ca\/en\/oeuvre\/lange-de-pierre\/","year":"1964","loc":{"lat":"45.500421","long":"-73.593759"},"artist_names":"<span>Pierre<\/span> <strong>Szekely<\/strong>","thumb":"https:\/\/artpublicmontreal.ca\/wp-content\/uploads\/imported\/1901_5010-150x150.jpg","infoBox":false,"cat_color":"#e50f09","env":"outdoor","singleArtwork":true}]}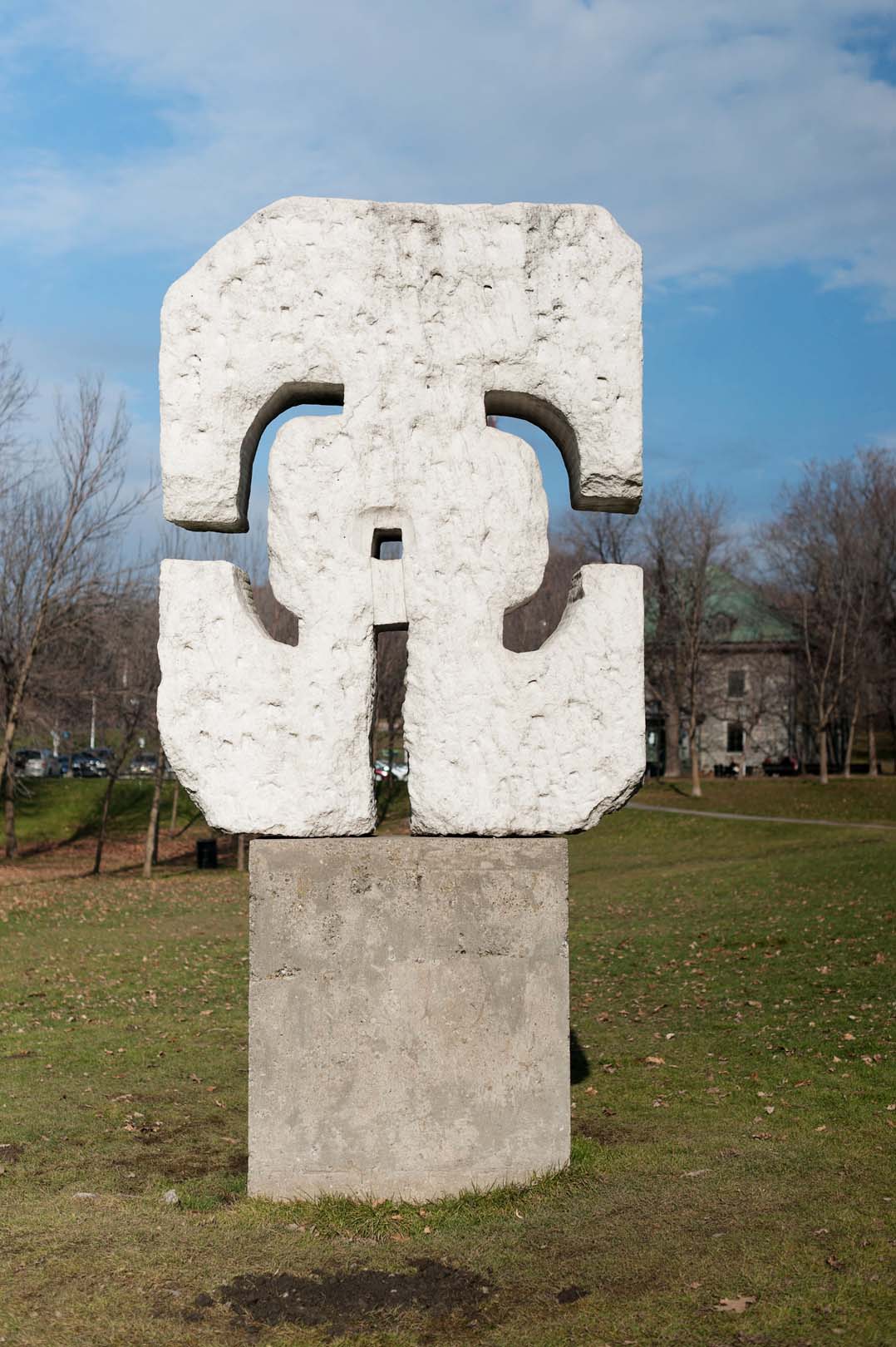 © Succession Pierre Szekely / SOCAN (2021) -
Crédit photo: David Giral, 2010
L'ange de pierre
1964
1923 - 2001
Pierre Székely (Budapest 1923–Paris 2001) studied drawing and printmaking in schools and studios in Budapest. He discovered sculpting in stone in a labour camp during the war, and he produced his first architectural sculptures when he arrived in France in 1946.
Over the years, Székely's playground sculptures for children and his technique of shaping granite with flame made him very famous. His artworks are found today, among other places, in Pécs, Hungary, where an outdoor museum is devoted to him.
Read more
Details
Acquisition mode
Purchase
Materials
concrete, marble
Overall size
208 x 152 cm
Location

Location
Location
Parc du Mont-Royal
Tour
27 Artworks

1h30min

Lac-aux-Castors Pavilion

Chalet du Mont-Royal
Artwork description
L'ange de pierre is a monolithic white-marble sculpture executed by Pierre Székely for Mount Royal Park. Its simple, unadorned form leaves visible the rectangular shape of the block of stone from which it was carved, and its main faces have two different textures. On one side, the traces of the artist's chisel are manifested in a very rough relief. On the other side, a smoother surface highlights the block's abstract silhouette. On both lateral surfaces of the artwork, rounded geometric forms are carved into the stone.
The artwork is extremely evocative. Whereas its title encourages us to see in the volume the simplified figure of an angel, such as one that we create by lying down in the snow and moving our arms and legs, its simplicity also evokes a sort of imaginary letter, a schematic grapheme belonging to an unknown civilization.
This rounded three-dimensional shape with a rectilinear depth is reminiscent of the curved lines that dominated Székely's pieces during the 1960s, found notably in his walk-in sculptures such as La cité des jeux in L'Haÿ-les-Roses (1958) and his architectural work Village de vacances Renouveau in Beg Meil, Brittany (1964–66).