{"title":"Le lieu de la pr\u00e9sence | Art Public Montr\u00e9al","thisUrl":"https:\/\/artpublicmontreal.ca\/en\/oeuvre\/le-lieu-de-la-presence\/","body_class":"apm_artwork-template-default single single-apm_artwork postid-53794 apm lang-en apm-full-js nav-env-filters","query_hud":null,"active_filter":null,"alternate_language_url":"https:\/\/artpublicmontreal.ca\/oeuvre\/le-lieu-de-la-presence\/","clear_filter_collection":0,"clear_filter_tour":"clear","data_attributes":{"data-view-type":"apm_artwork"},"filter_root_url":"\/collection\/","artworkNav":false,"mapMarkers":[{"id":53794,"slug":"le-lieu-de-la-presence","title":"Le lieu de la pr\u00e9sence","permalink":"https:\/\/artpublicmontreal.ca\/en\/oeuvre\/le-lieu-de-la-presence\/","year":"2005","loc":{"lat":"45.5154963517799","long":"-73.56297848760732"},"artist_names":"<span>Dominique<\/span> <strong>Blain<\/strong>","thumb":"https:\/\/artpublicmontreal.ca\/wp-content\/uploads\/2015\/09\/BANQ_Blain-150x150.jpg","infoBox":false,"cat_color":"#e50f09","env":"indoor","singleArtwork":true}]}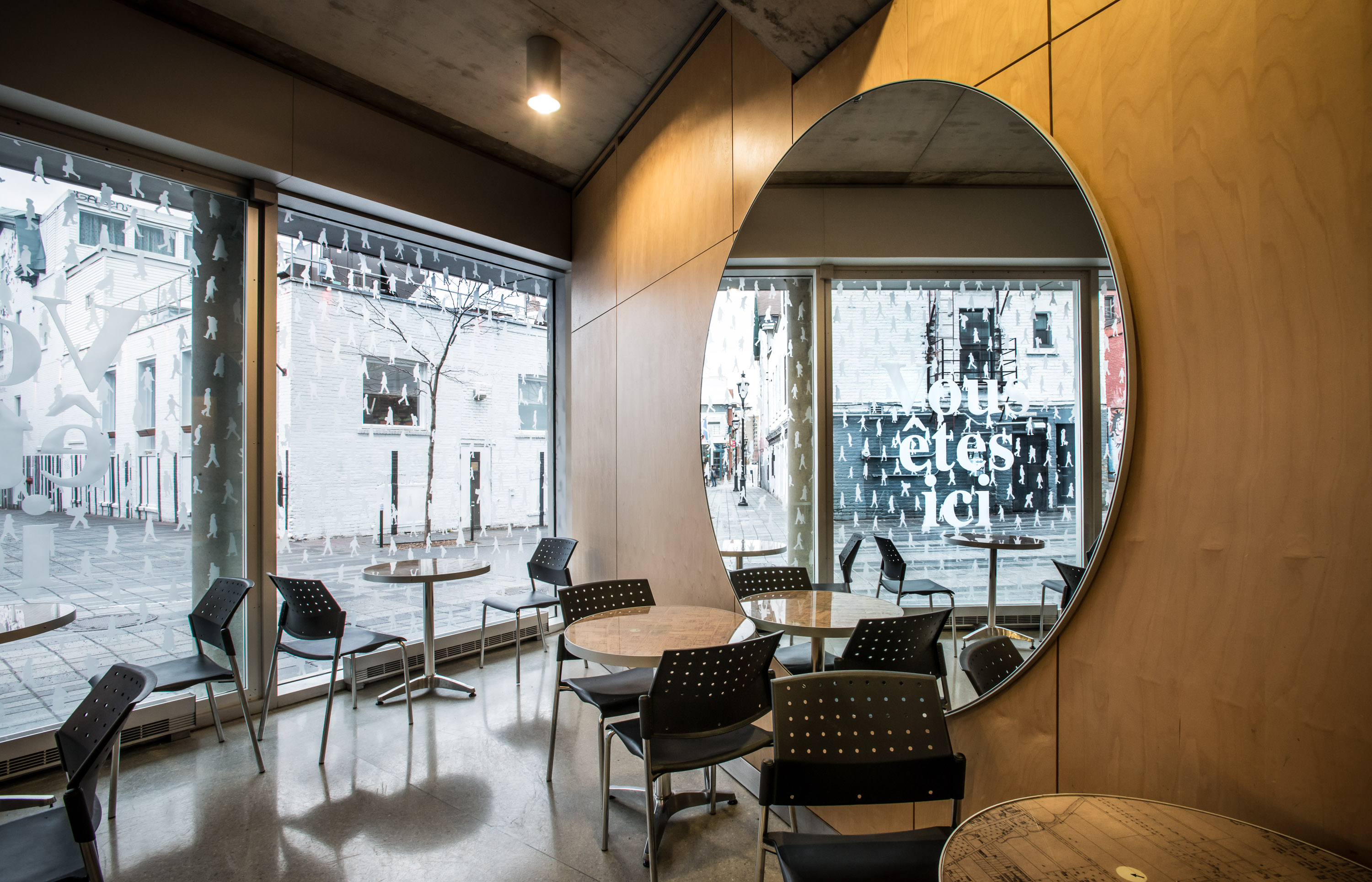 © Dominique Blain (2015) -
Crédit photo : Michel Legendre / Bibliothèques et Archives nationales du Québec, 2014
Le lieu de la présence
2005
Dominique Blain lives and works in Montréal. Her work has been shown in several cities in North America, Europe and Australia (Biennale of Sydney in 1992). Three major retrospectives of her work were organized at the Musée d'art contemporain de Montréal in 2004 (travelling to the Mackenzie Art Gallery in Regina and to the Nickle Galleries in Calgary) and at the Musée national des beaux-arts du Québec in 1998 (travelling to the Ansel Adams Center in San Francisco and to the Sala 1 in Rome). Also, in 1997-1998, the Arnolfini Centre for Contemporary Arts in Bristol organized an exhibition at five U.K. institutions in Belfast, London, Edinburgh, Newcastle and Cambridge. Many museums have shown her work: Portland Museum of Art, Los Angeles County Museum of Art, Frankfurter Kunstverein; Stedelijk Museum in Amsterdam; Louisiana Museum in Copenhagen; European Museum in Brussels; and Museum of Science and Industry in Manchester. In Québec, she participated in three editions of Les Cent jours d'art contemporain and exhibited her work at Galerie de l'UQAM, University of Sherbrooke art gallery, Musée régional de Rimouski and Musée d'art de Joliette.
Dominique Blain has produced a series of public art installations in Québec, among them: Théâtre du Nouveau Monde, Montréal (2011); Montréal Museum of Fine Arts, Bourgie Pavilion (2011); Adresse symphonique, Montréal (2011); Théâtre d'Aujourd'hui, Montréal (2010); Hôpital du Sacré-Coeur, Montréal (2009); Jewish General Hospital, Montréal (2008); Reford Gardens, Grand-Métis (2007); Quartier International, Montréal (2006); Bibliothèque et Archives nationales du Québec, Montréal (2005); Sinclair Laird School, Montréal (2000); Maison des écrivains, Montréal (1991); and at the headquarters of the Canadian Broadcasting Corporation, Toronto (1994).
Read more
Details
Alternative title
Vous êtes ici
Acquisition mode
Politique d'intégration des arts à l'architecture et à l'environnement, Government of Quebec
Materials
aluminum, frosted glass, light-emitting diode (LED), mirror, photograph
Location

Location
Location
Grande Bibliothèque
Localization
Rest area and facade on Savoie street
Adress
475, boulevard De Maisonneuve Est, Montréal (Québec) H2L 5C4
Accessibility
Access according to library opening hours
Tour
17 Artworks

1h

Berri-UQAM metro station

Saint-Laurent metro station
Artwork description
Images of people walking are engraved into three sections of the building's windows. The words "Vous êtes ici – You are here" are etched into the middle segment and light up at dusk with LED lights. Visible from the outside, these words can also be read from within because a mirror has been placed on the far wall. Reproductions of archival maps of the neighbourhood are displayed on table tops and tell us where our present position was at different points in history.
Source: Text by the artist