{"title":"Le lion de La Feuill\u00e9e | Art Public Montr\u00e9al","thisUrl":"https:\/\/artpublicmontreal.ca\/en\/oeuvre\/le-lion-de-la-feuillee\/","body_class":"apm_artwork-template-default single single-apm_artwork postid-49544 apm lang-en apm-imported-item apm-full-js nav-env-filters","query_hud":null,"active_filter":null,"alternate_language_url":"https:\/\/artpublicmontreal.ca\/oeuvre\/le-lion-de-la-feuillee\/","clear_filter_collection":0,"clear_filter_tour":"clear","data_attributes":{"data-view-type":"apm_artwork"},"filter_root_url":"\/collection\/","artworkNav":false,"mapMarkers":[{"id":49544,"slug":"le-lion-de-la-feuillee","title":"Le lion de La Feuill\u00e9e","permalink":"https:\/\/artpublicmontreal.ca\/en\/oeuvre\/le-lion-de-la-feuillee\/","year":"1831","loc":{"lat":"45.558796","long":"-73.555637"},"artist_names":"<span>Ren\u00e9<\/span> <strong>Dardel<\/strong>","thumb":"https:\/\/artpublicmontreal.ca\/wp-content\/uploads\/imported\/1526_4361-150x150.jpg","infoBox":false,"cat_color":"#e50f09","env":"outdoor","singleArtwork":true}]}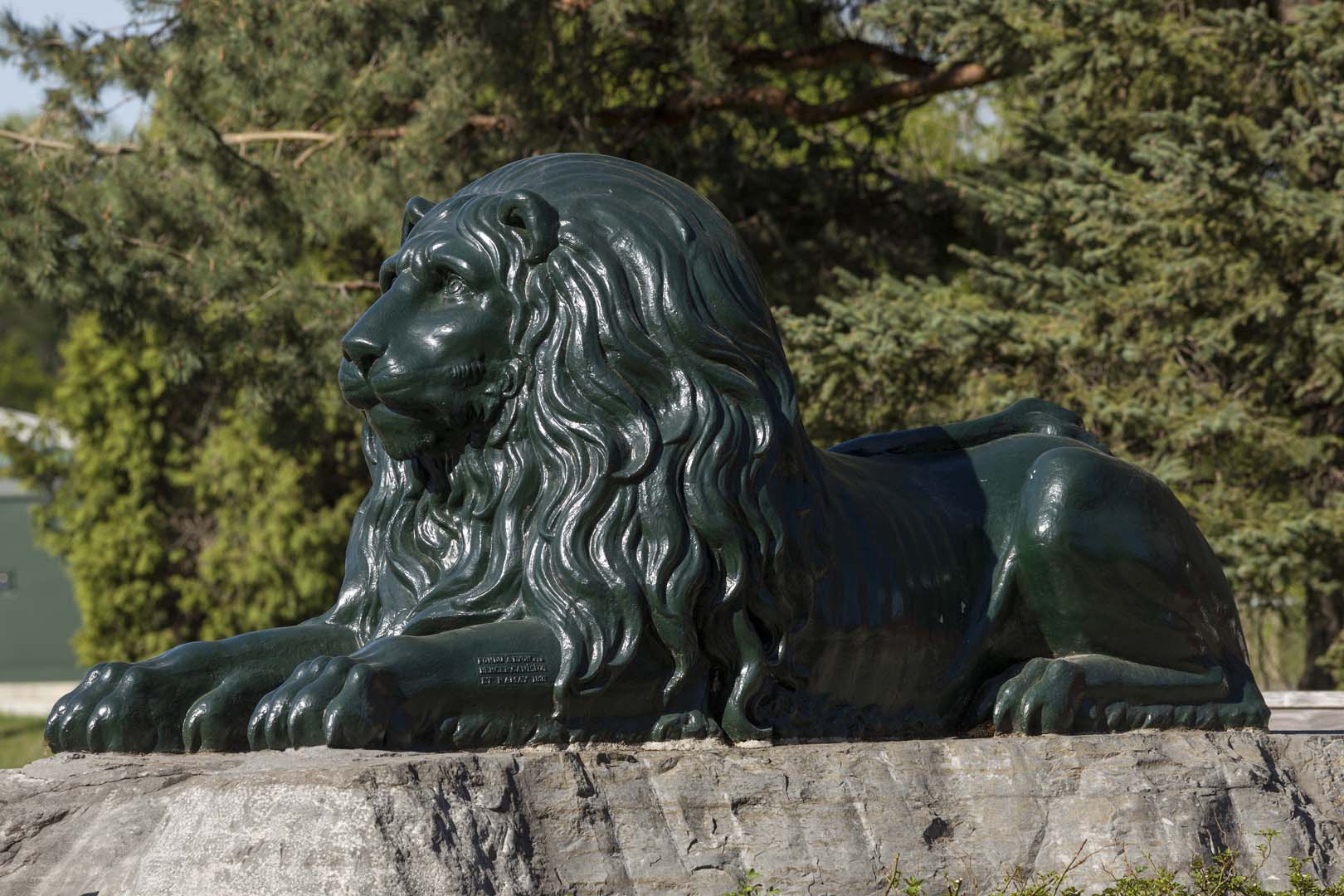 Crédit photo: Guy L'Heureux, 2013
Le lion de La Feuillée
1831
1796 - 1871
The Lyonnais architect René Dardel (1796–1871) designed many buildings during the nineteenth century. Among his most important accomplishments is the Palais de la Bourse et du Commerce de Lyon, inaugurated in 1860 by Napoleon lll. Dardel also designed the Sainte-Blandine church and the Saint-Jean fountain, both situated in Lyon.
Read more
Details
Acquisition mode
Donation
Overall size
210 x 230 x 400 cm
Location

Location
Location
Jardin botanique
Adress
4101, rue Sherbrooke Est, Montréal, Québec, H1X 2B2
Accessibility
Accessible with admission for the Botanical Garden ($)
Artwork description
The sculpture in the round, made of green-painted industrial cast iron, is situated at the entrance to the rose garden in the Montréal Botanical Garden, at the centre of a small square made of flagstones and vegetation. It portrays a lion reposing with its front feet straight out in front of it and sits on an irregularly shaped base made of grey limestone.
The lion, the emblem of the city of Lyon, is a symbol of nobility, strength, resistance, and courage. The very name "Lyon" is evocative of the great feline. In 1269, with the support of the King of France, Louis Vlll le Lion, the Lyonnais bourgeoisie revolted against the clergy with the cry, "Avant! Avant! Lion le melhor!" This rallying cry became the motto of Lyon.
The artwork, initially one component of a group of four lions, was designed in 1831 to adorn the Pont de La Feuillée, which crosses the Saône in the heart of Lyon. In the following century, it was moved to the Lyon Water Department, then to the entrance to the Gerland stadium in Lyon; finally, it was transported to Montréal in 1992.