{"title":"Les conteurs | Art Public Montr\u00e9al","thisUrl":"https:\/\/artpublicmontreal.ca\/en\/oeuvre\/les-conteurs\/","body_class":"apm_artwork-template-default single single-apm_artwork postid-59670 apm lang-en apm-full-js nav-env-filters","query_hud":null,"active_filter":null,"alternate_language_url":"https:\/\/artpublicmontreal.ca\/oeuvre\/les-conteurs\/","clear_filter_collection":0,"clear_filter_tour":"clear","data_attributes":{"data-view-type":"apm_artwork"},"filter_root_url":"\/collection\/","artworkNav":false,"mapMarkers":[{"id":59670,"slug":"les-conteurs","title":"Les conteurs","permalink":"https:\/\/artpublicmontreal.ca\/en\/oeuvre\/les-conteurs\/","year":"2011","loc":{"lat":"45.5264236","long":"-73.58976860000001"},"artist_names":"<span>Richard<\/span> <strong>Morin<\/strong>","thumb":"https:\/\/artpublicmontreal.ca\/wp-content\/uploads\/2016\/08\/Conteurs_2-150x150.jpg","infoBox":false,"cat_color":"#e50f09","env":"outdoor","singleArtwork":true}]}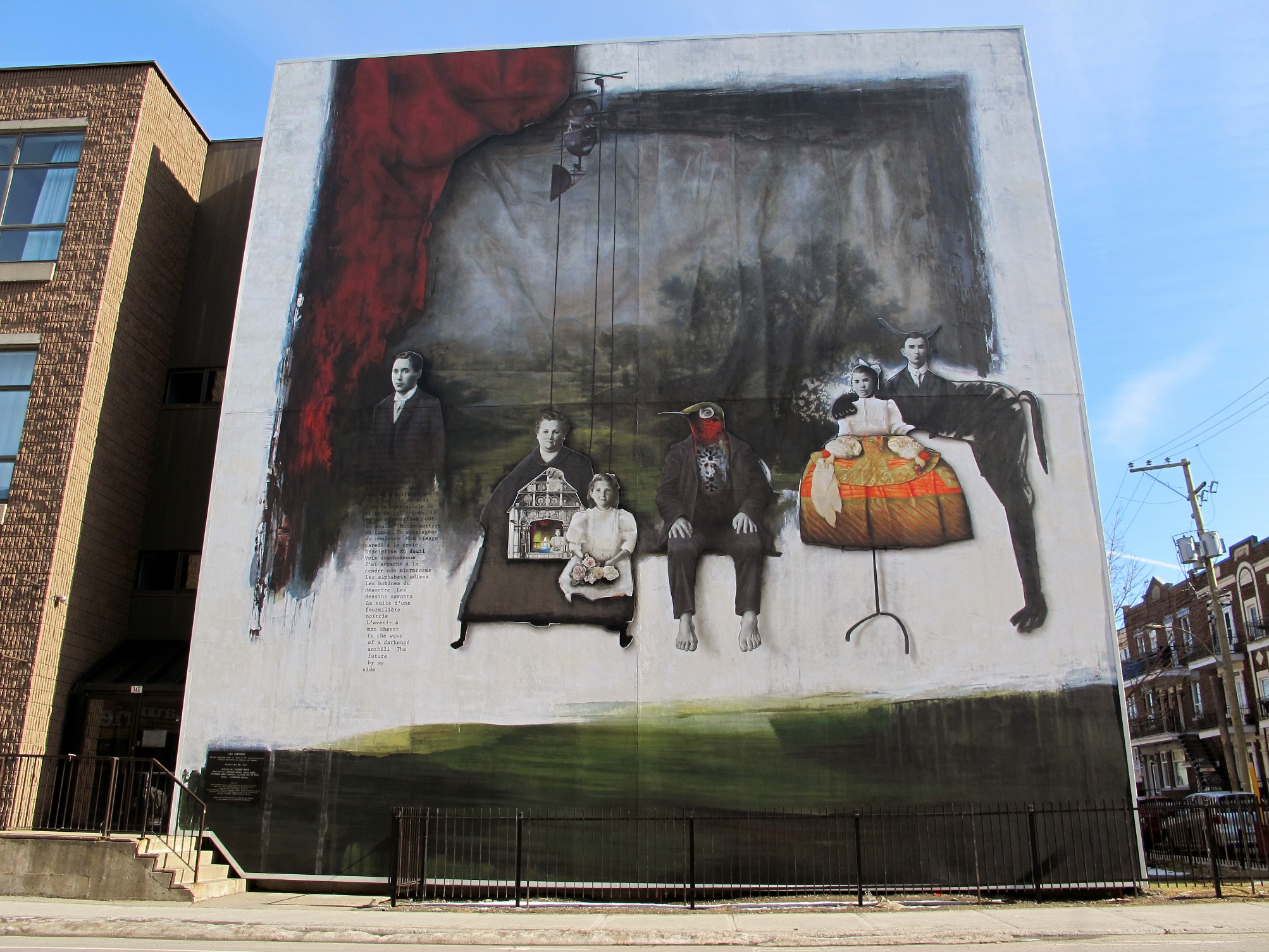 © Richard Morin, produced by MU -
Crédit photo : MU (2011)
Les conteurs
2011
Richard Morin begins his career as an artistic painter in the early 1990's. A first degree in arts and media followed by another in scenography at the National Theatre School of Canada (1988), he did several internships in Paris where he also takes courses at the École Supérieure des Beaux-Arts. Back in Montreal, he collaborates in three Cirque du Soleil productions and works as a designer for a couple of notable plays produced at the Théâtre de l'Oeil. The theatre world rewards him with several prizes (Masques's prize, Chalmers's prize) for the quality and originality of his décor. After many years behind the stage, he now spends most of his time painting. He also exposes in Ottawa, Toronto and New York. Richard produces his first mural with MU in 2011 for the National Theatre School's 50th anniversary, Les conteurs (The Storytellers).
Read more
Details
Funding
Ville de Montréal
Source mention
In collaboration with other financial partners
Technique(s)
mounted, mounted, painted
Location

Location
Location
National Theatre School of Canada (NTS)
Adress
360 Laurier avenue east, Montréal, QC H2T 3B6
Tour
Tour
Podcast/ On the walls of the Plateau, from Laurier to Mont-Royal
10 Artworks

30min

Purple Reign

Tango de Montréal
Artwork description
This mural was created by Richard Morin as part of the 50th anniversary celebrations of the National Theatre School of Canada (NTS). It pays homage to the disciplines taught at the NTS and is a testament to the vital artistic and cultural contribution of the NTS in our community. Six characters stand out on the dark, faded background. Each represents one of the disciplines associated with the practice of theatre : the author holding the script ; the mother, essential character, omnipresent in theatre as a symbol of life ; the young girl representing youth, the students and the future ; the bird man as a symbol of play, of acting ; the young woman wearing the "Velasquez" dress, highlighting the importance of costume ; and finally the centaur, symbol of the director and of the complex relations and power struggles between humans. The gears at the top of the mural represent production and all the work that goes on backstage. The backdrop represents set design and the bill at the bottom of the mural, going from traditional to abstract, represents time and tradition.
Since the architectural integrity of the NTS building could not be altered, a steel self-supporting structure measuring 45 feet wide by 47 feet high was constructed and anchored to the wall. The wall-screen was covered with concrete panels that were then coated with an acrylic roughcast paint. The characters were painted in studio while the wall was being constructed and were subsequently mounted onto it.
NTS teachers and directors were responsible for the artistic direction. Annie Hamel, Florence April-Borgeat, Olivier Roy and Nico assisted the artist Richard Morin throughout the completion of the mural.