{"title":"Montagne | Art Public Montr\u00e9al","thisUrl":"https:\/\/artpublicmontreal.ca\/en\/oeuvre\/montagne\/","body_class":"apm_artwork-template-default single single-apm_artwork postid-52560 apm lang-en apm-full-js nav-env-filters","query_hud":null,"active_filter":null,"alternate_language_url":"https:\/\/artpublicmontreal.ca\/oeuvre\/montagne\/","clear_filter_collection":0,"clear_filter_tour":"clear","data_attributes":{"data-view-type":"apm_artwork"},"filter_root_url":"\/collection\/","artworkNav":false,"mapMarkers":[{"id":52560,"slug":"montagne","title":"Montagne","permalink":"https:\/\/artpublicmontreal.ca\/en\/oeuvre\/montagne\/","year":"1997","loc":{"lat":"45.509215361921775","long":"-73.56814920902252"},"artist_names":"<span>Fran\u00e7oise<\/span> <strong>Sullivan<\/strong>","thumb":"https:\/\/artpublicmontreal.ca\/wp-content\/uploads\/2015\/11\/UQAM-Sullivan-SODRAC-150x150.jpg","infoBox":false,"cat_color":"#e50f09","env":"indoor","singleArtwork":true}]}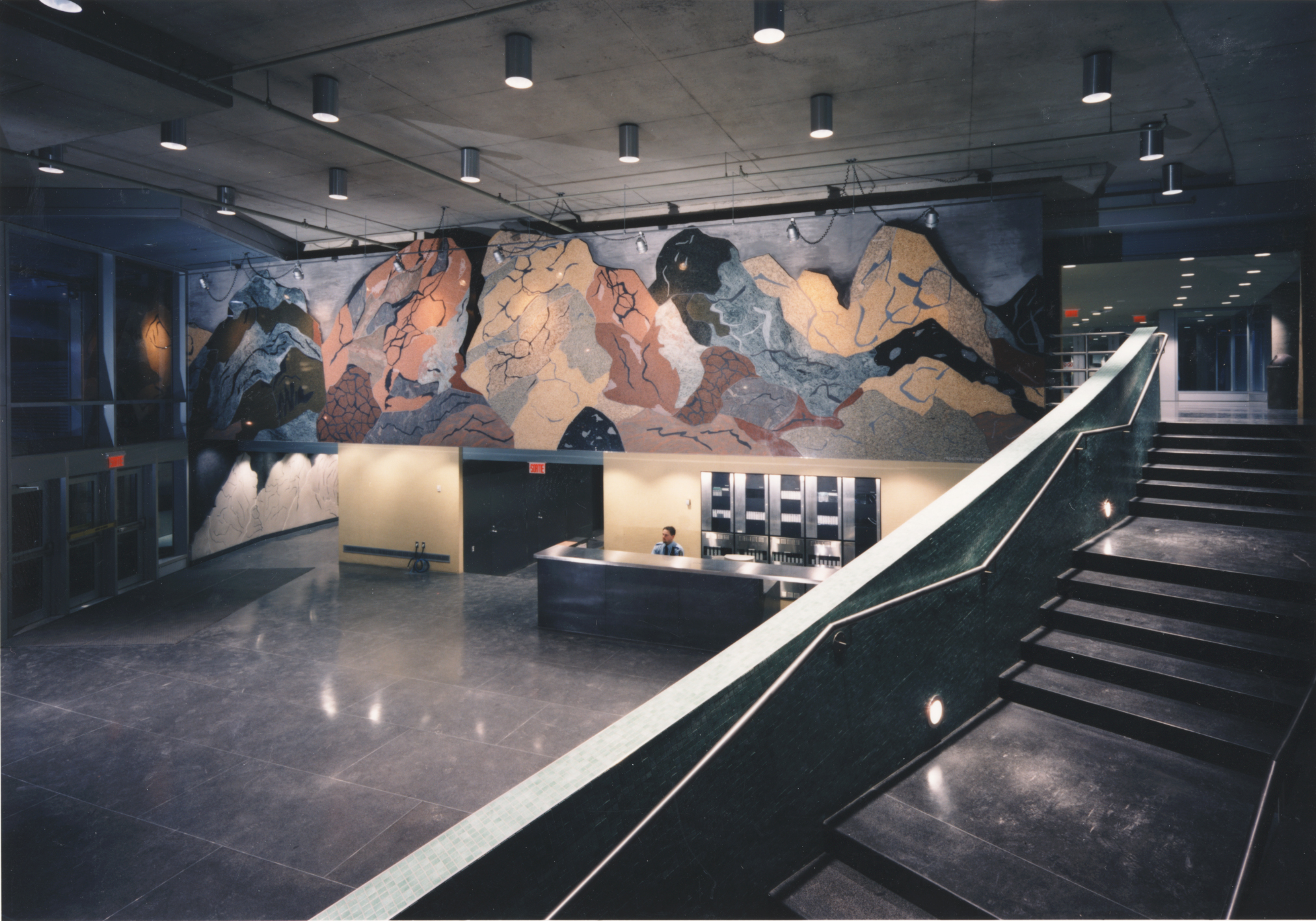 © Françoise Sullivan / SODRAC (2015) -
Crédit photo : Michel Brunel, UQAM
Montagne
1997
Françoise Sullivan was born in Montreal, where she received her early training at the École des beaux-arts. She is a unique and multi-faceted artist. Well known at the outset of her career as a dancer and choreographer, it has been her work as a painter, sculptor and photographer that has truly marked her long career. She was one of the Automatists, the avant-garde movement led by Paul-Émile Borduas, and was a signatory of the group's 1948 manifesto, Refus Global. Since then, her work has been shown at countless different solo and group exhibitions, including retrospectives at the Musée national des beaux-arts du Québec (1993) and the Montreal Museum of Fine Arts (2003).
She received the Paul-Émile Borduas Award in 1987 and holds honorary degrees from UQAM and Toronto's York University. A teacher at Concordia University since 1977, Françoise Sullivan is also a board member of the Montreal Arts Council and remains in demand as a jury member and lecturer.
Read more
Details
Acquisition mode
Politique d'intégration des arts à l'architecture et à l'environnement, Government of Quebec
Materials
acrylic, cement, concrete, granite, limestone
Overall size
variable dimensions
Technique(s)
anchored, assembled, carved, engraved, glued, polished
Location

Location
Location
Pavillon Président-Kennedy de l'UQAM
Localization
Entrance hall, east
Adress
201 Président-Kennedy, Montréal, QC, H2X 3Y7
Accessibility
According to the opening hours of the pavilion
Tour
Tour
Quartier des spectacles
12 Artworks

50min

Place-des-Arts metro station

Espace culturel George-Emile-Lapalme
Artwork description
The motif of the mountain range dominates this work in four parts by Françoise Sullivan, with its various summits, strata and magma flows. Composed of eleven varieties of granite from all over the globe, the work plays with formal aspects such as matte and glossy, curves and volumes, colors and grains. The huge mural installed in the main hall creates a bridge between the abstract idea of science studies, housed in this pavilion of UQAM, and the palpable matter, the studied reality. Three other elements complete the main work. On the first floor, the back of the large mural sports a landscape of Laurentian green granite. On either side of a fault that opens onto the main hall, two goats stare. On the ground floor, a wall of Indiana limestone in installed in a curved corridor. Chiselled, the gray stone slabs that make it up are shaped into four streaked mountains. Finally, in the lobby, a set of Laurentian green granite sculptures are placed directly on the ground, where they can serve as benches. They are engraved in Greek texts dating from the first century BC, evoking archaeological excavations.