{"title":"Monument \u00e0 Isabelle la Catholique | Art Public Montr\u00e9al","thisUrl":"https:\/\/artpublicmontreal.ca\/en\/oeuvre\/monument-a-isabelle-la-catholique\/","body_class":"apm_artwork-template-default single single-apm_artwork postid-50220 apm lang-en apm-imported-item apm-full-js nav-env-filters","query_hud":null,"active_filter":null,"alternate_language_url":"https:\/\/artpublicmontreal.ca\/oeuvre\/monument-a-isabelle-la-catholique\/","clear_filter_collection":0,"clear_filter_tour":"clear","data_attributes":{"data-view-type":"apm_artwork"},"filter_root_url":"\/collection\/","artworkNav":false,"mapMarkers":[{"id":50220,"slug":"monument-a-isabelle-la-catholique","title":"Monument \u00e0 Isabelle la Catholique","permalink":"https:\/\/artpublicmontreal.ca\/en\/oeuvre\/monument-a-isabelle-la-catholique\/","year":"1958","loc":{"lat":"45.531079","long":"-73.586023"},"artist_names":"<span>Jos\u00e9<\/span> <strong>Planes<\/strong>","thumb":"https:\/\/artpublicmontreal.ca\/wp-content\/uploads\/imported\/1854_5260-150x150.jpg","infoBox":false,"cat_color":"#e50f09","env":"outdoor","singleArtwork":true}]}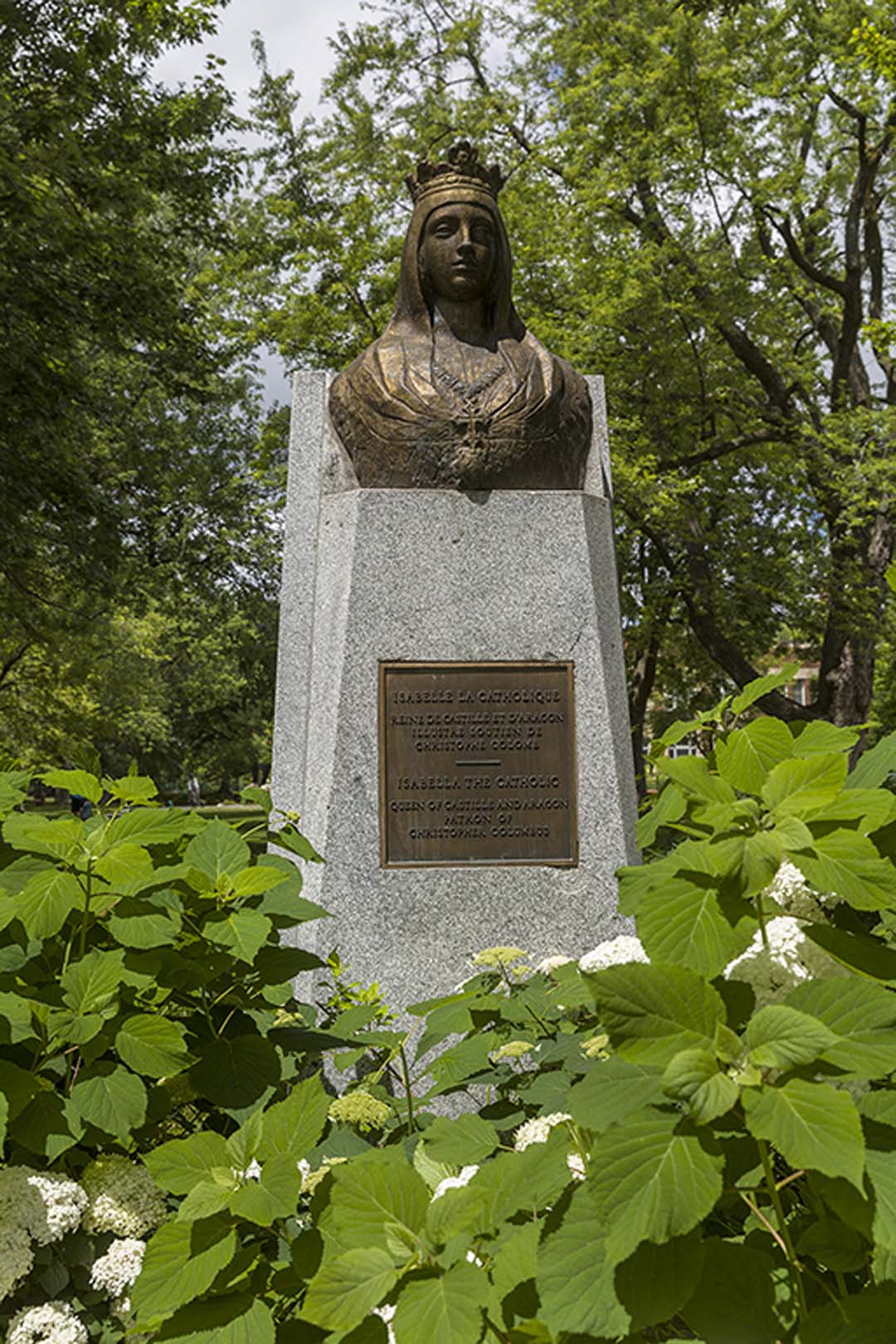 Crédit photo: Guy L'Heureux, 2014
Monument à Isabelle la Catholique
1958
1891 - 1974
José Planes (1891–1974) came from a family of farmers. Inspired by the figurines in Christmas crèches in the Murcia region of Spain, he had worked in clay since a very young age. Planes apprenticed in the studio of Anastasio Martínez and completed his art training in Valencia and Madrid. He executed a number of busts of women during his youth, including one of his mother that won the first prize at the Murcia Circle of Fine Art when he was 20. His career as a sculptor really took off when his pieces were noticed at an exhibition at the Ateneo. In 1927, Planes moved to Madrid in order to partake of the art trends of his times. Six years later, he established a fine crafts school when he returned to Murcia.
Read more
Details
Acquisition mode
Donation
Materials
bronze, copper, granite
Overall size
293 x 152.5 x 107 cm
Location

Location
Location
Parc Sir-Wilfrid-Laurier
Localization
facing Avenue Christophe-Colomb
Artwork description
The bust of Isabella the Catholic is installed in Parc Sir-Wilfrid-Laurier, facing Avenue Christophe-Colomb. The consul general of Spain gave this artwork to the Ville de Montréal, on behalf of the Institute of Hispanic Culture in Madrid, on the occasion of the 467th anniversary of Columbus's "discovery" of America.
In this bronze, the queen wears the royal insignia: the crown, the cross in the shell of the Order of Santiago, and the cross decorated with fleurs-de-lis of the Order of Calatrava. The bust has a Gothic feel due to the headwear and the clothing, perhaps because the sculptor, José Planes, turned to the production of religious images after the Spanish Civil War. On the iconographic level, the sculptor seems to have been inspired by the portrait of Isabella painted by the Spanish artist Luis de Madrazo in the nineteenth century. The queen's gaze is piercing, determined, and fixed on the horizon, as if she could glimpse the shores of the New World as she spoke with her acolyte, Columbus. In the treatment of the lines and texture of the bust can be seen the influence on Planes's work of the French sculptor Auguste Rodin.