{"title":"Monument \u00e0 Jean Drapeau | Art Public Montr\u00e9al","thisUrl":"https:\/\/artpublicmontreal.ca\/en\/oeuvre\/monument-a-jean-drapeau\/","body_class":"apm_artwork-template-default single single-apm_artwork postid-49401 apm lang-en apm-imported-item apm-full-js nav-env-filters","query_hud":null,"active_filter":null,"alternate_language_url":"https:\/\/artpublicmontreal.ca\/oeuvre\/monument-a-jean-drapeau\/","clear_filter_collection":0,"clear_filter_tour":"clear","data_attributes":{"data-view-type":"apm_artwork"},"filter_root_url":"\/collection\/","artworkNav":false,"mapMarkers":[{"id":49401,"slug":"monument-a-jean-drapeau","title":"Monument \u00e0 Jean Drapeau","permalink":"https:\/\/artpublicmontreal.ca\/en\/oeuvre\/monument-a-jean-drapeau\/","year":"2001","loc":{"lat":"45.50853","long":"-73.55342"},"artist_names":"<span>Annick<\/span> <strong>Bourgeau<\/strong>","thumb":"https:\/\/artpublicmontreal.ca\/wp-content\/uploads\/imported\/1465_4158-150x150.jpg","infoBox":false,"cat_color":"#e50f09","env":"outdoor","singleArtwork":true}]}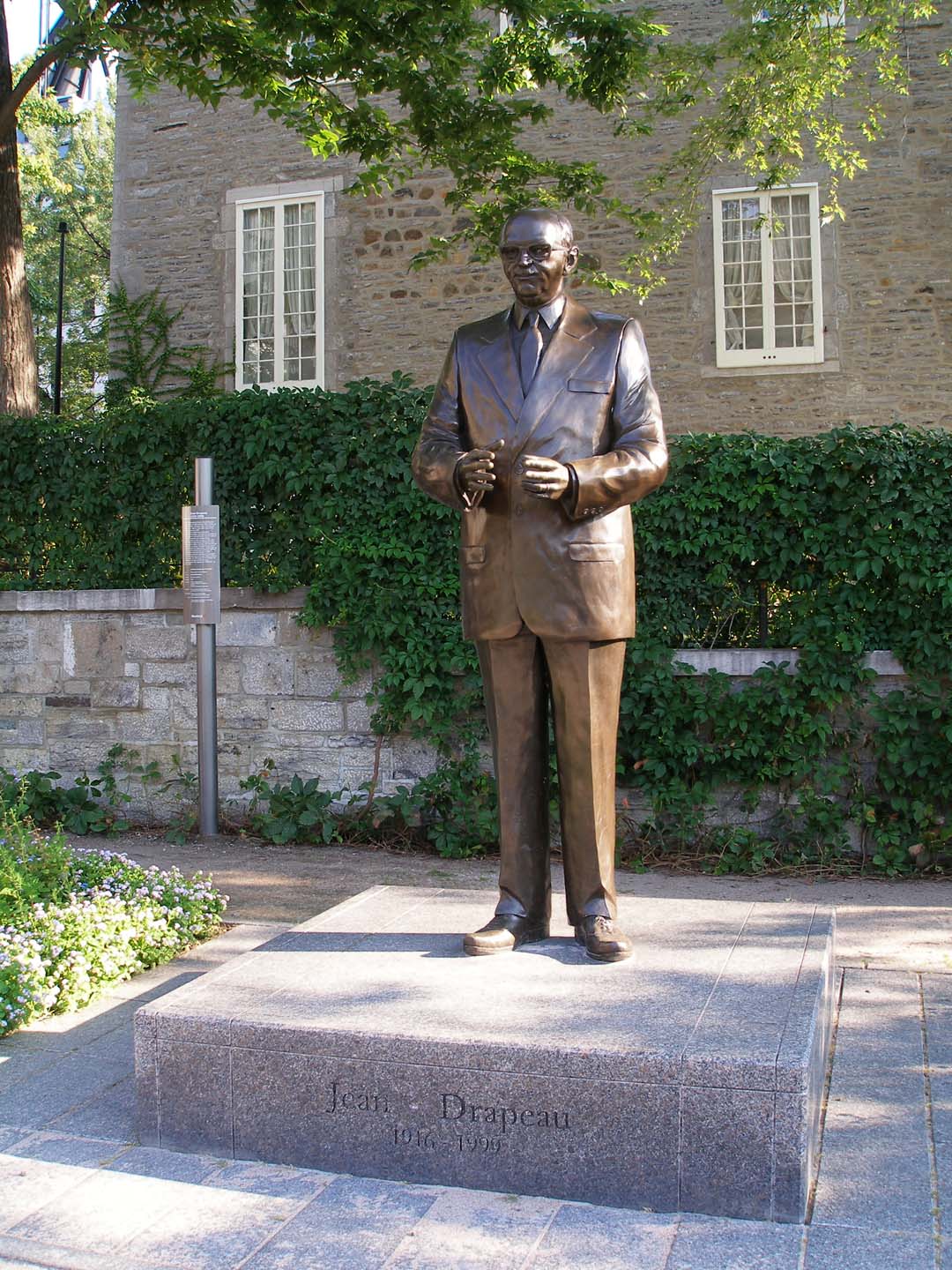 © Annick Bourgeau, 2001 -
Crédit photo: Ville de Montréal, 2009
Monument à Jean Drapeau
2001
Born in 1961, Annick Bourgeau is a Montréal sculptor with a degree in industrial design from the Ontario College of Arts in Toronto. She has produced a number of figurative sculptures portraying historical figures, among them a monument to Jean Lesage at the National Assembly in Québec City, and a bust of Raoul Dandurand in the lobby of the former Simpson building at 977 Rue Saint-Catherine West in Montréal. She collaborated with the sculptor Jules Lasalle to produce the statue of Maurice Richard installed at the entrance to the Maurice-Richard Arena, near the Olympic Stadium.
Read more
Details
Acquisition mode
Donation
Overall size
287 X 200 x 200 cm
Location

Location
Location
Place De La Dauversière
Artwork description
This larger-than-life likeness of Jean Drapeau perpetuates the image of the public figure addressing his constituents and interlocutors with a characteristic gesture in which his arms and hands punctuate his speech. The presence of this monument in front of the Ville de Montréal city hall underlines the close connection that the mayor wove between Montréalers and the municipal administration for more than 30 years – from 1954 to 1957 and from 1960 to 1986. The statue is set at ground level, ready to welcome visitors, as Drapeau often did during his many years as mayor of Montréal. His glasses firmly placed, a smile on the corner of his lips, the Jean Drapeau of the 1970s is portrayed here, probably as he explains a project to passersby who have come to see him. In the creation of this very realistic artwork, Montréal artist Annick Bourgeau drew on abundant photographic documentation and was guided by comments by Mr. Drapeau's family. The statue of the former mayor of Montréal was commissioned by Industrielle Alliance.