{"title":"Monument au fr\u00e8re Andr\u00e9 | Art Public Montr\u00e9al","thisUrl":"https:\/\/artpublicmontreal.ca\/en\/oeuvre\/monument-au-frere-andre\/","body_class":"apm_artwork-template-default single single-apm_artwork postid-49431 apm lang-en apm-imported-item apm-full-js nav-env-filters","query_hud":null,"active_filter":null,"alternate_language_url":"https:\/\/artpublicmontreal.ca\/oeuvre\/monument-au-frere-andre\/","clear_filter_collection":0,"clear_filter_tour":"clear","data_attributes":{"data-view-type":"apm_artwork"},"filter_root_url":"\/collection\/","artworkNav":false,"mapMarkers":[{"id":49431,"slug":"monument-au-frere-andre","title":"Monument au fr\u00e8re Andr\u00e9","permalink":"https:\/\/artpublicmontreal.ca\/en\/oeuvre\/monument-au-frere-andre\/","year":"1986","loc":{"lat":"45.503309","long":"-73.566600"},"artist_names":"<span>\u00c9mile<\/span> <strong>Brunet<\/strong>","thumb":"https:\/\/artpublicmontreal.ca\/wp-content\/uploads\/imported\/1476_4181-150x150.jpg","infoBox":false,"cat_color":"#e50f09","env":"outdoor","singleArtwork":true}]}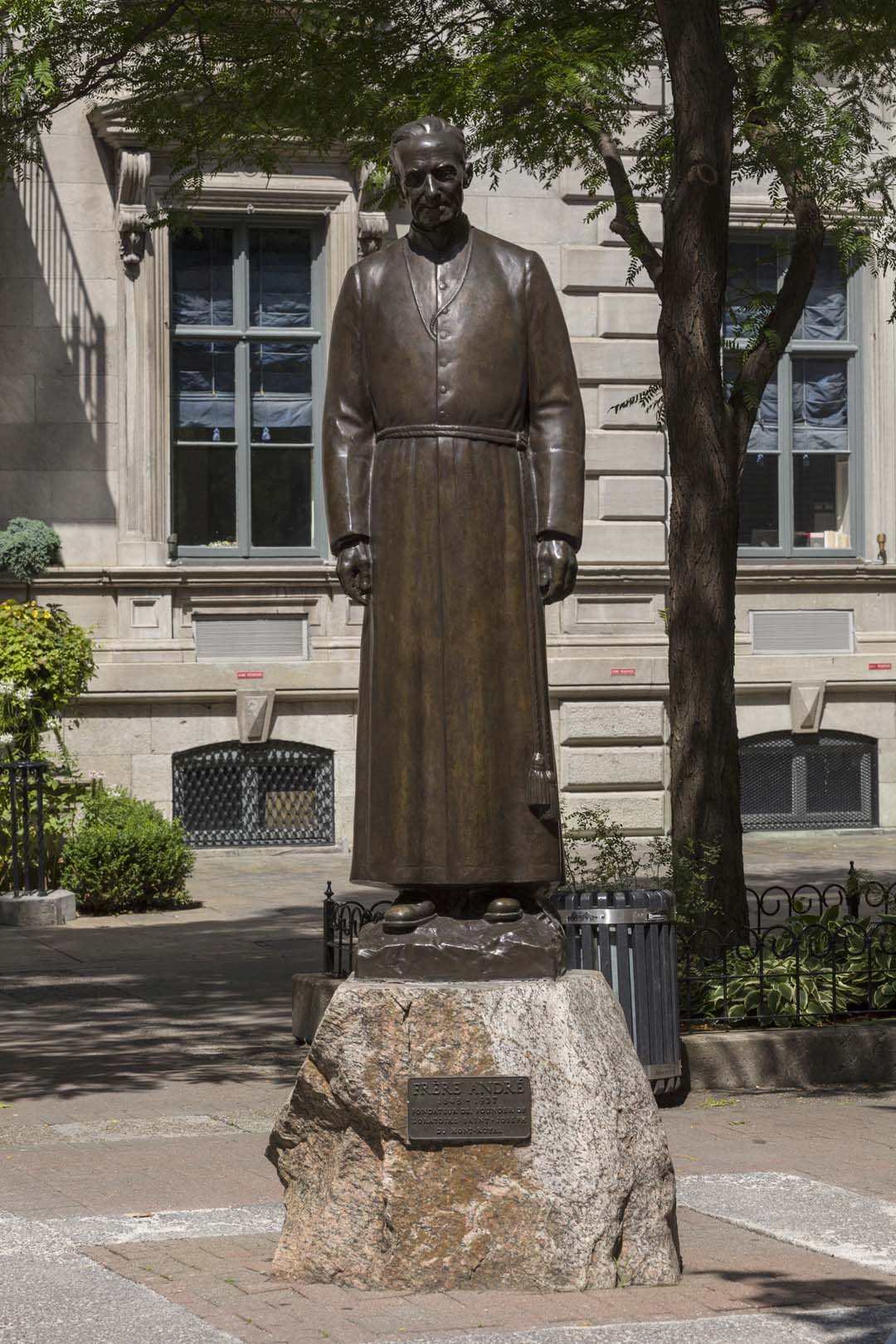 Crédit photo: Guy L'Heureux, 2012
Monument au frère André
1986
1893 - 1977
Born into a family of makers of funerary monuments, Émile Brunet (Montréal 1893–1977) showed extraordinary artistic talent from a very young age, and he was awarded a scholarship by the Conseil des arts et manufactures du Québec when he was 14 years old. In 1920, he obtained a second scholarship that enabled him to attend the Chicago Art Institute. Three years later, he continued his education at the École nationale supérieure des beaux-arts in Paris, where he earned the title of "premier élève," the equivalent of the Prix de Rome. In 1937, Brunet designed the Canadian pavilion for the Exposition universelle des arts et techniques de Paris. Among his best-known achievements are the monument to Sir Wilfrid Laurier (1927) on Parliament Hill in Ottawa and the statue of Maurice Duplessis (1977) on the south side of the National Assembly building in Québec City.
Read more
Details
Acquisition mode
Donation
Overall size
301 x 120 x 50cm
Location

Location
Location
Place du frère André
Tour
Tour
Promenade Fleuve-Montagne
21 Artworks

1h30min

River Threshold – Old Port of Montreal

Mountain Threshold – Peel entrance of Mount Royal Park
Artwork description
This is a replica of the sculpture of Brother André that is situated beside the eponymous chapel on the land belonging to St. Joseph's Oratory; it was inaugurated on 2 November 1986 in the presence of mayor Jean Drapeau. Cast in London by Morris Singer Art Founders, from the plaster original conserved in the oratory's museum, this posthumous copy sits at the centre of the former Beaver Hall Hill Square, now Place du Frère-André. The figure of Brother André, known during his lifetime for his closeness to the common people and his great accessibility, wears the habit of the priests of the Congrégation de Sainte-Croix. The posture and physiognomy portrayed transmit the humility and kindness of this priest, known for his many miracles as a healer. This artwork is typical of the academic production of the Canadian sculptor Émile Brunet.