{"title":"Monument aux braves de Verdun | Art Public Montr\u00e9al","thisUrl":"https:\/\/artpublicmontreal.ca\/en\/oeuvre\/monument-aux-braves-de-verdun\/","body_class":"apm_artwork-template-default single single-apm_artwork postid-50067 apm lang-en apm-imported-item apm-full-js nav-env-filters","query_hud":null,"active_filter":null,"alternate_language_url":"https:\/\/artpublicmontreal.ca\/oeuvre\/monument-aux-braves-de-verdun\/","clear_filter_collection":0,"clear_filter_tour":"clear","data_attributes":{"data-view-type":"apm_artwork"},"filter_root_url":"\/collection\/","artworkNav":false,"mapMarkers":[{"id":50067,"slug":"monument-aux-braves-de-verdun","title":"Monument aux braves de Verdun","permalink":"https:\/\/artpublicmontreal.ca\/en\/oeuvre\/monument-aux-braves-de-verdun\/","year":"","loc":{"lat":"45.458882","long":"-73.572314"},"artist_names":"<span>Coeur de lion<\/span> <strong>McCarthy<\/strong>","thumb":"https:\/\/artpublicmontreal.ca\/wp-content\/uploads\/imported\/1771_4691-150x150.jpg","infoBox":false,"cat_color":"#e50f09","env":"outdoor","singleArtwork":true}]}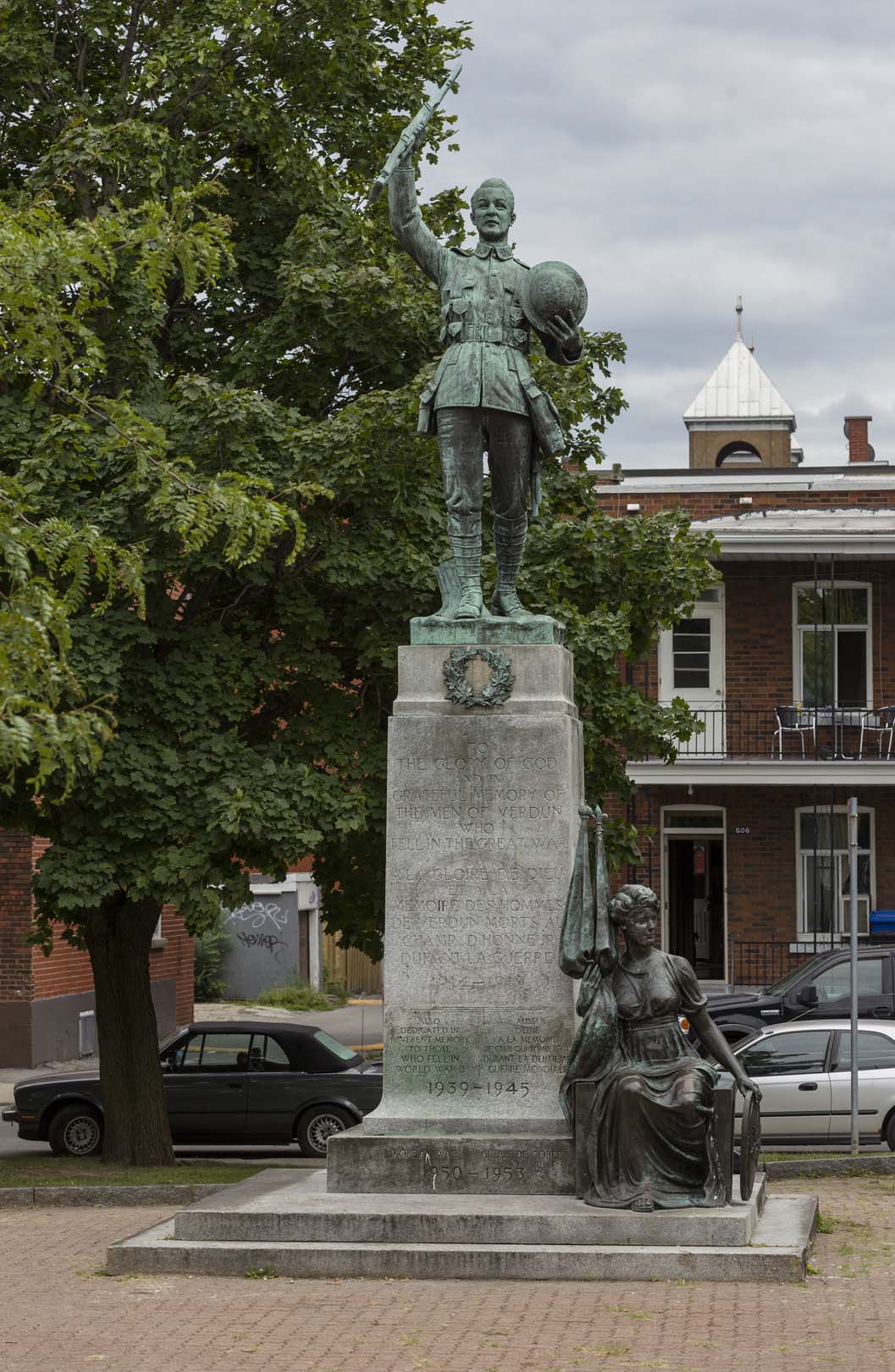 Crédit photo: Guy L'Heureux, 2012
Monument aux braves de Verdun
1881 - 1971
The son of the artist Hamilton Plantagenet McCarthy, Cœur de lion McCarthy was born in London in 1881, and received his training as a sculptor in his father's studio. He created numerous commemorative monuments, among others in Trois-Rivières, Knowlton, and Vancouver. He made busts of Sir Wilfrid Laurier, Sir John A. Macdonald, and Queen Victoria. He died in Montréal in 1971.
Read more
Details
Acquisition mode
Transfer
Location

Location
Location
Parc du Souvenir
Adress
4555 rue de Verdun
Artwork description
In 1924, the monument was placed in the triangle formed by the intersection of Rue Wellington and Boulevard LaSalle. In August 1959, it was moved to face the former Verdun city hall, now the borough city hall, at 4555 Rue de Verdun.
The monument is composed of two bronze sculptures and a column bearing engraved inscriptions. The sculpture that stands at the top of the column portrays a Canadian soldier in a triumphant pose, holding a helmet in one hand and brandishing a gun in the other, in a celebration of victory. At the base of the monument, a sitting woman, a symbol of patriotism and peace, holds in her right hand the flags of Victory and in her left hand a shield bearing the coat of arms of the City of Verdun.