{"title":"Nymph\u00e9as | Art Public Montr\u00e9al","thisUrl":"https:\/\/artpublicmontreal.ca\/en\/oeuvre\/nympheas\/","body_class":"apm_artwork-template-default single single-apm_artwork postid-54904 apm lang-en apm-full-js nav-env-filters","query_hud":null,"active_filter":null,"alternate_language_url":"https:\/\/artpublicmontreal.ca\/oeuvre\/nympheas\/","clear_filter_collection":0,"clear_filter_tour":"clear","data_attributes":{"data-view-type":"apm_artwork"},"filter_root_url":"\/collection\/","artworkNav":false,"mapMarkers":[{"id":54904,"slug":"nympheas","title":"Nymph\u00e9as","permalink":"https:\/\/artpublicmontreal.ca\/en\/oeuvre\/nympheas\/","year":"2011","loc":{"lat":"45.556381126392374","long":"-73.55626702308655"},"artist_names":"<span>Michel<\/span> <strong>Saulnier<\/strong>","thumb":"https:\/\/artpublicmontreal.ca\/wp-content\/uploads\/2015\/09\/UdeM_SAULNIER_1-150x150.jpg","infoBox":false,"cat_color":"#e50f09","env":"outdoor","singleArtwork":true}]}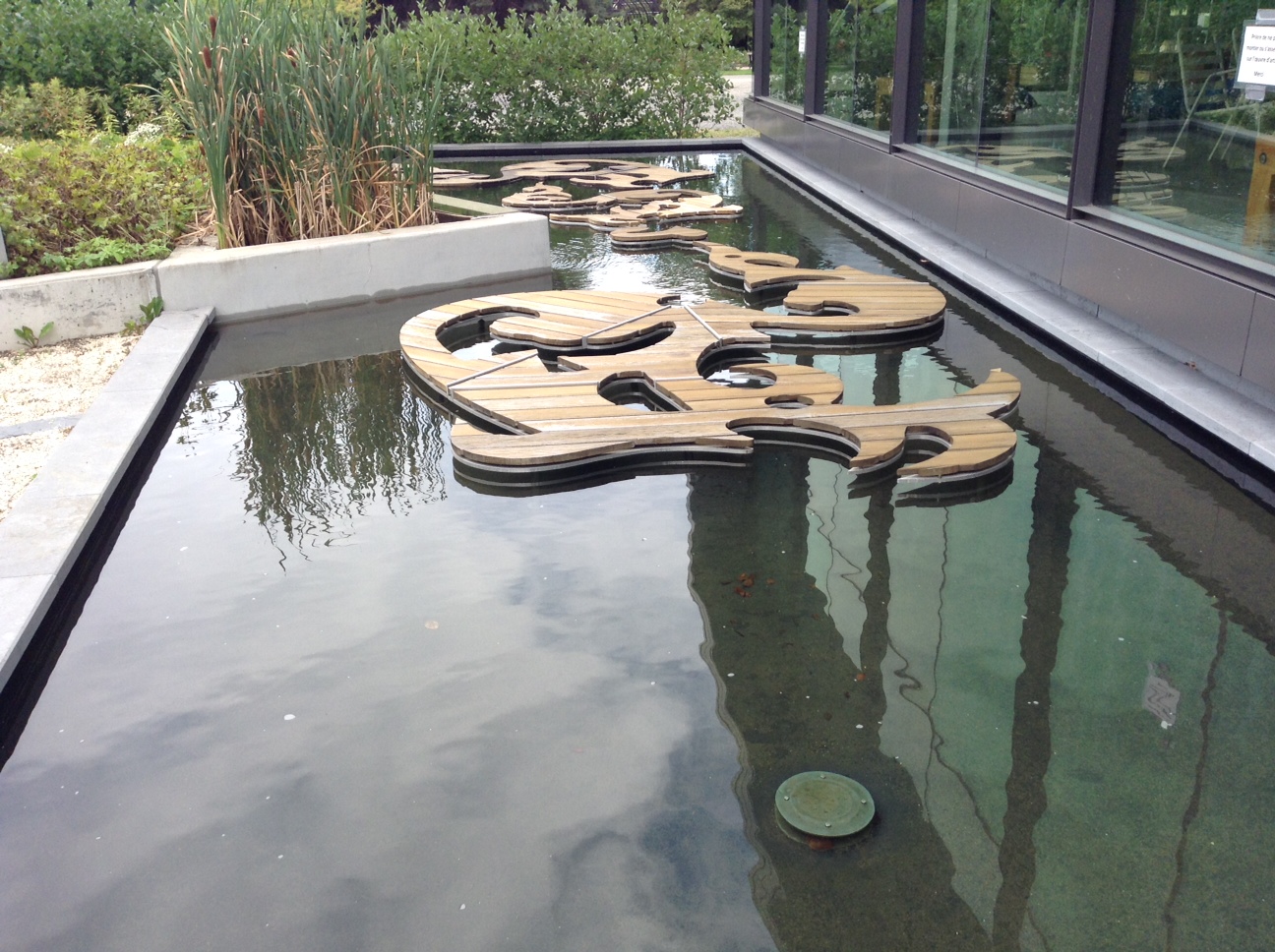 © Michel Saulnier (2015) -
Crédit photo : Patrick Mailloux (2014)
Nymphéas
2011
Michel Saulnier first studied art history before deciding to create art. At the end of the 1970s, he began his Bachelor's at the Université Laval. However, he completed his studies and graduated from the Université de Montréal. Saulnier created his first pieces in the studios of what used to be the Pavillon Mont-Royal. Under the direction of art theoretician René Payant, Saulnier pursued his Master's degree by doing research that was part memoir, part creation.
Saulnier quickly acquired a professional status thanks to support from a private gallery and creative bursaries issued by the Ministère des Affaires culturelles du Québec and the Canadian Council for Arts. After having his work showcased in several Montreal galleries, Saulnier's work was put on display in New York (Columbia University, 1985) before participating in the Les temps chauds (Musée d'art contemporain de Montréal) collective exhibit in 1988. Since then, his art has been displayed in Quebec, Japan and Germany.
Saulnier was invited by sculptor Jean-Pierre Bourgault many times to Saint-Jean-de-Port-Joli the mid-1980s, an offer he graciously accepted. Thus, he co-founded the Centre d'artistes Est-Nord-Est (1982). Since 1989, he's accumulated no less than twenty four pieces of public art.
He has been teaching art history and plastic arts at the Cégep de La Pocatière since 1995. He also seated on various selection committees as a specialist for several contests involving many different government organizations.
Saulnier mainly sculpts with wood and is able to evoke a confrontation between popular and contemporary art in his art – a relation marking his interest for representations of animals. His creative process allows his imagination to run free and associate ideas comfortably. However, it is through Saulnier's mastery in manipulating his medium that gives his pieces such poetic imagery.
Read more
Details
Acquisition mode
Politique d'intégration des arts à l'architecture et à l'environnement, Government of Quebec
Materials
aluminum, oil, stainless steel, trembling aspen, wood
Overall size
420 x 1090 cm
Technique(s)
assembled, cut out, oiled
Location

Location
Location
Centre sur la biodiversité de l'Université de Montréal - Institut de recherche en biologie végétale
Localization
In the basin of the courtyard
Adress
4101 Sherbrooke Est, Montréal, QC H1X 2B2
Accessibility
Monday to friday
Artwork description
This public piece Nymphéas was inaugurated in the Spring of 2011. It is integrated to the Biodiversity Centre – Institut de recherche en biologie végétale de l'Université de Montréal, inaugurated in Autumn of 2010. Saulnier, with his sculpture, presents a piece that is in harmony with the site's intimate character, following the ideology of the Biodiversity Centre and offering spectators the possibility to dream whilst staring at a visual display of labyrinths on the surface of the water.
The use of the basin as a support ensures that the small courtyard may be free for outdoor exhibits. The piece is polyvalent as it is monumental, yet discreet. At night, the building is illuminated and the near by window gives life to the sculpture and the water's surface ; during the day, the reflection is made in the other way, as it is the sculpture that is giving life to the building's windowed surface. The piece's patterns can be contemplated from inside or outside the building, as well as from the offices located in the surrounding buildings.
One can follow into Nymphéas a whole network of trails that can lead to its significance.
Some can see a bird, others a plant or a fish… Throughout all these illusions persists something that is quite organized: a star-shaped structure that reflects on the basin's undulating water. This latter, above all, evokes the reflection on water of the clouds in the sky, which are precisely the masters of infinites transient interpretations.
In this sense, the artist's reference to Monet's classic paintings goes beyond the piece's title and is expressed in the dichotomy that is created between abstraction and figuration, making the basin like a screen for the projections of the unconscious ; linking the reality and dream, science and art.
Trembling Aspen wood was used as covering wood to make a social and ecological commitment. Once torrefied, this type of wood can acquires the same qualities of the rare and exotic essences'. However, it is a local essence of a long-neglected type, symbol of rusticity and Nordicity. Nowadays, local plants welcome it
respectfully, as its proximity as resource allows cost savings and present a part of solution to the destruction of tropical forests. As of aluminum, it possesses intrinsic qualities that render it essential, however, it is used with restraint, to take in account the high energy consomption of its production.