{"title":"Ob\u00e9lisque en hommage \u00e0 Charles de Gaulle | Art Public Montr\u00e9al","thisUrl":"https:\/\/artpublicmontreal.ca\/en\/oeuvre\/obelisque-en-hommage-a-charles-de-gaulle\/","body_class":"apm_artwork-template-default single single-apm_artwork postid-49594 apm lang-en apm-imported-item apm-full-js nav-env-filters","query_hud":null,"active_filter":null,"alternate_language_url":"https:\/\/artpublicmontreal.ca\/oeuvre\/obelisque-en-hommage-a-charles-de-gaulle\/","clear_filter_collection":0,"clear_filter_tour":"clear","data_attributes":{"data-view-type":"apm_artwork"},"filter_root_url":"\/collection\/","artworkNav":false,"mapMarkers":[{"id":49594,"slug":"obelisque-en-hommage-a-charles-de-gaulle","title":"Ob\u00e9lisque en hommage \u00e0 Charles de Gaulle","permalink":"https:\/\/artpublicmontreal.ca\/en\/oeuvre\/obelisque-en-hommage-a-charles-de-gaulle\/","year":"1992","loc":{"lat":"45.526107","long":"-73.564759"},"artist_names":"<span>Olivier<\/span> <strong>Debr\u00e9<\/strong>","thumb":"https:\/\/artpublicmontreal.ca\/wp-content\/uploads\/imported\/1548_4409-150x150.jpg","infoBox":false,"cat_color":"#e50f09","env":"outdoor","singleArtwork":true}]}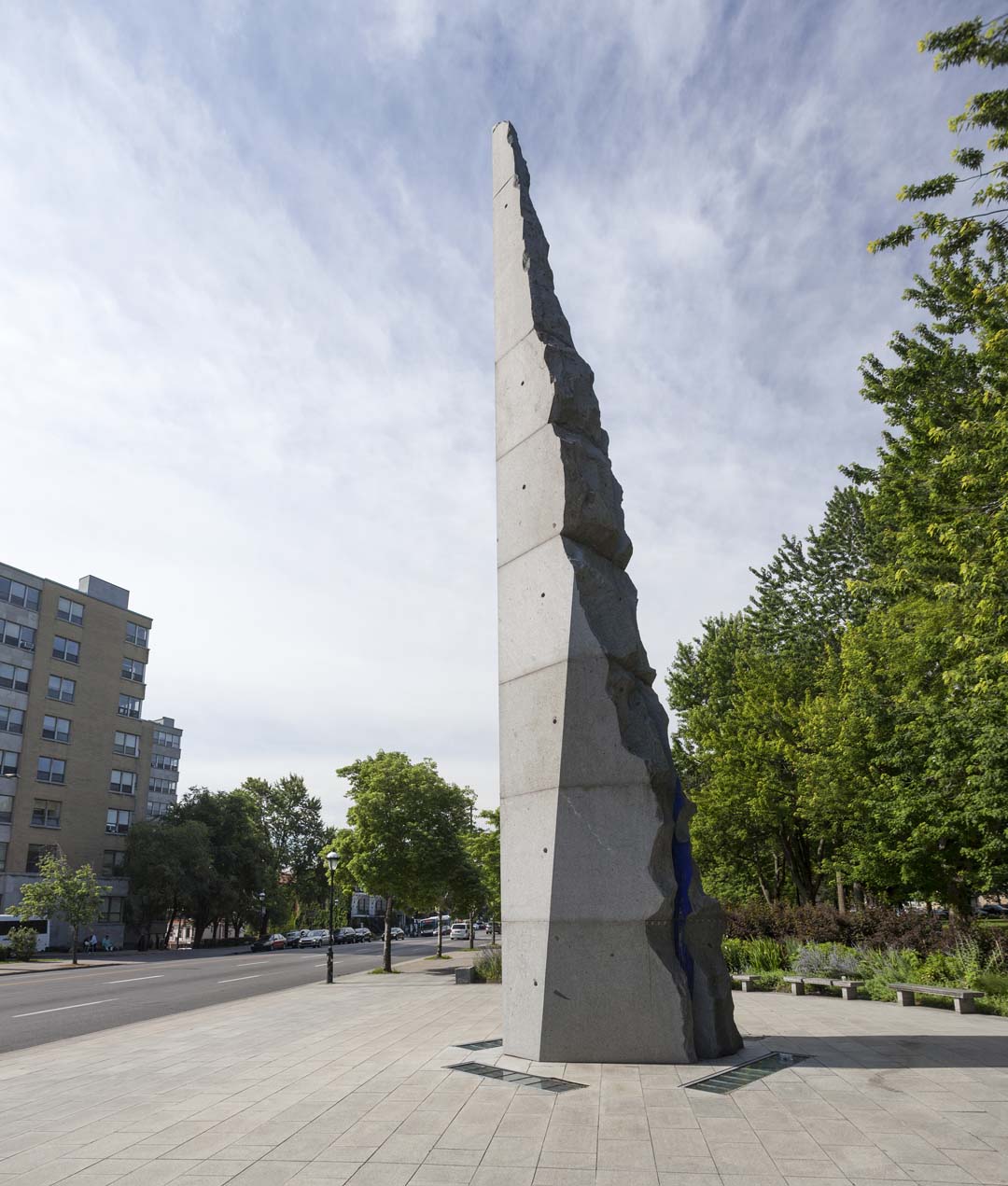 © Succession Olivier Debré / SOCAN (2020) -
Crédit photo :
Obélisque en hommage à Charles de Gaulle
1992
1920 - 1999
A major figure in the French post-war abstract art movement and a member of the Académie des beaux-arts, Olivier Debré was born in Paris in 1920. In 1938, he earned a degree in architecture and literature from the École des beaux-arts de Paris, where he became a professor 40 years later. His early works were characterized by an impressionist tendency, but in the winter of 1942–43, he turned to expressionism and abstraction. He became renowned in his own country and internationally. The creator of numerous monumental artworks, including ceramics for the Osaka World Fair and the Front de Seine in Paris (1980), as well as the stage curtains for the Comédie-Française (1987) and Opera Hong Kong (1989), Debré executed very few sculptures in the course of his career.
Read more
Details
Acquisition mode
Donation
Materials
cement, epoxy, granite, paint
Overall size
1780 x 240 x 270 cm
Location

Location
Location
Parc La Fontaine
Tour
19 Artworks

1h30min 30min

Mont-Royal métro station

Square Saint-Louis
Artwork description
This monumental artwork whose verticality expresses the symbol of humanity, is composed of seven superimposed segments. It celebrates both humanity and the mythical figure of French president Charles de Gaulle, in the square dedicated to him in Parc La Fontaine. The sculpture refers not to an image but to a situation – that of liberty and a man who contributed to it. Depending on the point of view, it presents a smooth surface or a broken-up one, and a rift painted in cobalt blue crosses the entire work from bottom to top. In form, Debré's artwork is halfway between a pyramid and an obelisk. In Pharaonic Egypt, obelisks celebrated the worship of the sun god and the sacred nature of the pharaohs. Over the centuries, Western civilization appropriated this form to celebrate military victories and accomplishments by politicians affirming their power. Today, obelisks are known for their commemorative value.