{"title":"QANUQTUURNIQ | Art Public Montr\u00e9al","thisUrl":"https:\/\/artpublicmontreal.ca\/en\/oeuvre\/qanuqtuurniq\/","body_class":"apm_artwork-template-default single single-apm_artwork postid-62323 apm lang-en apm-full-js nav-env-filters","query_hud":null,"active_filter":null,"alternate_language_url":"https:\/\/artpublicmontreal.ca\/oeuvre\/qanuqtuurniq\/","clear_filter_collection":0,"clear_filter_tour":"clear","data_attributes":{"data-view-type":"apm_artwork"},"filter_root_url":"\/collection\/","artworkNav":false,"mapMarkers":[{"id":62323,"slug":"qanuqtuurniq","title":"QANUQTUURNIQ","permalink":"https:\/\/artpublicmontreal.ca\/en\/oeuvre\/qanuqtuurniq\/","year":"2016","loc":{"lat":"45.53115507890481","long":"-73.55413155826648"},"artist_names":"<strong>Embassy of Imagination<\/strong>","thumb":"https:\/\/artpublicmontreal.ca\/wp-content\/uploads\/2017\/02\/bousquet-150x150.jpg","infoBox":false,"cat_color":"#e50f09","env":"outdoor","singleArtwork":true}]}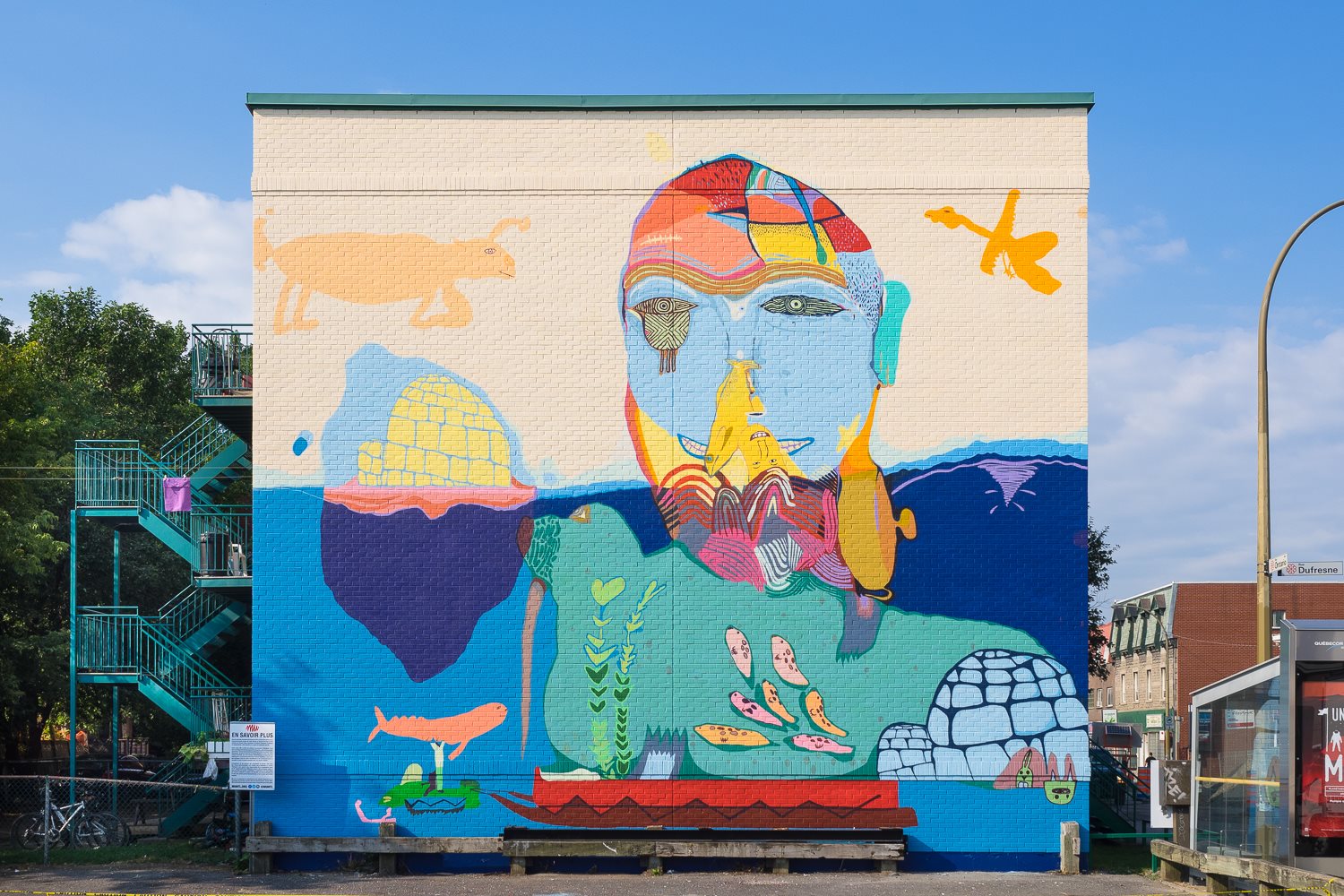 © Alexa Hatanaka and Patrick Thompson, produced by MU -
Crédit photo : Olivier Bousquet (2016)
QANUQTUURNIQ
2016
Embassy of Imagination (EOI) is a multidisciplinary arts initiative for youth based in Cape Dorset, Nunavut. Their workshops introduce youth to a global perspective of art practices and a variety of art mediums, specializing in printmaking and mural painting. EOI leads youth to achieve self-empowerment through creating, fun, and professionally-realized satellite projects across Canada.
EOI is lead by visual artists Alexa Hatanaka and Patrick Thompson. Hatanaka and Thompson have a rich background in socially-engaged art projects and youth mentorship. Hatanaka and Thompson have worked on several visual art projects in the arctic for nearly ten years. They have created well-loved murals in the hamlets of Igloolik, Cape Dorset, Iqaluit, and Hall Beach, as well as in the Northern Quebec towns of Kangiqsujuaq, Kuujjuaq and Inukjuak. They have facilitated youth projects at York University, the Wabano Centre for Aboriginal Health, and the National Gallery.
Read more
Details
Alternative title
Innovative and resourceful
Funding
Canada Council for the Arts, Office municipal d'habitation de Montréal
Source mention
In collaboration with other financial partners
Location

Location
Location
Habitations Coupal
Adress
2360, rue Ontario Est Montréal, QC H2K 1W1
Tour
Tour
Murals of Ontario Street
10 Artworks

45min

Bain Mathieu

Ontario Street
Artwork description
As part of the 2015 Pan American Games in downtown Toronto, four young people from Cape Dorset in Nunavut and two young artists from Toronto, Alexa Hatanaka and Patrick Thompson (Embassy of Imagination), collaborated on a mural that was immensely successful.
Inspired by this project, MU invited these artists to create a mural in Montreal in 2016. The team consisted of five young Inuit: Johnny Samayualie, Parr Josephee, Saaki Nuna, Tommy Quvianaqtuliaq and Salomonie Ashoona, who came to Montreal especially for the project, along with the two artists from Toronto. The mural, "Qanuqtuurniq 'Innovative and Resourceful'", aims to create exchanges between Canadian cities and indigenous communities and to create the most impact possible for the young artists. The mural is located in the Habitations Coupal in the Centre-Sud. The residents of the Habitations were consulted to select one of the three designs proposed by the artists.
The imagination and the drawings that comprise the mural belong to the young Nunavummiuts, all between 13 and 17 years of age. The artists, Alexa Hatanaka and Patrick Thompson are responsible for the final composition of the mural and the arrangement of the drawings that gives it a sense of unity and a narrative meaning. The aesthetic, the inspiration and the meaning of the work reflect the culture, interests, concerns and the lived experiences of the five young Nunavummiuts, and of today's youth.
The artists were assisted by Aidan Price-Bottenberg and Seayenna Lee during the execution of the project.
This project was made possible by generous donations from Paul Desmarais III, Eric Boyko, Simon Dupéré, Stéphanie Larivière, Fabrice Morin, Thomas Cockburn, Daniel Forest, Julie Godin, Sacha Haque, François Lafortune & Anna Chif and Grégoire Baillargeon.