{"title":"Souvenir de 1955 ou 2026 Roberval | Art Public Montr\u00e9al","thisUrl":"https:\/\/artpublicmontreal.ca\/en\/oeuvre\/souvenir-de-1955-ou-2026-roberval\/","body_class":"apm_artwork-template-default single single-apm_artwork postid-50004 apm lang-en apm-imported-item apm-full-js nav-env-filters","query_hud":null,"active_filter":null,"alternate_language_url":"https:\/\/artpublicmontreal.ca\/oeuvre\/souvenir-de-1955-ou-2026-roberval\/","clear_filter_collection":0,"clear_filter_tour":"clear","data_attributes":{"data-view-type":"apm_artwork"},"filter_root_url":"\/collection\/","artworkNav":false,"mapMarkers":[{"id":50004,"slug":"souvenir-de-1955-ou-2026-roberval","title":"Souvenir de 1955 ou 2026 Roberval","permalink":"https:\/\/artpublicmontreal.ca\/en\/oeuvre\/souvenir-de-1955-ou-2026-roberval\/","year":"1992","loc":{"lat":"45.429123","long":"-73.681809"},"artist_names":"<span>Pierre<\/span> <strong>Leblanc<\/strong>","thumb":"https:\/\/artpublicmontreal.ca\/wp-content\/uploads\/imported\/1736_5224-150x150.jpg","infoBox":false,"cat_color":"#e50f09","env":"outdoor","singleArtwork":true}]}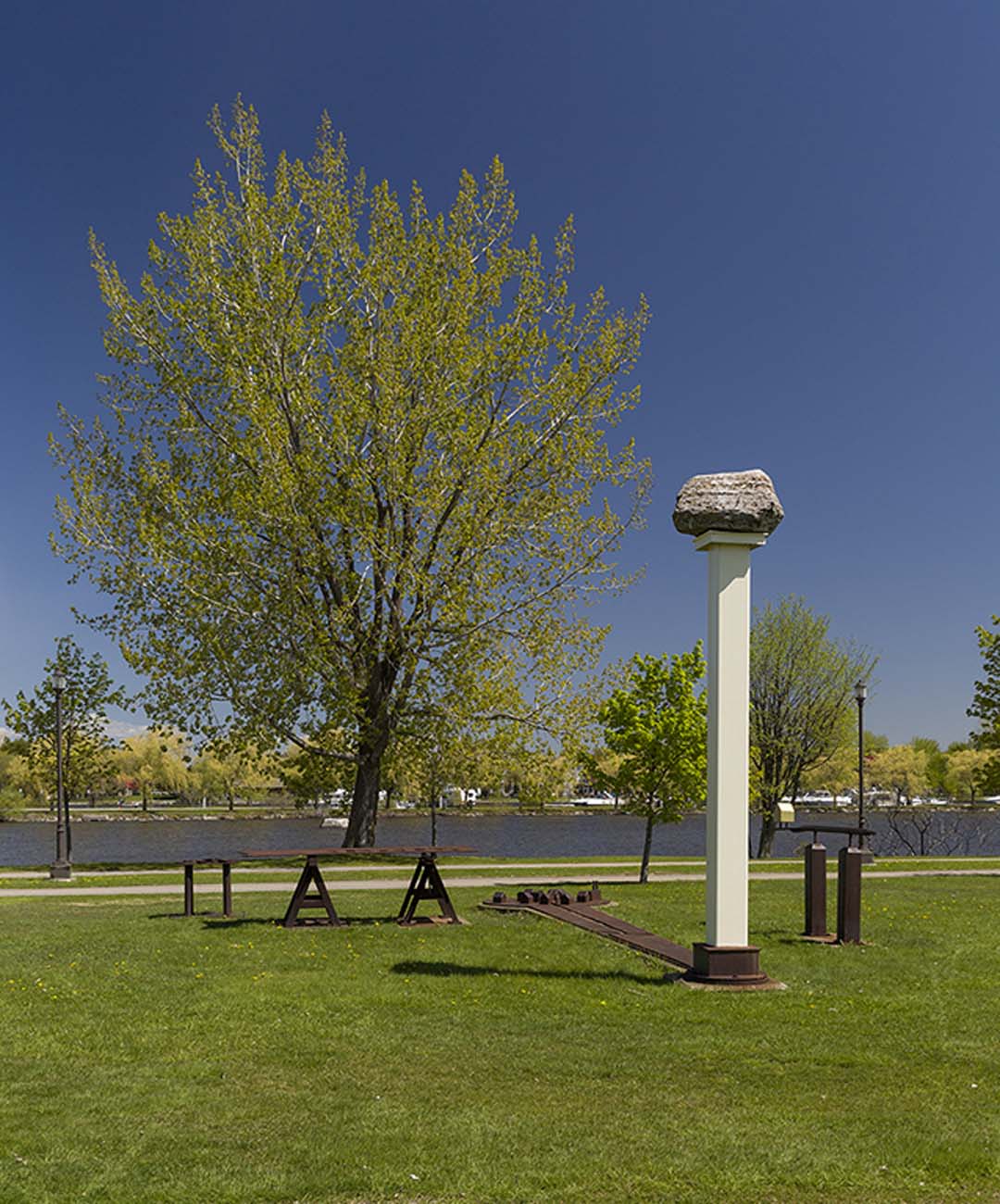 Crédit photo: Guy L'Heureux, 2014
Souvenir de 1955 ou 2026 Roberval
1992
Pierre Leblanc was born in Montréal and has lived and worked in Val-David since 1974. He received his initiation to sculpture at the Fonderie expérimentale de Pierrefonds, where he worked alongside sculptors André Fournelle and Armand Vaillancourt.
His artworks are exhibited regularly in North America and Europe and are in a number of public collections, including the Musée du Bas-Saint-Laurent, the Musée national des beaux-arts du Québec, and the Musée d'art contemporain de Montréal. In 2011, le Musée d'art contemporain des Laurentides presented Signes et repères, a solo exhibition of his recent works. Leblanc has also produced many public art projects throughout Québec.
Read more
Details
Acquisition mode
Transfer
Overall size
465 x 1017 x 800 cm
Technique(s)
bolted, cut out, painted, welded
Location

Location
Location
Parc René-Lévesque
Artwork description
The artwork is composed of a number of elements, including a square column holding up a large rock, whose cast shadow is transposed to the ground in the form of a metallic strip that links the base of the column to the model of a Montréal neighbourhood. On one side of this grouping, a steel oar holds up a small house; on the other side is a workbench on trestles and a low table.
Returning to the places of his childhood, on Rue Roberval in Côte-Saint-Paul, Leblanc discovered that the neighbourhood had changed a great deal since he left it, in 1959. The closing of the Lachine Canal had led to the decline of industrial activities in the area, and his childhood home had been demolished to make way for an elevated expressway, the Turcot Interchange. More than simple commemoration of a personal memory, this artwork highlights the holes in historical memory that engulf the places of ordinary people. It also points to the gap between the fates reserved for different urban neighbourhoods depending on the status of their residents. Two elements of the grouping are not urban: the oar, which underlines where artist's family came from, the Magdalen Islands, and the rock that refers both to the origins of humanity in the Stone Age and also to Leblanc's own home, in the Laurentians.