{"title":"Tessellations sans fin | Art Public Montr\u00e9al","thisUrl":"https:\/\/artpublicmontreal.ca\/en\/oeuvre\/tessellations-sans-fin\/","body_class":"apm_artwork-template-default single single-apm_artwork postid-54162 apm lang-en apm-full-js nav-env-filters","query_hud":null,"active_filter":null,"alternate_language_url":"https:\/\/artpublicmontreal.ca\/oeuvre\/tessellations-sans-fin\/","clear_filter_collection":0,"clear_filter_tour":"clear","data_attributes":{"data-view-type":"apm_artwork"},"filter_root_url":"\/collection\/","artworkNav":false,"mapMarkers":[{"id":54162,"slug":"tessellations-sans-fin","title":"Tessellations sans fin","permalink":"https:\/\/artpublicmontreal.ca\/en\/oeuvre\/tessellations-sans-fin\/","year":"2013","loc":{"lat":"45.510935240488784","long":"-73.55564206838608"},"artist_names":"<span>Alain<\/span> <strong>Paiement<\/strong>","thumb":"https:\/\/artpublicmontreal.ca\/wp-content\/uploads\/2015\/08\/CHUM_Paiement_pavillon_R_-150x150.jpg","infoBox":false,"cat_color":"#e50f09","env":"indoor","singleArtwork":true}]}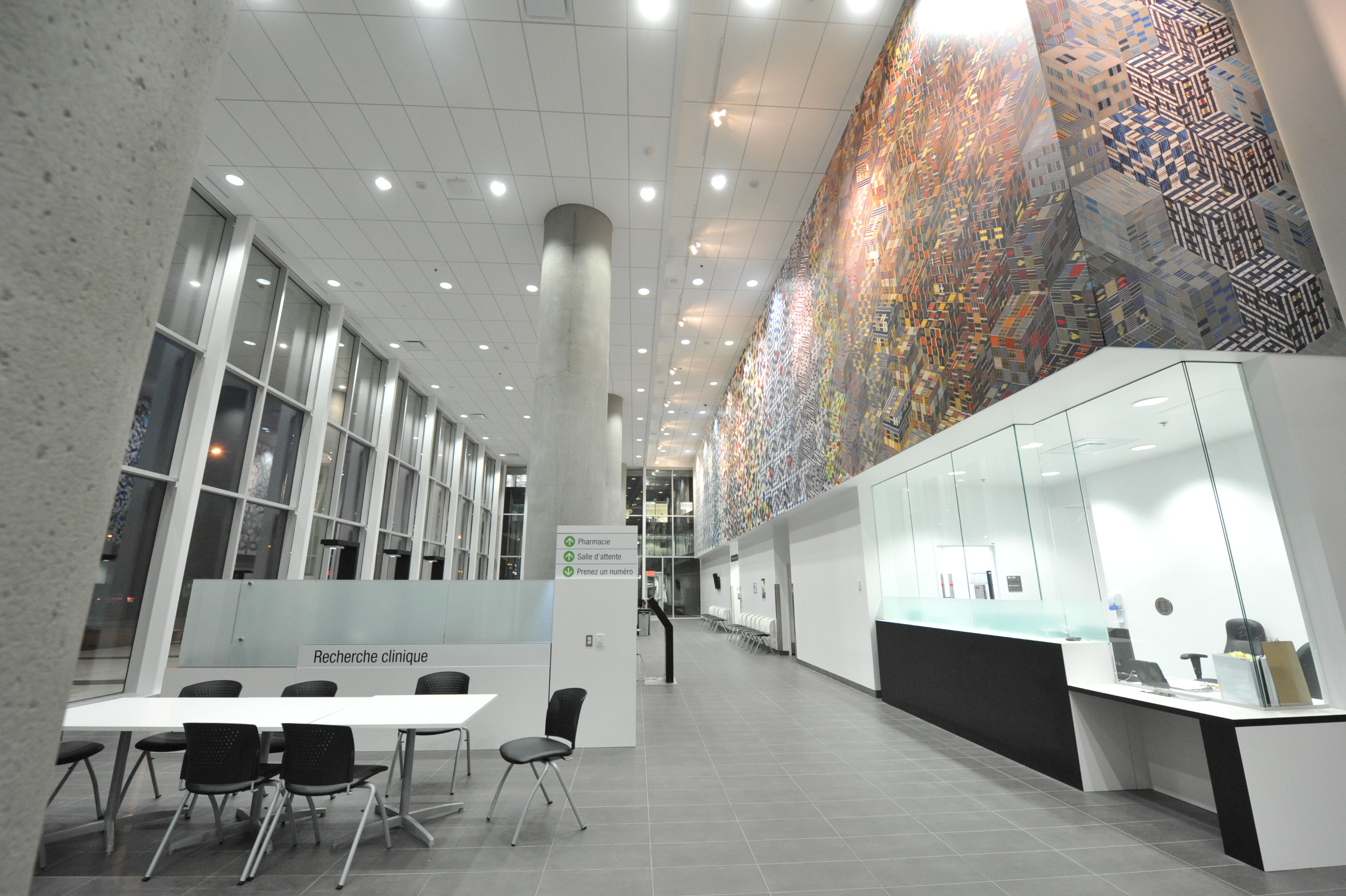 © Alain Paiement, 2020 -
Crédit photo :
Tessellations sans fin
2013
After obtaining a bachelor's degree in visual arts at the Université du Québec à Montréal in 1982, Alain Paiement undertook graduate studies in Europe. In 1987, he returned to Montreal to complete a master's degree in visual arts at UQAM, where he has taught since 2004. The first Québec artist to be invited to show work at the Whitney Museum in New York in 1992, he has been known since the late 1980s for his sculptural, or "plastic" photographic work. Having had works in numerous international exhibitions, he is considered a mainstay of Canadian contemporary photography.
Read more
Details
Acquisition mode
Politique d'intégration des arts à l'architecture et à l'environnement, Government of Quebec
Overall size
Pavillon R : 42 sections de 1,22 m x 2,64 m // Pavillon S : 40 sections de 1,22 m x 2,64 m et 2 sections de 1,02 m x 2,64 m
Technique(s)
print by thermal sublimation, transfer by vaccum melting at high temperature
Mediums
electrostatic paint
Location

Location
Location
Research Centre (CRCHUM)
Localization
Pavilions entrance
Adress
900, rue Saint-Denis, Montréal (Québec) H2X 0A9
Accessibility
Monday to friday 6 am to 7 pm
Artwork description
Two pavilions, two frescoes composed of constantly changing motifs. The variations in tonalities, colours, textures, and contrasts provide a rhythm for the architectural space. The hexagons are in two different scales to suggest the zooming of one image into the other, inviting the gaze inside pavilion R and through the bay window to discover the work in pavilion S.
Like living beings, or snowflakes, no two units are the same. The images suggest both the infinitesimal and the macroscopic, but also unforeseen groupings and encounters. The artist makes a connection between science – genomic sequencing – and tradition – the woven art of Ashanti and Ewe tribes in West Africa.