{"title":"Tower of Songs, Hommage \u00e0 Leonard Cohen | Art Public Montr\u00e9al","thisUrl":"https:\/\/artpublicmontreal.ca\/en\/oeuvre\/tower-of-songs-hommage-a-leonard-cohen\/","body_class":"apm_artwork-template-default single single-apm_artwork postid-65266 apm lang-en apm-full-js nav-env-filters","query_hud":null,"active_filter":null,"alternate_language_url":"https:\/\/artpublicmontreal.ca\/oeuvre\/tower-of-songs-hommage-a-leonard-cohen\/","clear_filter_collection":0,"clear_filter_tour":"clear","data_attributes":{"data-view-type":"apm_artwork"},"filter_root_url":"\/collection\/","artworkNav":false,"mapMarkers":[{"id":65266,"slug":"tower-of-songs-hommage-a-leonard-cohen","title":"Tower of Songs, Hommage \u00e0 Leonard Cohen","permalink":"https:\/\/artpublicmontreal.ca\/en\/oeuvre\/tower-of-songs-hommage-a-leonard-cohen\/","year":"2017","loc":{"lat":"45.4973573","long":"-73.57644429999999"},"artist_names":"<span>Miles<\/span> <strong>MacGregor (El Mac)<\/strong>, <span>Gene<\/span> <strong>Pendon<\/strong>","thumb":"https:\/\/artpublicmontreal.ca\/wp-content\/uploads\/2018\/05\/VOLET-1_Rapport-final-PAM-2017_1420Crescent_ElMac_GenePendon_creditsphoto_OlivierBousquet-PA310081-150x150.jpg","infoBox":false,"cat_color":"#e50f09","env":"outdoor","singleArtwork":true}]}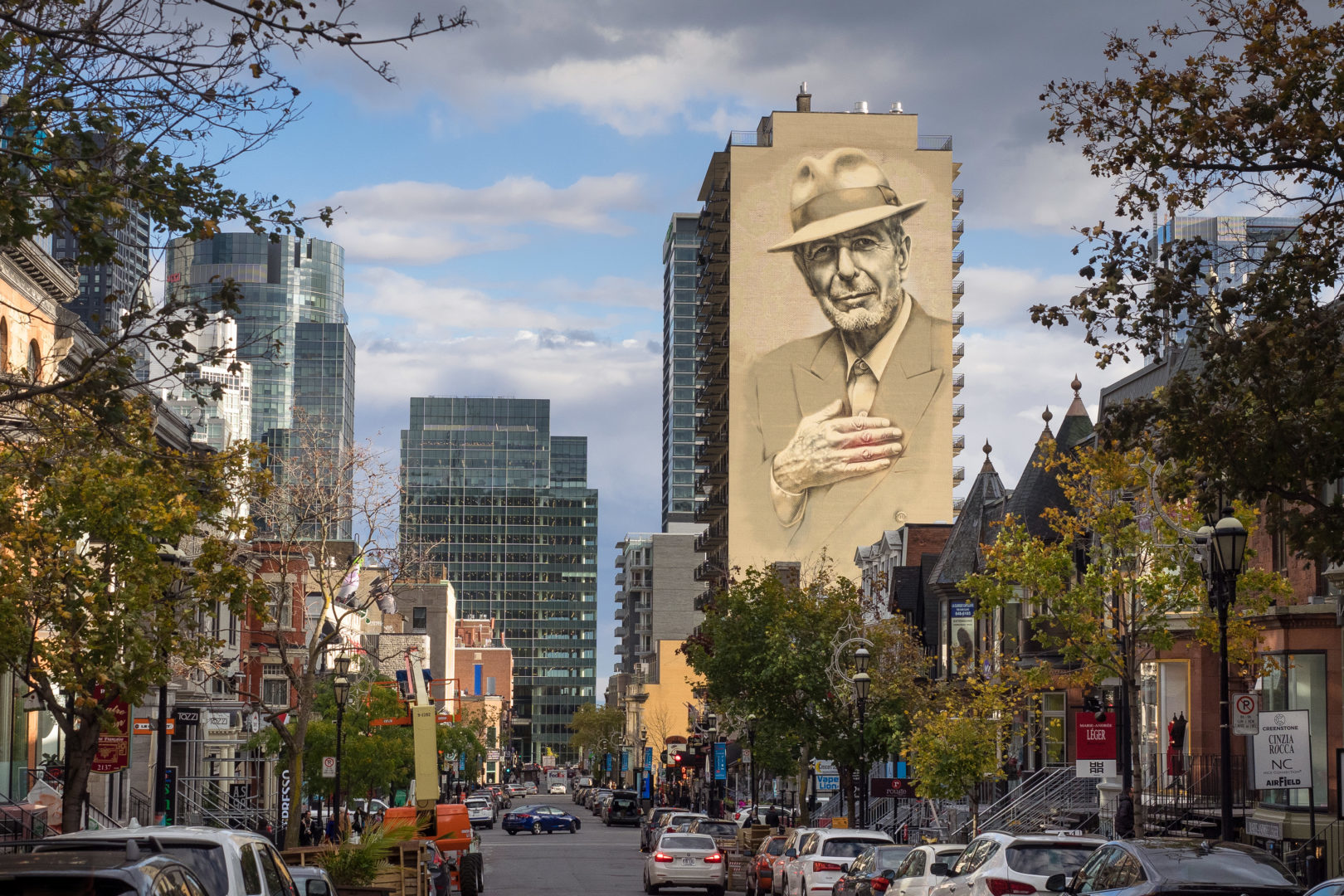 © El Mac et Gene Pendon -
Crédit photo : © Olivier Bousquet, 2017
Tower of Songs, Hommage à Leonard Cohen
2017
El Mac (Miles MacGregor) is an internationally renowned artist whose gorgeous large-scale works blur the lines between fine art and graffiti. El Mac began painting with acrylics and painting graffiti in the mid '90s, when his primary focus became the life-like rendering of human faces and figures. El Mac has since worked consistently toward developing his unique rendering style, which utilizes repeating contour lines reminiscent of ripples, Turing patterns and indigenous North American art.
Read more
Gene Pendon has a Bachelor degree in Fine-Arts (drawing and painting) from Concordia University. In 1998, he co founds Heavyweight Production House (HVW8), now based in Montreal and in Los Angeles. He also co creates the Heavyweight Art Installation, an international project that partners live painting to music and to urban cultures.
Read more
Details
Funding
Private funding, Ville de Montréal
Mediums
acrylic, spray paint
Location

Location
Adress
1420 Rue Crescent, Montréal, QC H3G 2B1
Artwork description
A unique project honouring an exceptional artist, Leonard Cohen. The mural is the result of a collaboration between two artists: El Mac, the internationally renowned American "street" portrait artist, and Gene Pendon, a Montreal-based artist with a fine arts degree from Concordia University. Montreal residents and visitors can now admire the city's largest mural from several key viewpoints.
The mural is a part of MU's Tribute to Montreal's Great Artists series, which includes works honouring Michel Tremblay, Alys Robi, Janine Sutto, Oscar Peterson, Émile Nelligan, Dany Laferrière, and Oliver Jones, among others.
Donors : Brian Levitt, Jonathan Wener, Marcel Elefant, Sari Hornstein, Rossy Family Foundation, J. Gerry Shapiro, Murray Dalfen