{"title":"Untitled | Art Public Montr\u00e9al","thisUrl":"https:\/\/artpublicmontreal.ca\/en\/oeuvre\/untitled-39\/","body_class":"apm_artwork-template-default single single-apm_artwork postid-54712 apm lang-en apm-full-js nav-env-filters","query_hud":null,"active_filter":null,"alternate_language_url":"https:\/\/artpublicmontreal.ca\/oeuvre\/sans-titre-8\/","clear_filter_collection":0,"clear_filter_tour":"clear","data_attributes":{"data-view-type":"apm_artwork"},"filter_root_url":"\/collection\/","artworkNav":false,"mapMarkers":[{"id":54712,"slug":"untitled-39","title":"Untitled","permalink":"https:\/\/artpublicmontreal.ca\/en\/oeuvre\/untitled-39\/","year":"1975","loc":{"lat":"45.50040274437349","long":"-73.61633777618408"},"artist_names":"<span>Jordi<\/span> <strong>Bonet<\/strong>","thumb":"https:\/\/artpublicmontreal.ca\/wp-content\/uploads\/2015\/09\/UdeM_BONET-Sans-titre-1975-150x150.jpg","infoBox":false,"cat_color":"#e50f09","env":"indoor","singleArtwork":true}]}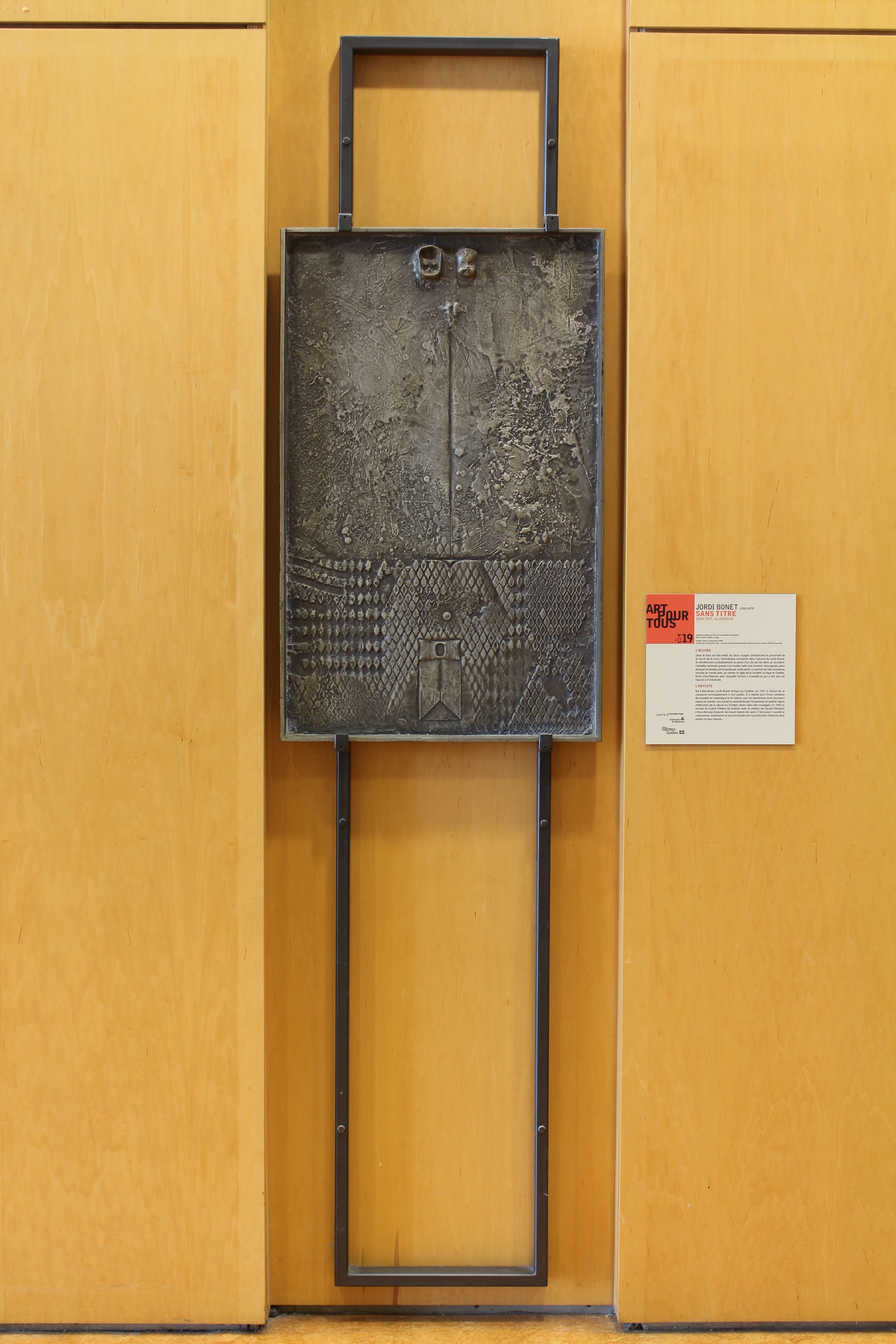 © Succession Jordi Bonet / SODRAC (2021) -
Crédit photo :
Untitled
1975
1932 - 1979
Jordi Bonet was born in 1932 in Barcelona (Spain), where he briefly attended la Llotja School of Fine Arts. In his adolescence, he was in an accident and lost his right arm. He drew a lot in order to develop agility in his right arm and thus rediscovered Velasquez, Goya and Gaudi's architecture. Jordi Bonet was awarded several prizes throughout his career such as the Prize for Drawing at the Montreal Museum of Fine Arts' Spring Exhibition (1958) and the Royal Architectural Institute of Canada's Award of Excellence. He is a member of Barcelona's Cercle Maillol (1953), associate member of the Royal Canadian Academy of Arts (1966) and member of the Association des artistes professionnels du Québec,
Bonet moved to Montreal in 1954 where he would live with his studio neighbor: Catalan artist Jesus Carlos de Vilallonga. He continued his studies at the School of Fine Arts and began studying ceramics with Jean Cartier. He experimented with this new medium by accepting all job offers and started creating his first murals. Jordi Bonet was exasperated by the concessions he would have to make in order to have his work showcased in galleries or museums. He wanted to make art for the people. The 1960s would be a turning point in his career. He would sculpt more than a hundred murals to be showcased around the world; his first pieces were made with ceramic and concrete and then he started using aluminum and bronze. His work consisted of using a printed mold and he then sometimes integrated elements of nature or various objects into the mural. He created some pieces out of glass, such as one for the Our Lady of the Skies chapel in the John F. Kennedy airport in New York. He then briefly taught at the École d'Architecture de l'Université de Montréal (from 1966 to 1968) As of 1971, Bonet gradually stopped creating murals and devoted his time to more intimates pieces.
Read more
Details
Acquisition mode
Donation
Source mention
Donated by Jean-Claude La Haye
Overall size
91,5 x 61 cm
Location

Location
Location
Paul-G. Desmarais pavilion, Université de Montréal
Localization
Entrance hall
Adress
2960, chemin de la Tour, Montréal, QC H3T 1N8
Accessibility
Monday to friday
Artwork description
The piece is composed of two sections. At its top and at its center, two figures. To the left, an upside down mold of a doll's head. To the right, the same mold is downside up. In this section, the mold has a tangible ruggedness. A slit separates the piece in two.
The top section, which covers more than half the piece and which is located in its upper extremity, is characterized by a slit in the the middle. On both sides of the slit, the background keeps the traces of the casting. The two doll's faces are just above the slit, in the extreme top part of the piece. The bottom section which consists of almost a third of the piece has a metal grillwork texture, a Bonet signature move. The center bears the initialism of la Société La Haye et Ouellet, an urban planner firm. The artist's signature is located in the bottom left of the piece.
From 1971 on, when his son died, Jordi Bonet considerably slows down his production of large scale concrete and ceramic pieces. He had already worked several times with aluminum, but from 1970, he begins to regularly integrate this material into his practice, and this, until his death. This period (1971-1979) was characterized by the creation of smaller, more intimate pieces, 3D and bas-reliefs, aluminum sculptures that he would later reproduce to make several copies. Bonet also creates several unique pieces. In these pieces, the usual diversity of his imagery does not hail from simplicity, but rather a restrained intensity. We can well recognize his work by is use of the children faces' forms and the grating-like imprints.