{"title":"Untitled | Art Public Montr\u00e9al","thisUrl":"https:\/\/artpublicmontreal.ca\/en\/oeuvre\/untitled-40\/","body_class":"apm_artwork-template-default single single-apm_artwork postid-54718 apm lang-en apm-full-js nav-env-filters","query_hud":null,"active_filter":null,"alternate_language_url":"https:\/\/artpublicmontreal.ca\/oeuvre\/sans-titre-5\/","clear_filter_collection":0,"clear_filter_tour":"clear","data_attributes":{"data-view-type":"apm_artwork"},"filter_root_url":"\/collection\/","artworkNav":false,"mapMarkers":[{"id":54718,"slug":"untitled-40","title":"Untitled","permalink":"https:\/\/artpublicmontreal.ca\/en\/oeuvre\/untitled-40\/","year":"1960","loc":{"lat":"45.5071342","long":"-73.61441769999999"},"artist_names":"<span>Jordi<\/span> <strong>Bonet<\/strong>","thumb":"https:\/\/artpublicmontreal.ca\/wp-content\/uploads\/2015\/09\/UdeM_BONET-Sans-titre-av1976-150x150.jpg","infoBox":false,"cat_color":"#e50f09","env":"indoor","singleArtwork":true}]}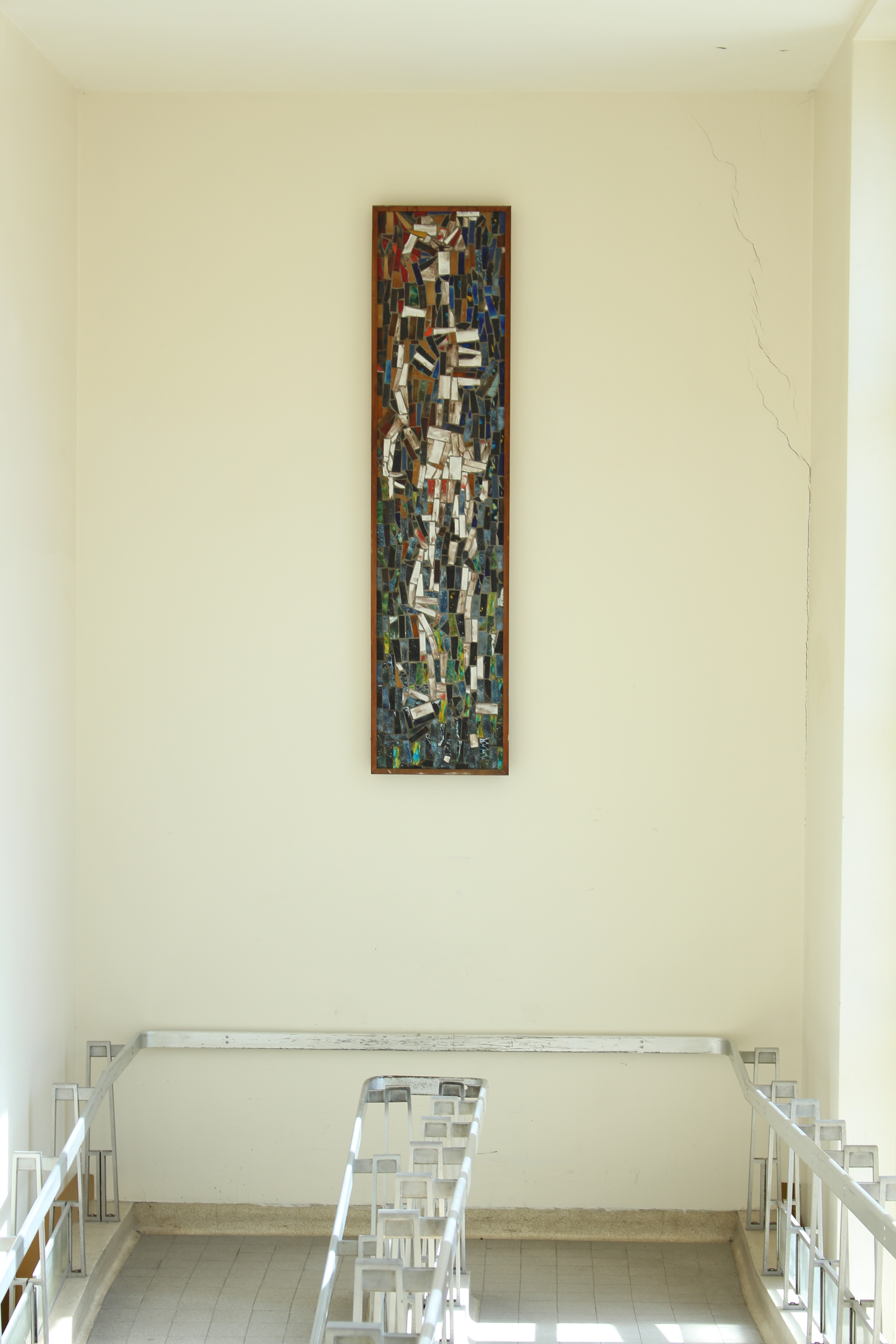 © Jordi Bonet / SODRAC (2021) -
Crédit photo :
Untitled
1960
1932 - 1979
Jordi Bonet was born in 1932 in Barcelona (Spain), where he briefly attended la Llotja School of Fine Arts. In his adolescence, he was in an accident and lost his right arm. He drew a lot in order to develop agility in his right arm and thus rediscovered Velasquez, Goya and Gaudi's architecture. Jordi Bonet was awarded several prizes throughout his career such as the Prize for Drawing at the Montreal Museum of Fine Arts' Spring Exhibition (1958) and the Royal Architectural Institute of Canada's Award of Excellence. He is a member of Barcelona's Cercle Maillol (1953), associate member of the Royal Canadian Academy of Arts (1966) and member of the Association des artistes professionnels du Québec,
Bonet moved to Montreal in 1954 where he would live with his studio neighbor: Catalan artist Jesus Carlos de Vilallonga. He continued his studies at the School of Fine Arts and began studying ceramics with Jean Cartier. He experimented with this new medium by accepting all job offers and started creating his first murals. Jordi Bonet was exasperated by the concessions he would have to make in order to have his work showcased in galleries or museums. He wanted to make art for the people. The 1960s would be a turning point in his career. He would sculpt more than a hundred murals to be showcased around the world; his first pieces were made with ceramic and concrete and then he started using aluminum and bronze. His work consisted of using a printed mold and he then sometimes integrated elements of nature or various objects into the mural. He created some pieces out of glass, such as one for the Our Lady of the Skies chapel in the John F. Kennedy airport in New York. He then briefly taught at the École d'Architecture de l'Université de Montréal (from 1966 to 1968) As of 1971, Bonet gradually stopped creating murals and devoted his time to more intimates pieces.
Read more
Details
Category
Ceramics, Mosaic
Acquisition mode
Purchase
Source mention
Purchase 1976
Location

Location
Location
J.-A._DeSève pavilion
Localization
Ramp between 3rd and 4th floor
Adress
2332, boul. Édouard-Montpetit, Montréal, QC H3T 1J4
Accessibility
Monday to friday
Artwork description
This piece is composed of essentially rectangular fragments of ceramic with different finishes. The white fragments represent a human silhouette through simplified lines. The enamel with a bright finish makes the piece look like a stained glass window.
We unfortunately don't know when this piece was made or its history. However, it is possible that the piece decorated the former community center's chapel. Jordi Bonet built the altar, decorated the walls and furnished the chapel. The J.-A. DeSève pavilion is currently using this space for the Centre d'essai.
Religious art inspired him and he realized that "what all my fellow artists, painters and sculptors then scorned: stations of the cross, church crucifixes, colorful panes for schools, murals with imposed themes or pieces inspired by the cardboard creations of others, portraits, ceramic floors, lamp bases, everything. I will use it all in order to learn and have a successful career (1971)." [Loose translation]
His first order consisted of a series of enamel paintings on a cardboard support for a chapel in Mauricie. This piece would be the prelude to a long series. Bonet indeed created several pieces of religious art for religious establishments: station of the cross for the Séminaire de Métabetchoan and for the Saint-Jean-Marie-Vianney church in Montreal, stained glass windows for the Our Lady of the Skies chapel in the New York JFK airport.