{"title":"Untitled | Art Public Montr\u00e9al","thisUrl":"https:\/\/artpublicmontreal.ca\/en\/oeuvre\/untitled-90\/","body_class":"apm_artwork-template-default single single-apm_artwork postid-63958 apm lang-en apm-full-js nav-env-filters","query_hud":null,"active_filter":null,"alternate_language_url":"https:\/\/artpublicmontreal.ca\/oeuvre\/non-titre-45\/","clear_filter_collection":0,"clear_filter_tour":"clear","data_attributes":{"data-view-type":"apm_artwork"},"filter_root_url":"\/collection\/","artworkNav":false,"mapMarkers":[{"id":63958,"slug":"untitled-90","title":"Untitled","permalink":"https:\/\/artpublicmontreal.ca\/en\/oeuvre\/untitled-90\/","year":"1958","loc":{"lat":"45.56066922665589","long":"-73.60905129933622"},"artist_names":"<span>Gordon<\/span> <strong>Webber<\/strong>","thumb":"https:\/\/artpublicmontreal.ca\/wp-content\/uploads\/2017\/07\/4-1-309-1-Webber-Saint-Bernardin-150x150.jpg","infoBox":false,"cat_color":"#e50f09","env":"outdoor","singleArtwork":true}]}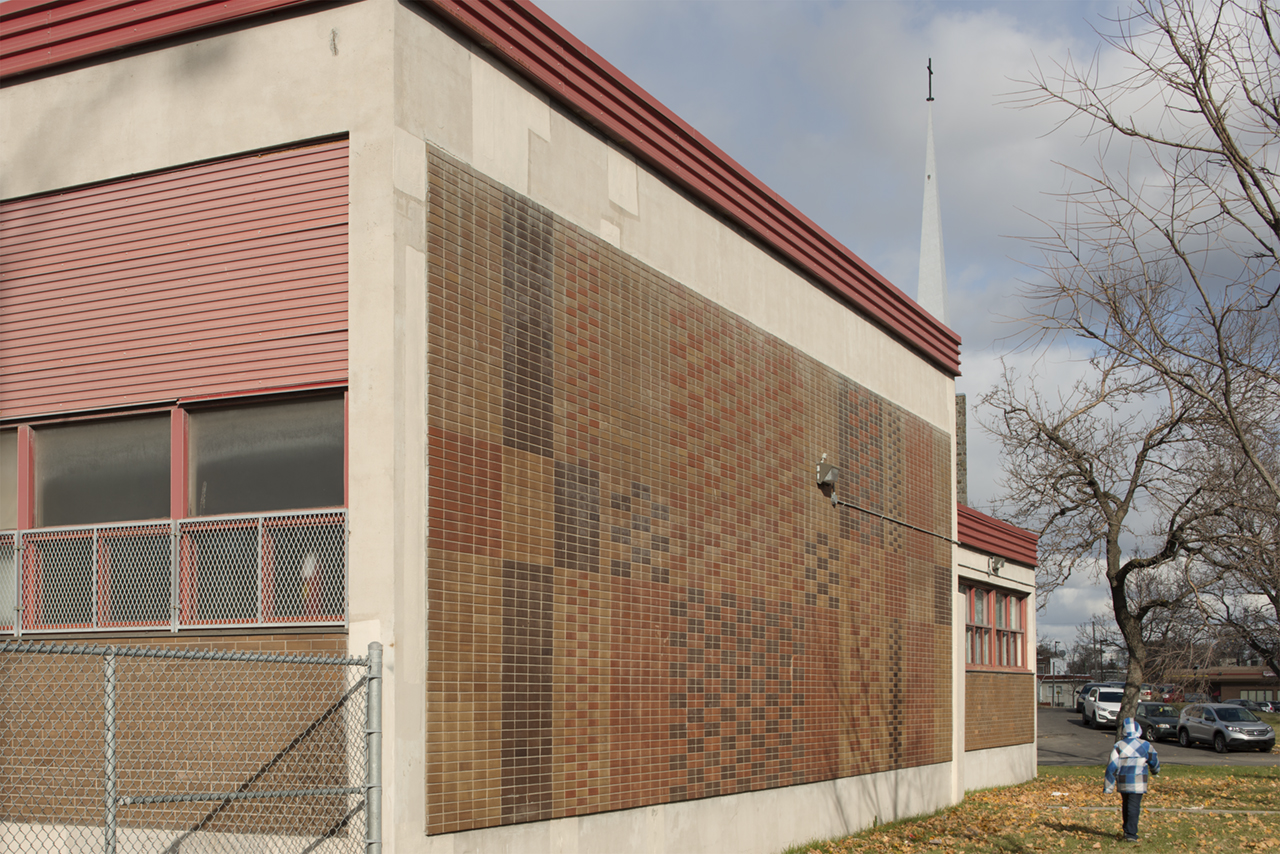 Crédit photo : Alain Laforest (2014)
Untitled
1958
1909 - 1965
Born in Sault-Sainte-Marie, Gordon Webber studied at the Ontario College of Art (1924-1927) and the Art Students League (1928-1930) in Toronto, before moving to Chicago to study at the New Bauhaus (1939-1942), under Lazlo Moholy-Nagy, exiled from the German Bauhaus. He moved to Montréal in 1943, where he taught Bauhaus-inspired design at the McGill University School of Architecture.
Webber also taught at the art school of the Montreal Museum of Fine Arts. He quickly became involved in the Montréal artistic community. In 1948, he signed the Prisme d'Yeux avant-garde manifesto with others, including Alfred Pellan. In 1949 he testified before the Massey Commission on the Arts, Letters and Science in Canada, together with Pellan, Dumouchel, Lapalme and De Tonnancour. He chose geometric abstraction in the work exhibited at the Non-Figurative Artists Association of Montreal and the Montreal Museum of Fine Arts. A member of the Canadian Group of Painters, he has exhibited in Canada and internationally.
Although little known for his public art, much of which has been destroyed, Webber designed several Montréal and Ontario geometric abstract pieces. They include sculptures, mural mosaics in brick, glass stone and ceramic or vinyl, and have been commissioned by such modern architects as Parkin Architects, George Eber and Vincent Rother.
Read more
Details
Acquisition mode
Commission from the artist
Overall size
480 x 1480 x 1,5 cm
Location

Location
Location
École Saint-Bernardin
Localization
South facade, on boulevard Crémazie
Adress
7900, 8e avenue, Montréal, Qc H1Z 2V9
Artwork description
This mosaic wall by Gordon Webber was created with red, beige and brown bricks. It is located along Crémazie Boulevard, on the exterior wall of what is now École Primaire Saint-Bernardin, previously named Saint-Bernardin-de-Sienne. Webber designed an avant-garde piece with the most radical kind of abstraction: geometric. This was shortly after this aesthetic first appeared in Montréal public art. Starting with a single rectangular module of brick, the artist has created a mosaic of orthogonal—right-angled—shapes. Differently coloured squares and rectangles are created from the collected and dispersed arrangement of the coloured brick. As is often the case with abstract murals, at first it can be hard to notice whether this is a piece of artwork or simply a wall in which the brick pattern was a happy accident.