{"title":"This Month's Featured Partner: Biblioth\u00e8que et Archives nationales du Qu\u00e9bec | Art Public Montr\u00e9al","thisUrl":"https:\/\/artpublicmontreal.ca\/en\/2016\/01\/this-months-featured-partner-bibliotheque-et-archives-nationales-du-quebec\/","body_class":"post-template-default single single-post postid-56804 single-format-standard apm lang-en apm-full-js nav-env-classic","query_hud":null,"active_filter":null,"alternate_language_url":"https:\/\/artpublicmontreal.ca\/2016\/01\/partenaire-vedette-du-mois-de-janvier-bibliotheque-et-archives-nationales-du-quebec\/","clear_filter_collection":"clear","clear_filter_tour":"clear","data_attributes":{"data-view-type":"post"},"filter_root_url":"\/collection\/"}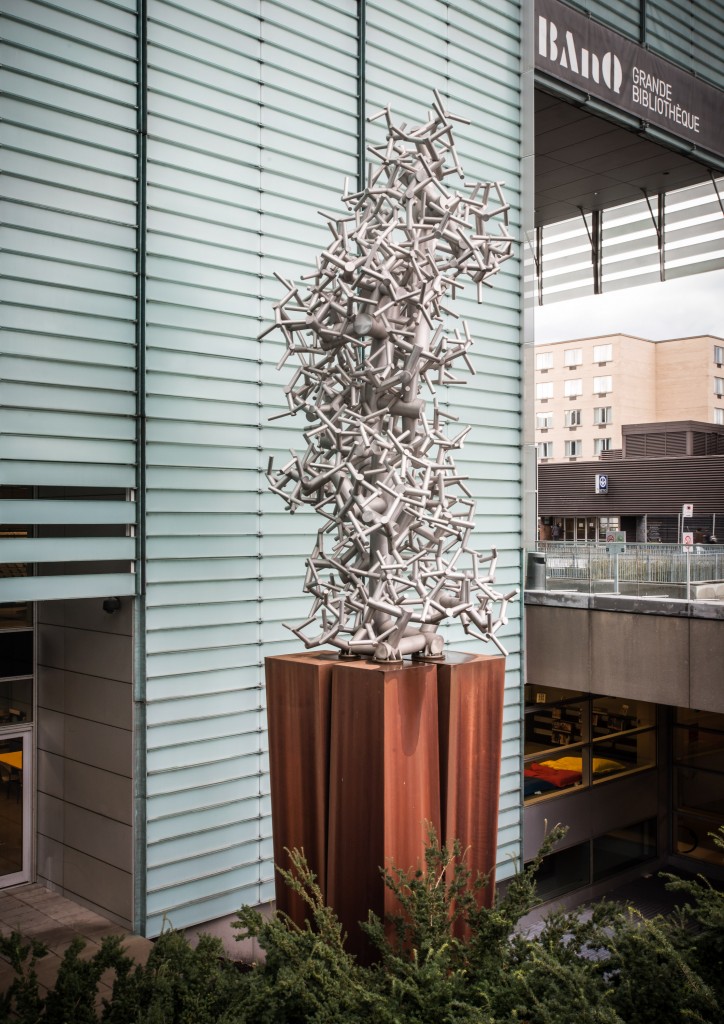 This Month's Featured Partner: Bibliothèque et Archives nationales du Québec
January 11th 2016
At once national library, national archives and public library of a major metropolitan city, Bibliothèque et Archives nationales du Québec (BAnQ) brings together, preserves and promotes heritage materials from or related to Québec. As a key player of the knowledge society and a genuine cultural hub, BAnQ strives to democratize access to knowledge. It carries out its activities in 12 facilities which are open to the public across Québec.
Thematic pathways such as Crossroads of ideas and culture, which highlights a sample of BAnQ's works of art, are yours to discover. The Grande Bibliothèque turns ten! route represents an excellent opportunity to drop by this landmark library, now celebrating its first decade of existence.
Furthermore, public artworks enthusiasts will undoubtedly want to take advantage of their visit to the Grande Bibliothèque to view DéLire, a delirious exhibition showcasing 10 artworks designed by 10 Québec creators, designers, architect or artists attempting to redefine the library's reading space.  On view at the Grande Bibliothèque until October 16.
Photo: Espace fractal, Jean-Pierre Morin

© Jean-Pierre Morin (2015) –
Crédit photo : Michel Legendre / Bibliothèques et Archives nationales du Québec, 2014