{"title":"New kinetic sculpture at Concordia | Art Public Montr\u00e9al","thisUrl":"https:\/\/artpublicmontreal.ca\/en\/2017\/09\/new-kinetic-sculpture-at-concordia\/","body_class":"post-template-default single single-post postid-64412 single-format-standard apm lang-en apm-full-js nav-env-classic","query_hud":null,"active_filter":null,"alternate_language_url":"https:\/\/artpublicmontreal.ca\/2017\/09\/une-oeuvre-cinetique-pour-la-collection-concordia\/","clear_filter_collection":"clear","clear_filter_tour":"clear","data_attributes":{"data-view-type":"post"},"filter_root_url":"\/collection\/"}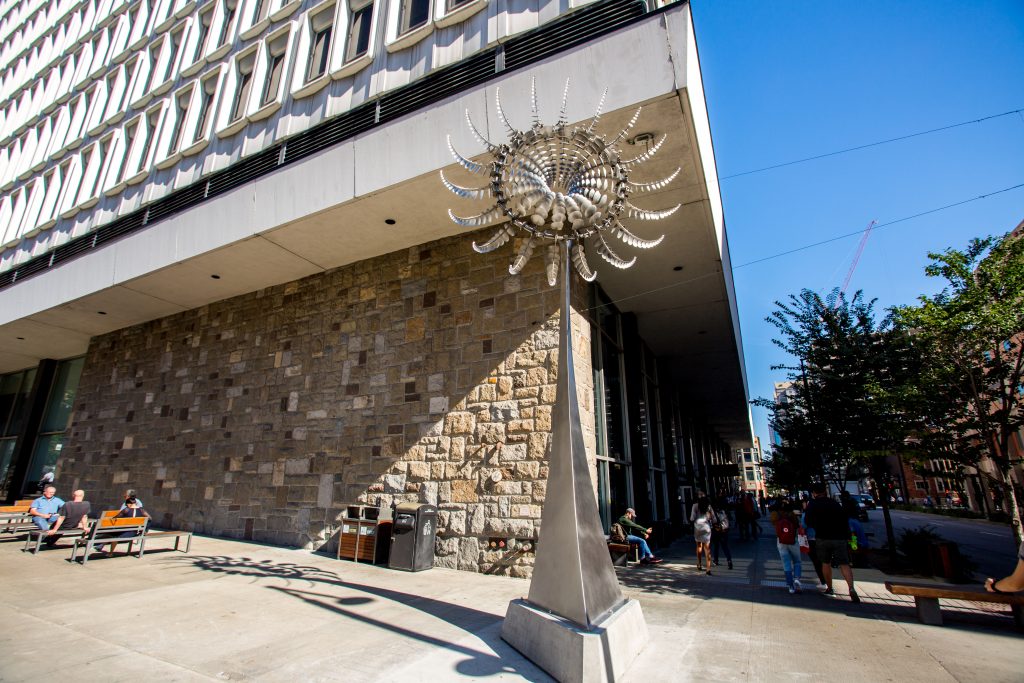 New kinetic sculpture at Concordia
September 28th 2017
Di-Octo II, created by renowned American artist Anthony Howe, was unveiled on Mackay St. and De Maisonneuve Blvd. W. by Concordia University.
Chancellor, business leader and philanthropist Jonathan Wener and wife Susan donate next-generation, eight-metre-high kinetic sculpture to city and Concordia for Montreal's 375th and Canada's 150th anniversaries. The towering new Di-Octo sculpture on Sir-George-Williams campus outside the southwest corner of Concordia's Henry F. Hall Building is unique and enthralling. The piece comes alive as the wind blows, swallowing and reopening of its stainless-steel tentacles ad infinitum. Its outstretched arms welcome students, faculty, staff, alumni and visitors to Concordia. It only takes two kilometres an hour of wind to activate its moving parts — and it works in near complete silence.
Concordia President Alan Shepard is grateful for the distinctive artwork. "Jonathan and Susan Wener have given our university, city and province an exceptional, next generation artwork," he says. "Di-Octo is a striking visual metaphor for Concordia's strategic direction to embrace our city. This sculpture is a feat of engineering that will allow Concordians and Montrealers to contemplate the role of art in our society. I can watch it from my office and it's mesmerizing." M. Wener discovered Anthony Howe's work through his daughter, Katherine (Kassy) Wener, who was given the family mandate to find a sculpture that would be truly inspirational. "She was as moved and excited as Susan and I were by Anthony Howe's genius and creativity," says Wener. Coincidentally, Howe's piece was being fabricated at Show Canada, a steelworks company in Laval, Que. Howe and Show Canada were also responsible for the centrepiece cauldrons at the 2016 summer Rio Olympics in Brazil. The Weners visited Show Canada and witnessed the indoor display of Di-Octo. "When the sculpture came to life in front of an industrial-strength fan, we were amazed," he says. "It was mesmerizing."
Welcome addition to public art
Clarence Epstein, senior director of urban and cultural affairs at Concordia, says Di-Octo joins a wider public art strategy developed 15 years ago. The university features one of the largest public art collections for a public institution. Examples include Genevieve Cadieux's Lierre sur Pierre, the anodized metal vines climbing up Concordia's John Molson Building's northern façade on De Maisonneuve St. There's also Adad Hannah's Leap, the giant image displayed on the glass windows of the PERFORM Centre on the Loyola Campus.
The addition of Di-Octo is a powerful reaffirmation of the role of public art at the university. "This gift from Jonathan Wener helps Concordia position public art on a major intersection that commands a lot of attention," Epstein says. "Our university is making a statement about the role of art in its curriculum and its institutional mandate."
Source and more information: Press release.
Photo: © Anthony Howe – 
Crédit photo : Concordia University (2017)