{"title":"Discover the public artwork by Patrick Bernatchez at Tr\u00f4ne Subway Station in Brussels | Art Public Montr\u00e9al","thisUrl":"https:\/\/artpublicmontreal.ca\/en\/2018\/08\/discover-the-public-artwork-by-patrick-bernatchez-at-trone-subway-station-in-brussels\/","body_class":"post-template-default single single-post postid-65702 single-format-standard apm lang-en apm-full-js nav-env-classic","query_hud":null,"active_filter":null,"alternate_language_url":"https:\/\/artpublicmontreal.ca\/2018\/08\/decouvrez-loeuvre-de-patrick-bernatchez-a-la-station-de-metro-trone-a-bruxelles\/","clear_filter_collection":"clear","clear_filter_tour":"clear","data_attributes":{"data-view-type":"post"},"filter_root_url":"\/collection\/"}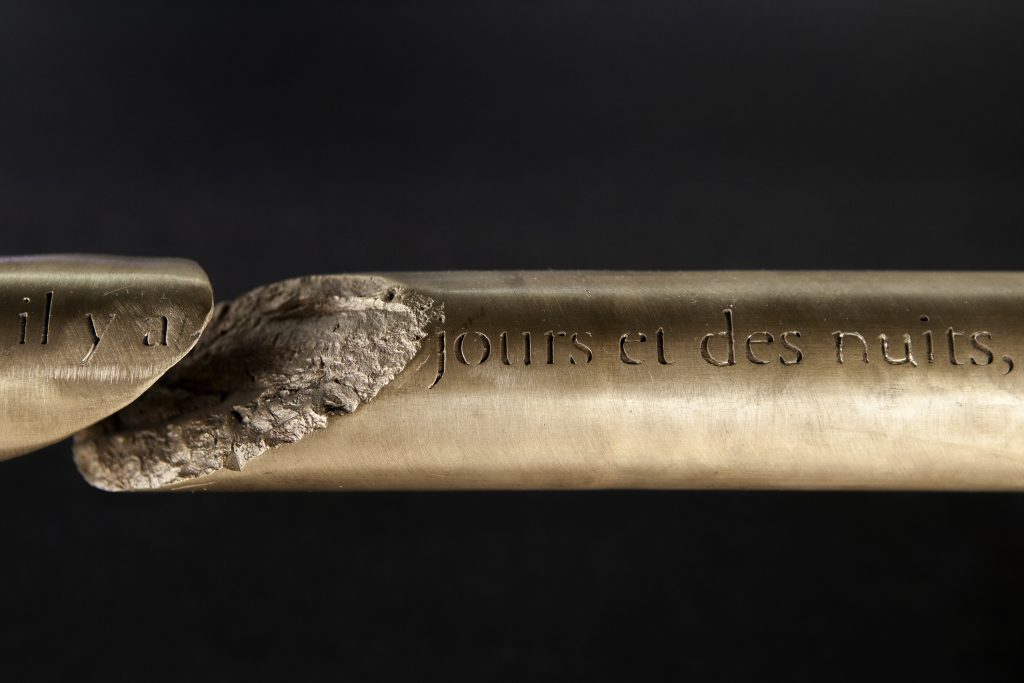 Discover the public artwork by Patrick Bernatchez at Trône Subway Station in Brussels
August 13th 2018
The artwork SOL/GROND, by Quebec artist Patrick Bernatchez, is installed at the Trône métro station in the heart of the European capital, Brussels. The integration of this work completes a bold artistic exchange between Brussels Mobility and the Société de transport de Montréal (STM), and symbolizes the strengthened ties that unite Brussels and Montreal, within the framework of the cooperation agreement between the Government of Quebec and the Brussels-Capital Region. In 2017, the artwork Soleil de Minuit by Brussels artist Adrien Lucca was inaugurated at the Place-d'Armes métro station in Montreal.
According to Patrick Bernatchez, SOL/GROND seeks to evoke, in public space, the cultural realities and human stories that reside in our respective histories and which encounter each other at this very site. Through modest interventions on the balustrades and the handrail, the work seeks to be a gathering of both material and cultural stories that intertwine the experience of uprooting shared by surviving refugees, migrants or exiles.
The work took shape through the testimony of Martha Flaherty from the Inukjuak Inuit community in Nunavik (Quebec) who was forced to move to Grise Fiord and Resolute (High Arctic) in the 1950s and who now lives in Ottawa in Ontario, Canada. As well as through the testimony conveyed by the words of Pie Tshibanda, originally from Kasaï, who grew up in Katanga and went into exile in Belgium where he currently lives.
«Here and elsewhere the metro is a means of transportation, but it is also a means of expression for artists. I salute Patrick Bernatchez for his work and hope that it will not only bring the citizens of Montreal and Brussels closer together, but also unite all people who have a story to tell,» said Philippe Schnobb, Chairman of the Board of Directors of the STM.
Images: SOL/GROND, Patrick Bernatchez
Photos: Julie Guiches, 2018