{"title":"Abcdefghijklmnopqrstuvwxy\u2026 | Art Public Montr\u00e9al","thisUrl":"https:\/\/artpublicmontreal.ca\/en\/oeuvre\/abcdefghijklmnopqrstuvwxy\/","body_class":"apm_artwork-template-default single single-apm_artwork postid-67993 apm lang-en apm-full-js nav-env-filters","query_hud":null,"active_filter":null,"alternate_language_url":"https:\/\/artpublicmontreal.ca","clear_filter_collection":0,"clear_filter_tour":"clear","data_attributes":{"data-view-type":"apm_artwork"},"filter_root_url":"\/collection\/","artworkNav":false,"mapMarkers":[{"id":67993,"slug":"abcdefghijklmnopqrstuvwxy","title":"Abcdefghijklmnopqrstuvwxy\u2026","permalink":"https:\/\/artpublicmontreal.ca\/en\/oeuvre\/abcdefghijklmnopqrstuvwxy\/","year":"1994.2018","loc":{"lat":45.55166220000000265599737758748233318328857421875,"long":-73.642462800000004108369466848671436309814453125},"artist_names":"<span>Richard<\/span> <strong>Purdy<\/strong>","thumb":"https:\/\/artpublicmontreal.ca\/wp-content\/uploads\/2019\/12\/Purdy2-cour-interieure_72-150x150.jpg","infoBox":false,"cat_color":"#e50f09","env":"outdoor","singleArtwork":true}]}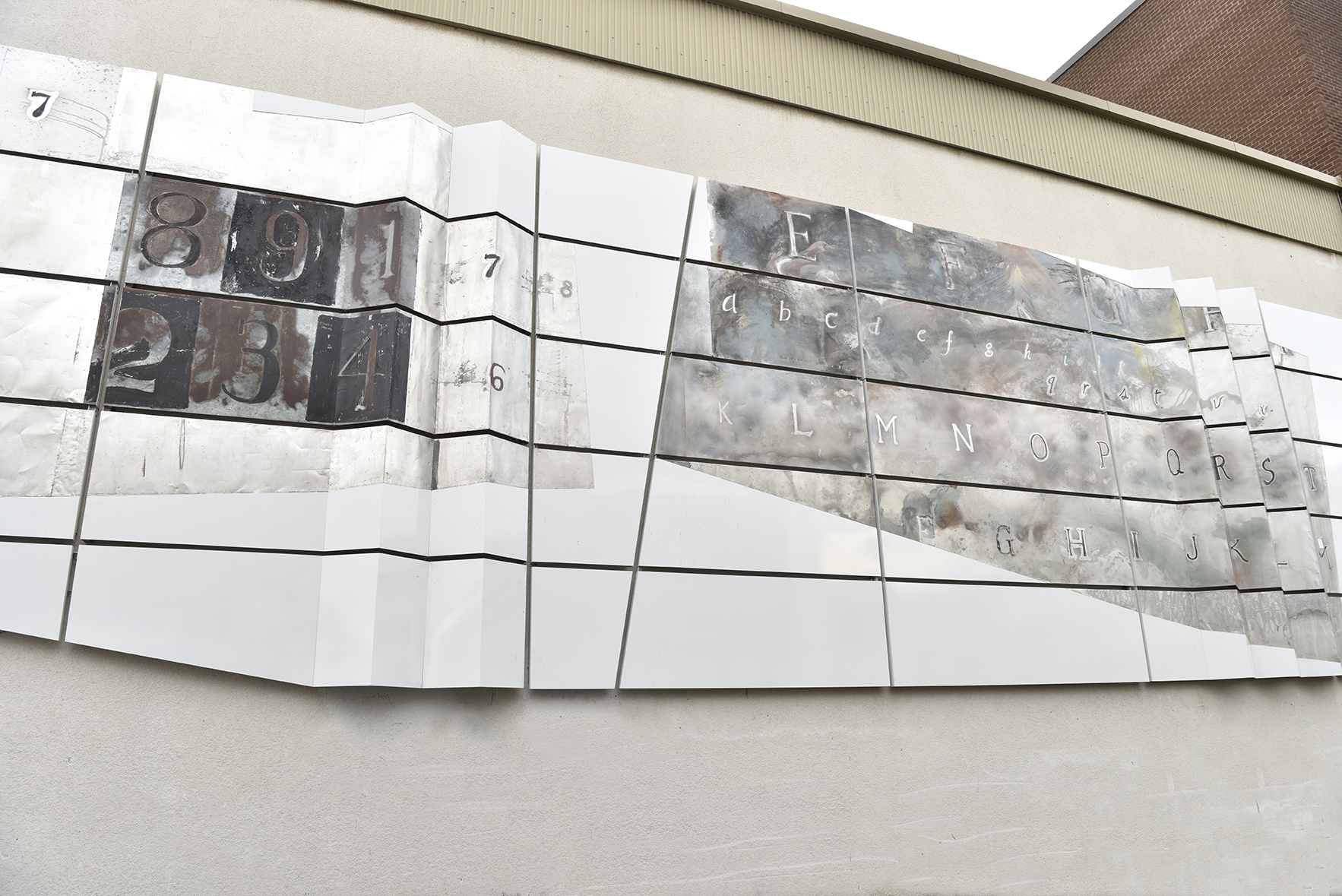 ©Richard Purdy, Collège Ahuntsic (2019) / photo Caroline Bergeron -
Crédit photo : © Centre de conservation du Québec, J. Morissette 2008
Abcdefghijklmnopqrstuvwxy…
1994.2018
Richard Purdy studied at the Nova Scotia College of Art and Design in Halifax, then pursued a Master's in Arts at the Villa Schifanoia Badia Fiesolana in Florence and a Doctorate's in the studies and practices of art at UQAM in 2000. He also teaches visual art and art history in the UQTR's Département des arts while directing research projects. He has published more than twenty papers.
In 1991, Richard Purdy founded Les Industries Perdues. The collective created 19 public art projects, including pieces for the United Nations, Quebec City, the STCUM, Cirque du Soleil, Télé-Québec, Ahuntsic Cégep, the Théatre du Nouveau Monde, the Carbone 14's Usine "C" and the place Gérard-Godin in front of the Mont-Royal metro station in Montreal. The artist participated in over a hundred solo or collective exhibits in France, Great Britain, the United States, Germany, Australia and of course in Quebec and Canada. In 2010, he showcased his work at the Espace Shawinigan, an exhibit which regrouped four very large installations.
Richard Purdy does as much performance art, paintings, installation as sculpture and works with researchers in other disciplines. Interdisciplinary work is important to him because it presents a subject in many different points of view. This artist loves to surprise his public and plays on ambiguity and illusions. Purdy also subverts systems that melt reality because, as he put it, "my goal is not to create the new, but to discover what has been forgotten." He also explored on many occasions the theme of stupa, particularly in the performing arts and dance. He believes that one must experience an object in order to understand its fundamental meaning.
Read more
Details
Materials
aluminum, metal
Overall size
2 panels : 365 x 884 cm et 365 x 600 cm, In frame : 472 x 1789 cm
Technique(s)
cut out, oxidization, screwed assembly
Location

Location
Location
Collège Ahuntsic
Localization
In the inner courtyard
Adress
9055 rue Saint-Hubert Montréal, Québec H2M 1Y8
Accessibility
Collège Ahuntsic opening hours
Artwork description
This work, created under the Quebec government's art and architecture integration program, consists of two mural reliefs that were originally installed facing one another, entirely covering the upper walls of the college's main entrance and echoing its architectural structure. Dismantled in 2012 and then again in 2015 during renovations to the entrance hall of the Saint-Ignace Pavilion (Building C), the murals have been on display since spring 2019 in a new version approved by the artist.

The two panels, installed in the college's inner courtyard and exposed to the air, have been mounted in a white aluminum frame and placed side by side on the wall that runs beside Pavilion B. In creating Abcdefghijklmnopqrstuvwxy… Richard Purdy drew initial inspiration from what in 1994 was still a characteristic feature of the neighbourhood's architecture: the oxidized metal seen everywhere, most evidently in the backyard sheds that began gradually disappearing during the 2000s, as fire prevention regulations became more stringent. With the aim of creating a tangible geographical connection to the surroundings, the artist oxidized the aluminium to age it, using acids and pigments to enhance the effect, and denting and scratching the metal surface.

Across this uneven surface are scattered different-sized letters and numbers. Given the setting, viewers spontaneously associate these elements with a school environment, where students learn to read and count. But the letters and numbers of Abcdefghijklmnopqrstuvwxy… play a different role: the artist has not arranged them in a way that allows them to be read or interpreted as elements in a calculation, and the irregularity of the surface would in any case hamper such an attempt. Devoid of literal meaning, they should be seen rather as graphic symbols to be observed and rediscovered in an educational establishment whose history is closely linked to a school of graphic design. The letters and numbers thus morph back into the signs from which human knowledge is formed and which make creation possible.

The relief's title also evokes a possible but not necessarily predictable future, for there is a letter missing from Abcdefghijklmnopqrstuvwxy… The artist has left the end of the title open, making it a metaphor for student life, when young adults work towards something whose outcome is uncertain.