{"title":"Le Jardin des Hesp\u00e9rides | Art Public Montr\u00e9al","thisUrl":"https:\/\/artpublicmontreal.ca\/en\/oeuvre\/le-jardin-des-hesperides-the-garden-of-the-hesperides\/","body_class":"apm_artwork-template-default single single-apm_artwork postid-54897 apm lang-en apm-full-js nav-env-filters","query_hud":null,"active_filter":null,"alternate_language_url":"https:\/\/artpublicmontreal.ca\/oeuvre\/le-jardin-des-hesperides\/","clear_filter_collection":0,"clear_filter_tour":"clear","data_attributes":{"data-view-type":"apm_artwork"},"filter_root_url":"\/collection\/","artworkNav":false,"mapMarkers":[{"id":54897,"slug":"le-jardin-des-hesperides-the-garden-of-the-hesperides","title":"Le Jardin des Hesp\u00e9rides","permalink":"https:\/\/artpublicmontreal.ca\/en\/oeuvre\/le-jardin-des-hesperides-the-garden-of-the-hesperides\/","year":"1994","loc":{"lat":"45.501125588851956","long":"-73.61566856503487"},"artist_names":"<span>Richard<\/span> <strong>Purdy<\/strong>, <strong>Les Industries perdues<\/strong>","thumb":"https:\/\/artpublicmontreal.ca\/wp-content\/uploads\/2015\/09\/UdeM_PURDY_1-150x150.jpg","infoBox":false,"cat_color":"#e50f09","env":"outdoor","singleArtwork":true}]}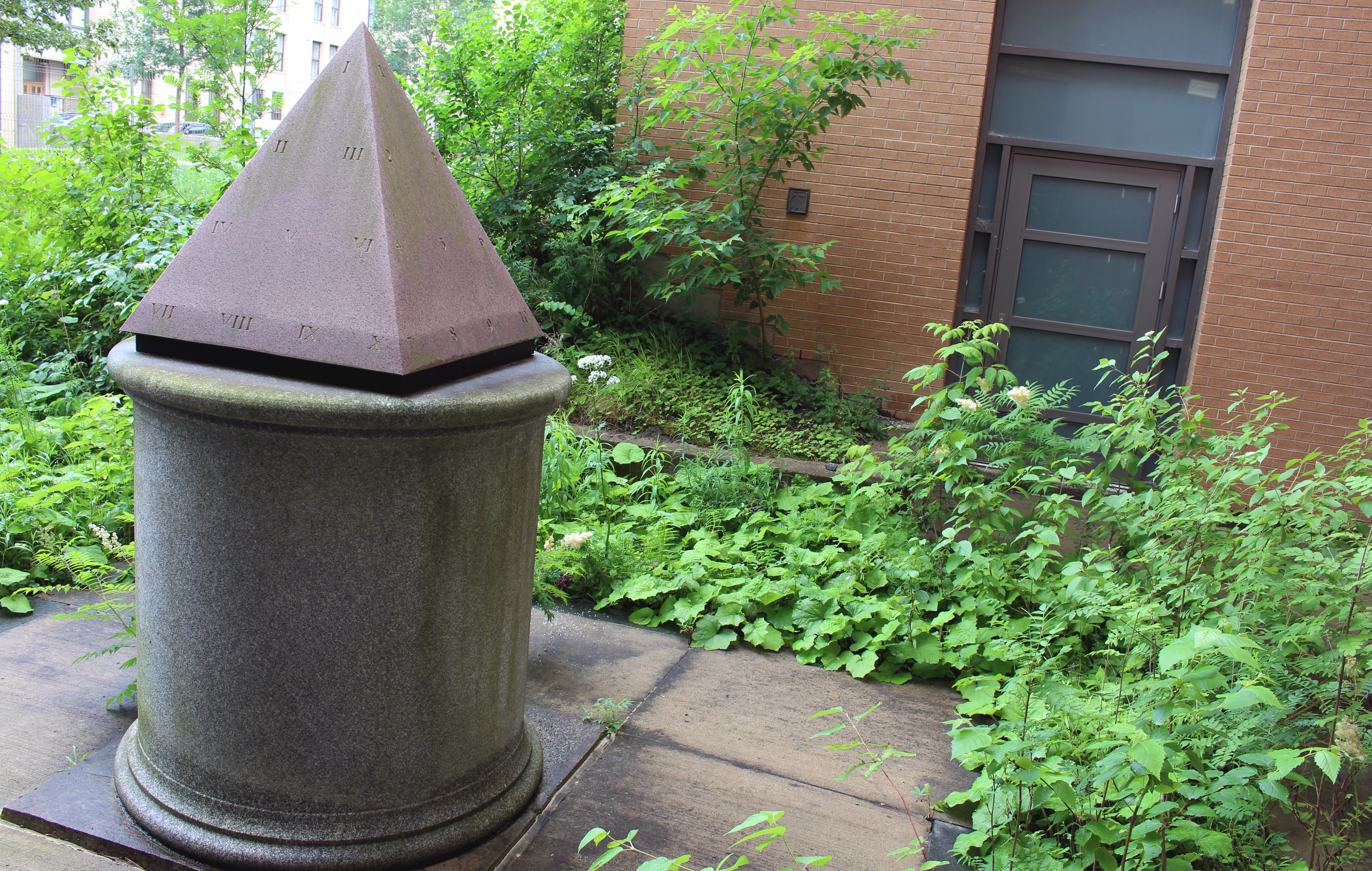 © Richard Purdy (1993) -
Crédit photo : Patrick Mailloux (2015)
Le Jardin des Hespérides
1994
Richard Purdy studied at the Nova Scotia College of Art and Design in Halifax, then pursued a Master's in Arts at the Villa Schifanoia Badia Fiesolana in Florence and a Doctorate's in the studies and practices of art at UQAM in 2000. He also teaches visual art and art history in the UQTR's Département des arts while directing research projects. He has published more than twenty papers.
In 1991, Richard Purdy founded Les Industries Perdues. The collective created 19 public art projects, including pieces for the United Nations, Quebec City, the STCUM, Cirque du Soleil, Télé-Québec, Ahuntsic Cégep, the Théatre du Nouveau Monde, the Carbone 14's Usine "C" and the place Gérard-Godin in front of the Mont-Royal metro station in Montreal. The artist participated in over a hundred solo or collective exhibits in France, Great Britain, the United States, Germany, Australia and of course in Quebec and Canada. In 2010, he showcased his work at the Espace Shawinigan, an exhibit which regrouped four very large installations.
Richard Purdy does as much performance art, paintings, installation as sculpture and works with researchers in other disciplines. Interdisciplinary work is important to him because it presents a subject in many different points of view. This artist loves to surprise his public and plays on ambiguity and illusions. Purdy also subverts systems that melt reality because, as he put it, "my goal is not to create the new, but to discover what has been forgotten." He also explored on many occasions the theme of stupa, particularly in the performing arts and dance. He believes that one must experience an object in order to understand its fundamental meaning.
Read more
In 1991, Richard Purdy founded the Les industries perdues collective; François Hébert joined the same year. Each has a master's degree in visual arts and a good number of solo exhibitions to his credit. Truly integrated into the urban environment and deliberately narrative in nature, their artworks appropriate objects by slipping them into an existing or invented mythical context. Among their productions are L'Horizon vertical (1997) at Théâtre de Nouveau Monde, Deus ex machina (1995) at Usine C, and La vivrière (1995) in Place de la FAO in Québec City.
Read more
Details
Acquisition mode
Politique d'intégration des arts à l'architecture et à l'environnement, Government of Quebec
Materials
brick, bronze, concrete, granite
Overall size
277 x 122 cm
Technique(s)
assembled, carved, cast, engraved, sculpted
Location

Location
Location
André- Aisenstadt pavilion, Université de Montréal
Localization
On each side of the main entrance
Adress
2920, chemin de la tour, Montréal, QC H3T 1N8
Artwork description
The sculpture is composed of two parts, each of them installed on either sides the main entrance. In Greek mythology, the Hesperides were the guardians of the golden apples, thereby suggesting by the title a reference to Western Philosophy. Richard Purdy freely employs symbols and myths to form his own cosmology.
On the left of the main entrance, there is a granite pyramid with four sides, on which are engraved four notation systems: Arabic, Roman, Greek and binary. The pyramid want to symbolise the abstract thinking specific to mathematics. It rests on a cylindrical granite plinth symbolizing the earth or pure matter. In its whole, because of its stable and permanent appearance, this sculpture's part incarnates the Greek principles from which the mathematical sciences originated.
To the right, a pine cone cast in bronze refers to a mathematical formula found in nature, the Fibonacci sequence, in which each number is equal to the sum of its previous two. It shows the link between the Université, a learning space, and the Mount Royal, pine trees' natural habitat. The pine cone rests on a miniature brick plinth, a reference to architecture and applied geometry.
Purdy chose to work with primary shapes (a cylinder, a cube, a pyramid and a circle) and also to divide the piece, as the brain is divided in two hemispheres. The sculpture of the pyramid and the cube is more Cartesian, more rational. The other one with the oversized pine cone resting on a Art Deco-style structure – referencing the Ernest Cormier building next to it (the pavilion Roger-Gaudry) –is more intuitive, irrational. This also bears a ecological comment: the building became plinth, shows that nature should override on human construction.
It is with the collective of artists Les Industries perdues, alongside François Hébert and Carmelo Arnoldin, that Purdy created this piece.
Thus, the pine cone's enormous size resting on the building playing the role of a pedestal references Purdy's dear inversions, while the notation systems and mathematical rationality were a part of François Hébert's research at the time.