{"title":"Chromazone | Art Public Montr\u00e9al","thisUrl":"https:\/\/artpublicmontreal.ca\/en\/oeuvre\/chromazone\/","body_class":"apm_artwork-template-default single single-apm_artwork postid-58042 apm lang-en apm-full-js nav-env-filters","query_hud":null,"active_filter":null,"alternate_language_url":"https:\/\/artpublicmontreal.ca\/oeuvre\/chromazone\/","clear_filter_collection":0,"clear_filter_tour":"clear","data_attributes":{"data-view-type":"apm_artwork"},"filter_root_url":"\/collection\/","artworkNav":false,"mapMarkers":[{"id":58042,"slug":"chromazone","title":"Chromazone","permalink":"https:\/\/artpublicmontreal.ca\/en\/oeuvre\/chromazone\/","year":"2015","loc":{"lat":"45.46622577200556","long":"-73.63082706928253"},"artist_names":"<span>Hal<\/span> <strong>Ingberg<\/strong>","thumb":"https:\/\/artpublicmontreal.ca\/wp-content\/uploads\/2016\/08\/Ingberg_Chromazone_016_ult-150x150.jpg","infoBox":false,"cat_color":"#e50f09","env":"indoor","singleArtwork":true}]}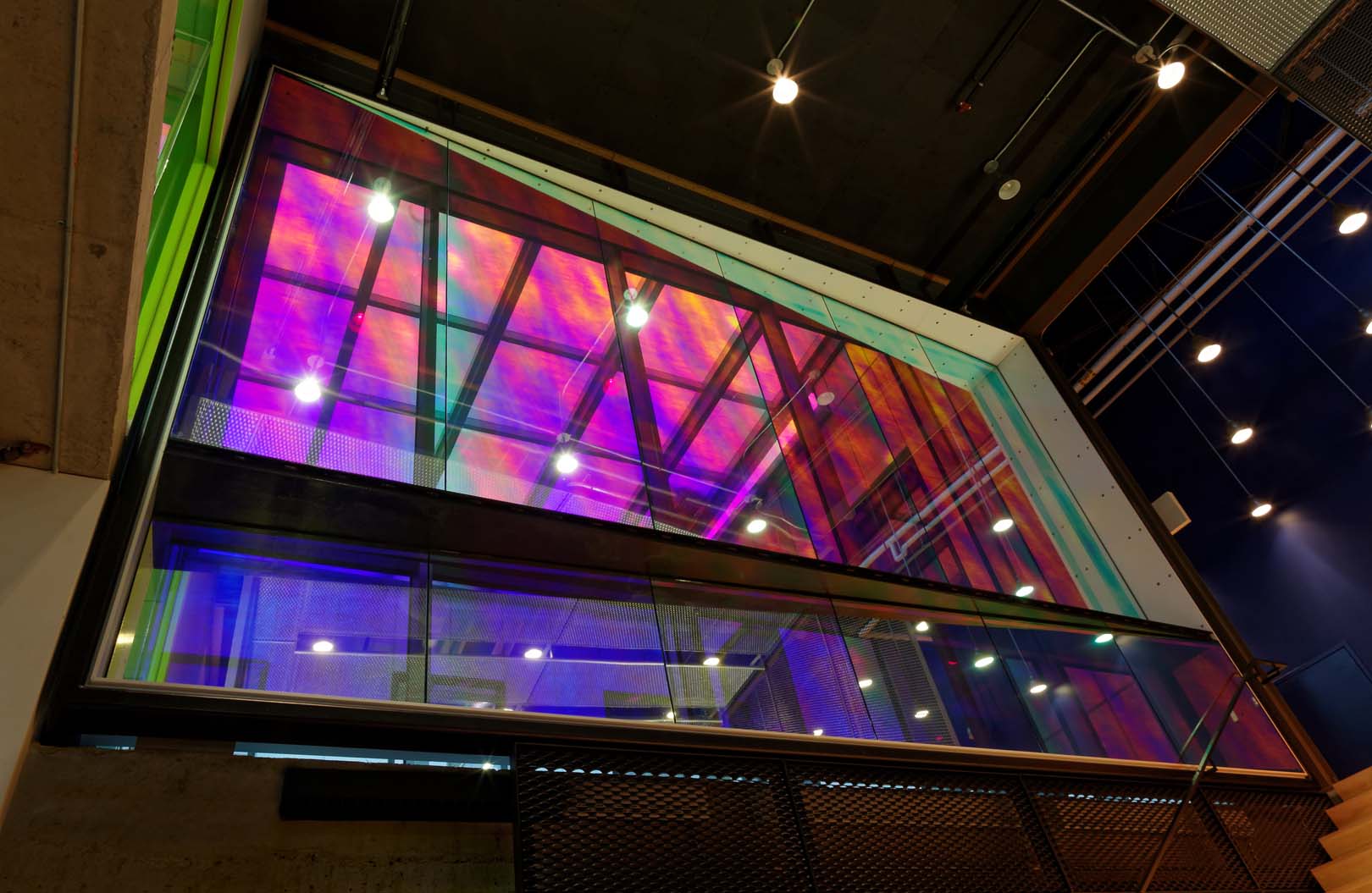 © Hal Ingberg -
Crédit photo : Steeve Montpetit, 2016
Chromazone
2015
À la fois architecte et artiste, Hal Ingberg termine son baccalauréat en architecture à l'Université McGill, en 1985. Il complète sa formation par une maîtrise en architecture au Southern California Institute of Architecture, à Los Angeles, qu'il obtient en 1988. Hal Ingberg est connu pour son travail architectural et ses recherches sur la couleur. Il est l'auteur d'œuvres d'art public, dont Katsu pour le Théâtre de Quat'Sous à Montréal, en 2009, et Papa pour la Commission de la capitale nationale à Gatineau, en 2010.
Read more
Details
Acquisition mode
Competition by invitation
Materials
aluminum, paint, steel, tempered glass
Technique(s)
anodized, assembled, painted
Location

Location
Location
Bibliothèque Benny
Adress
6400 Av de Monkland, Montréal, QC H4B 1H3
Artwork description
Chromazone, formed of a glass wall, is situated in the lobby of the Benny Library in the Notre-Dame-de-Grâce Cultural Centre. The wall, offering a high-angle view of the lobby on the ground floor, allows for a perceptual experience related to the transparency and reflective power of glass containing multiple layers of coloured metal oxide film. At the heart of the community complex, the artwork deploys hues and effects of variable depths, depending on the viewer's movements and sense of proxemics, whether it is seen from the ground-floor lobby below or from the mezzanine of which it forms one of the walls.
Acting as an iridescent trompe-l'oeil, the dichroic glass artwork creates a living and enigmatic architectural element that leads visitors to wonder about the science behind its fluctuations. Thus, beyond the initial desire to offer a purely sensory experience allowing visitors to appropriate the public space, the architect states the secondary intention of extending the notion of reflectiveness to intellectual reflection. In this dual reading, which also reflects the dual function of the cultural centre, Ingberg has used the division of the glass by a horizontal mullion and a diagonal play on inversion to provoke additional offset effects. Although the movement of its light spectrum is exhilarating, the piece is situated in the centre of a place for study, the library, thus closing the loop relating the experience of the artwork to the critical reading of it.
"Since we are naturally intrigued by our own reflections and because these fragmented reflections will refer back unstable renderings of these appearances, our attention is easily piqued, thus encouraging a form of engagement with the artwork. The artwork will generate complex and ambiguous renderings of colour and sumptuously unstable reflections, creating, in the evening, a spectacular and captivating happening." – HAL INGBERG