{"title":"Dendrites | Art Public Montr\u00e9al","thisUrl":"https:\/\/artpublicmontreal.ca\/en\/oeuvre\/dendrites\/","body_class":"apm_artwork-template-default single single-apm_artwork postid-65027 apm lang-en apm-full-js nav-env-filters","query_hud":null,"active_filter":null,"alternate_language_url":"https:\/\/artpublicmontreal.ca\/oeuvre\/dendrites\/","clear_filter_collection":0,"clear_filter_tour":"clear","data_attributes":{"data-view-type":"apm_artwork"},"filter_root_url":"\/collection\/","artworkNav":false,"mapMarkers":[{"id":65027,"slug":"dendrites","title":"Dendrites","permalink":"https:\/\/artpublicmontreal.ca\/en\/oeuvre\/dendrites\/","year":"2017","loc":{"lat":"45.49825643919645","long":"-73.56123970869317"},"artist_names":"<span>Michel<\/span> <strong>De Broin<\/strong>","thumb":"https:\/\/artpublicmontreal.ca\/wp-content\/uploads\/2018\/04\/2017-dendrites-02-micheldebroin-150x150.jpg","infoBox":false,"cat_color":"#e50f09","env":"outdoor","singleArtwork":true}]}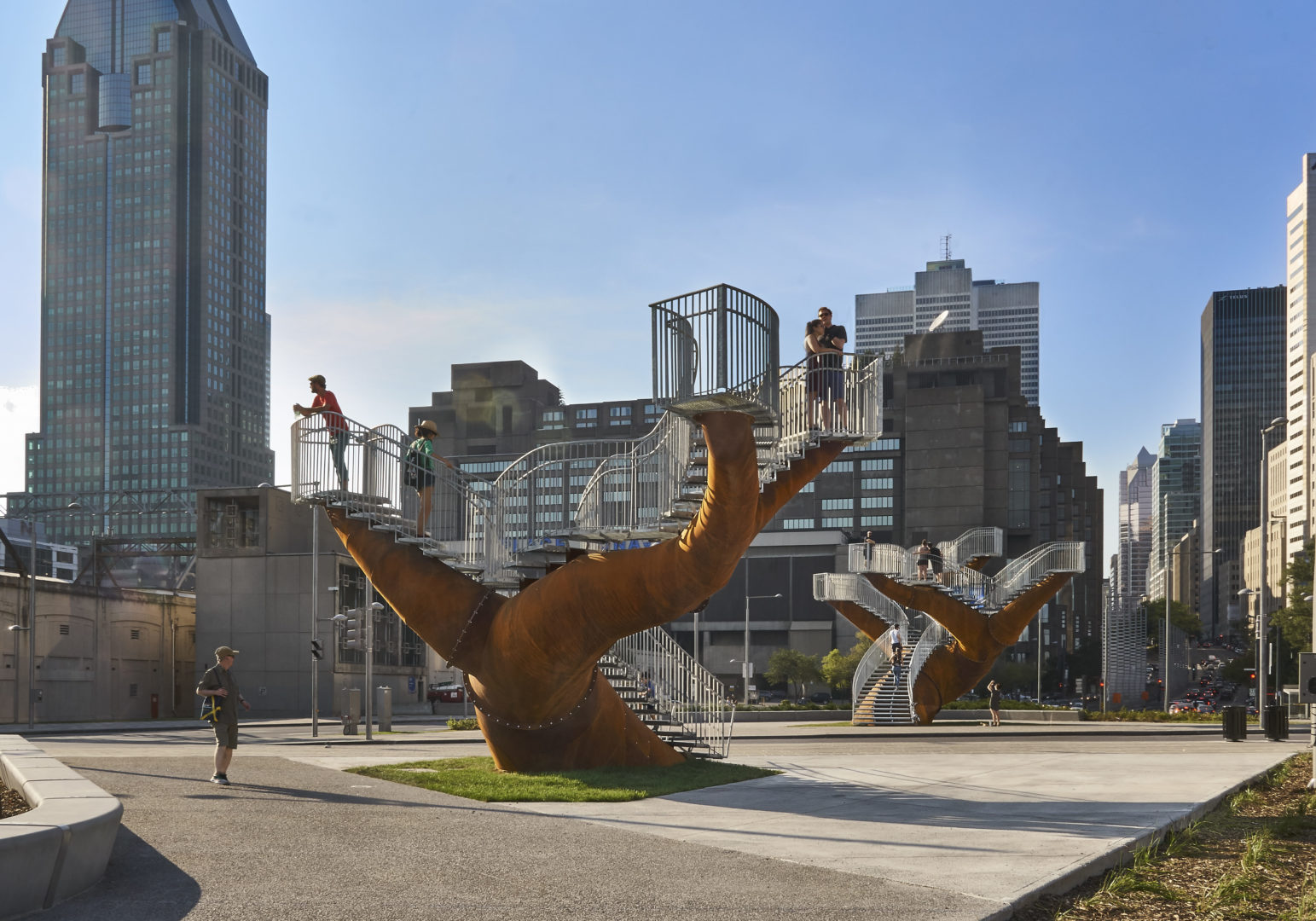 © Michel de Broin -
Crédit photo :
Dendrites
2017
Michel de Broin holds a bachelor's degree in visual arts from Concordia University and a master's degree in visual and media arts from the Université du Québec à Montréal. He uses metaphor to offer reflections on the public, social, and political spheres. The temporary and permanent public art projects that he has produced are imbued with this quest, such as Overflow (2008), a chapel window that he transformed into a waterfall for the Nuit blanche event in Toronto, and Superficielle (2004), a huge mirror sculpture installed in the Alsatian forest.
Residencies, such as those at the École nationale supérieure d'arts de Paris-Gercy and the Villa Arson de Nice, have enabled him to exhibit his work in France, the United States, Germany, and other countries.
Read more
Details
Acquisition mode
Public commission from the Ville de Montréal
Materials
galvanized steel, weatherized steel
Overall size
North item: 8 x 5 x 2,5 m - South item: 6 x 4,5 x 2 m
Technique(s)
assembled, welded
Location

Location
Localization
Corner of Robert-Bourassa boulevard and Notre-Dame West Street
Artwork description
Dendrites is composed of two huge staircases sculptures. Placed on either side of Rue Notre-Dame and integrated at the north threshold of the Bonaventure project, the hybrid-shaped sculptures emerge from the ground like two great industrial-looking trees. Similar in morphology, these structures stand out for their size and twisting shapes. The weathering steel used as the main material refers to the manufacturing past of the district where the work is installed. The ochre colour of the oxidized surfaces bears a resemblance to tree trunks.
The term "dendrite" refers to the branched extensions of neurons, which propagate cerebral stimulations from the brain. It also means a ramification, a tree-like grouping of branchings of a network or system. The two elements that form the work reproduce this neuronal phenomenon on the scale of the landscape. The branches that spread parallel to the ground take the form of staircases that visitors can take to reach the ends of the ramifications. Whether visitors view it from the ground or climb its staircases, the work plays on effects of scale. On either side of the street, the two elements face each other, communicate with each other, giving the impression that they are connected in the middle of this vehicular and pedestrian intersection.
Dendrites was produced in the context of the Bonaventure expressway redevelopment project at the entrance to downtown Montreal, which constitutes a legacy for the 375th anniversary of the foundation of Montréal. The project was chosen as the result of a pan-Canadian competition by invitation launched in 2016