{"title":"L'arc | Art Public Montr\u00e9al","thisUrl":"https:\/\/artpublicmontreal.ca\/en\/oeuvre\/larc\/","body_class":"apm_artwork-template-default single single-apm_artwork postid-49575 apm lang-en apm-imported-item apm-full-js nav-env-filters","query_hud":null,"active_filter":null,"alternate_language_url":"https:\/\/artpublicmontreal.ca\/oeuvre\/larc\/","clear_filter_collection":0,"clear_filter_tour":"clear","data_attributes":{"data-view-type":"apm_artwork"},"filter_root_url":"\/collection\/","artworkNav":false,"mapMarkers":[{"id":49575,"slug":"larc","title":"L'arc","permalink":"https:\/\/artpublicmontreal.ca\/en\/oeuvre\/larc\/","year":"2009","loc":{"lat":"45.505855","long":"-73.527741"},"artist_names":"<span>Michel<\/span> <strong>De Broin<\/strong>","thumb":"https:\/\/artpublicmontreal.ca\/wp-content\/uploads\/imported\/1540_4395-150x150.jpg","infoBox":false,"cat_color":"#e50f09","env":"outdoor","singleArtwork":true}]}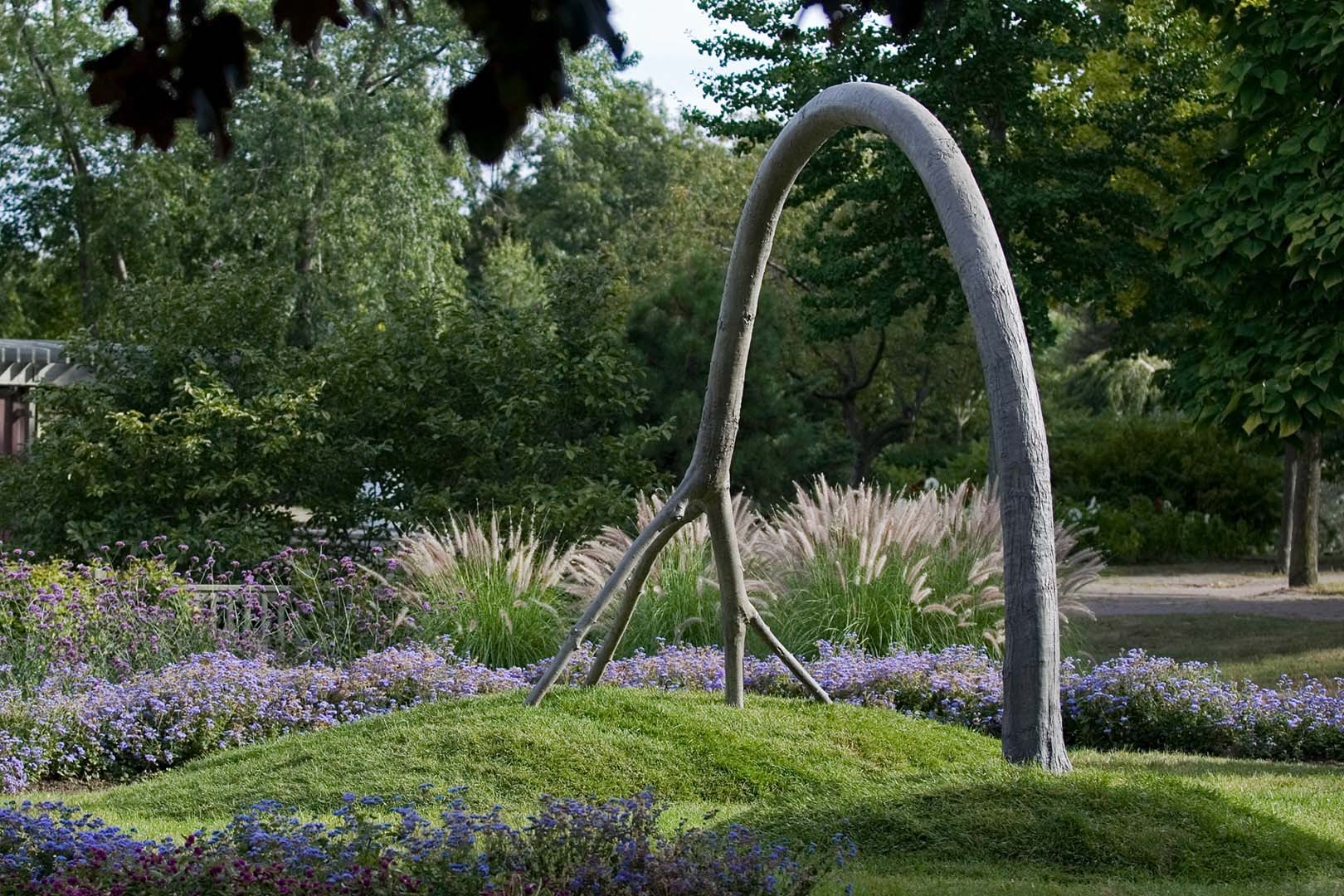 Crédit photo: François Pesant, 2009
L'arc
2009
Michel de Broin holds a bachelor's degree in visual arts from Concordia University and a master's degree in visual and media arts from the Université du Québec à Montréal. He uses metaphor to offer reflections on the public, social, and political spheres. The temporary and permanent public art projects that he has produced are imbued with this quest, such as Overflow (2008), a chapel window that he transformed into a waterfall for the Nuit blanche event in Toronto, and Superficielle (2004), a huge mirror sculpture installed in the Alsatian forest.
Residencies, such as those at the École nationale supérieure d'arts de Paris-Gercy and the Villa Arson de Nice, have enabled him to exhibit his work in France, the United States, Germany, and other countries.
Read more
Details
Acquisition mode
Competition by invitation
Materials
concrete, stainless steel
Overall size
305 x 470 x 125 cm
Location

Location
Location
Parc Jean-Drapeau, Île Notre-Dame
Artwork description
In the Floralies gardens on Île Notre-Dame, Michel de Broin's sculpture portrays a tree whose crown plunges into the ground to form an arch, rooted at each end. The artwork, made of concrete and stainless steel, fits harmoniously with the natural greenery of Parc Jean-Drapeau.
Although he has died, Allende is still a vivid source of inspiration for the entire Chilean community residing in Montréal. The artist has interpreted the vigour of this heritage in the figure of the tree, whose powerful roots evoke the importance of transmission, taking up the horticultural metaphor used by Allende himself in his final speech: "I am certain that the seed which we have planted in the good conscience of thousands and thousands of Chileans will not be shriveled forever. They have strength and will be able to dominate us, but social processes can be arrested neither by crime nor force. History is ours, and people make history." 1
1. Salvador Allende, excerpt from his final speech, Radio Magallanes, 11 September 1973. http://www.marxists.org/archive/allende/1973/september/11.htm