{"title":"Des racines et des ailes | Art Public Montr\u00e9al","thisUrl":"https:\/\/artpublicmontreal.ca\/en\/oeuvre\/des-racines-et-des-ailes\/","body_class":"apm_artwork-template-default single single-apm_artwork postid-64502 apm lang-en apm-full-js nav-env-filters","query_hud":null,"active_filter":null,"alternate_language_url":"https:\/\/artpublicmontreal.ca\/oeuvre\/des-racines-et-des-ailes\/","clear_filter_collection":0,"clear_filter_tour":"clear","data_attributes":{"data-view-type":"apm_artwork"},"filter_root_url":"\/collection\/","artworkNav":false,"mapMarkers":[{"id":64502,"slug":"des-racines-et-des-ailes","title":"Des racines et des ailes","permalink":"https:\/\/artpublicmontreal.ca\/en\/oeuvre\/des-racines-et-des-ailes\/","year":"2003","loc":{"lat":"45.584649","long":"-73.602799"},"artist_names":"<span>Pierre<\/span> <strong>Fournier<\/strong>","thumb":"https:\/\/artpublicmontreal.ca\/wp-content\/uploads\/2017\/09\/Fournier_Saint-Exup\u00e9ry-9.1-150x150.jpg","infoBox":false,"cat_color":"#e50f09","env":"outdoor","singleArtwork":true}]}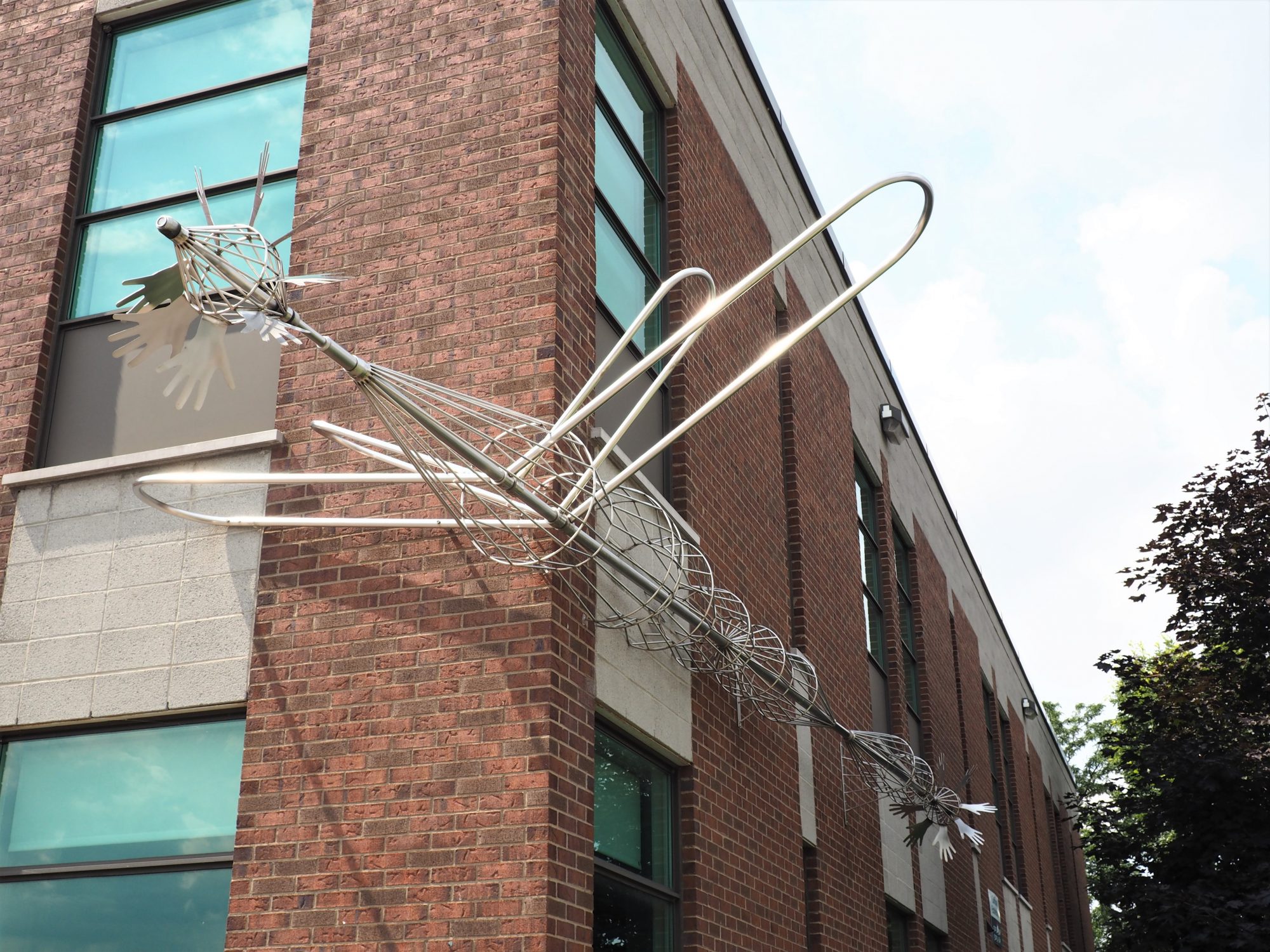 © Pierre Fournier (2017) -
Crédit photo : Art public Montréal (2017)
Des racines et des ailes
2003
Pierre Fournier was born in Sherbrooke in 1957. He graduated with a degree in plastic arts before completing a Bachelor's and then a Master's in the same field at the Université du Québec à Montréal – the artist still lives and works in the island metropolis. He then received training in computer graphics at Cégep de Maisonneuve a little later in his career.
Though Pierre Fournier is well renown for his public art works and his prowess in integrating art to architecture (almost ten projects since 1993), he also does short-scale sculpture. His sculptures are often kinetic (Mouvements factices, Occurrence, 1989) and sonorous (Machines sensibles, Optica, 1986). As they are created for galleries, his sculptures have elements of interactive art and "technological art" and sometimes even include drawing, photography and performance. Since 1983, his pieces were regularly showcased in special exhibitions in galleries, museums and for contemporary art events primarily in Montreal but also across Canada (Sherbrooke, Victoriaville, Hull and Ottawa) and several times in France. He often participated in collective exhibitions, which allowed him to showcase his work across Canada and elsewhere (France, Japan).
Pierre Fournier's sculptural work is based on the elaboration of lurid structures – a crisscross of scattered shapes. The artist uses repetition and organic imagery in an almost scientific fashion: the movement that binds these techniques makes the viewer question the very relation between art and technology, between our inner and outer selves. The objects in his art question the perception of reality by how they are arranged by structural variations.
Read more
Details
Acquisition mode
Politique d'intégration des arts à l'architecture et à l'environnement, Government of Quebec
Materials
stainless steel
Technique(s)
assembled, welded
Location

Location
Location
Centre de formation professionnelle Saint-Exupéry
Localization
Entrance on boulevard Robert, near door 5
Adress
8585, rue du Pré Laurin, Saint-Léonard, QC H1R 2P7
Artwork description
Soldered steel rods create a three-dimensional design, evoking an imaginary dragonfly, that seems to be half out of its cocoon, standing still, waiting for its transformative possibilities. It is a metaphor of "Draw me a…", a reference to one of the stories in The Little Prince, by Antoine de Saint-Exupéry.
This odd dragonfly also alludes to the young people who attend the school, a place of learning, an evolving passage that is almost complete. They are about to take off, they are trying to separate themselves. Also, the title of the artwork (in English "Of roots and wings") brings us back to the living world. Roots refer to the importance of each person being rooted in knowledge, while the wings represent the possibility of going further, of surpassing oneself.