{"title":"Les jardins | Art Public Montr\u00e9al","thisUrl":"https:\/\/artpublicmontreal.ca\/en\/oeuvre\/les-jardins\/","body_class":"apm_artwork-template-default single single-apm_artwork postid-58148 apm lang-en apm-full-js nav-env-filters","query_hud":null,"active_filter":null,"alternate_language_url":"https:\/\/artpublicmontreal.ca\/oeuvre\/les-jardins\/","clear_filter_collection":0,"clear_filter_tour":"clear","data_attributes":{"data-view-type":"apm_artwork"},"filter_root_url":"\/collection\/","artworkNav":false,"mapMarkers":[{"id":58148,"slug":"les-jardins","title":"Les jardins","permalink":"https:\/\/artpublicmontreal.ca\/en\/oeuvre\/les-jardins\/","year":"2014","loc":{"lat":"45.49747179221034","long":"-73.63089948892593"},"artist_names":"<span>Pierre<\/span> <strong>Fournier<\/strong>","thumb":"https:\/\/artpublicmontreal.ca\/wp-content\/uploads\/2016\/05\/16-1047.24aPierre-FournierLes-jardins-150x150.jpg","infoBox":false,"cat_color":"#e50f09","env":"outdoor","singleArtwork":true}]}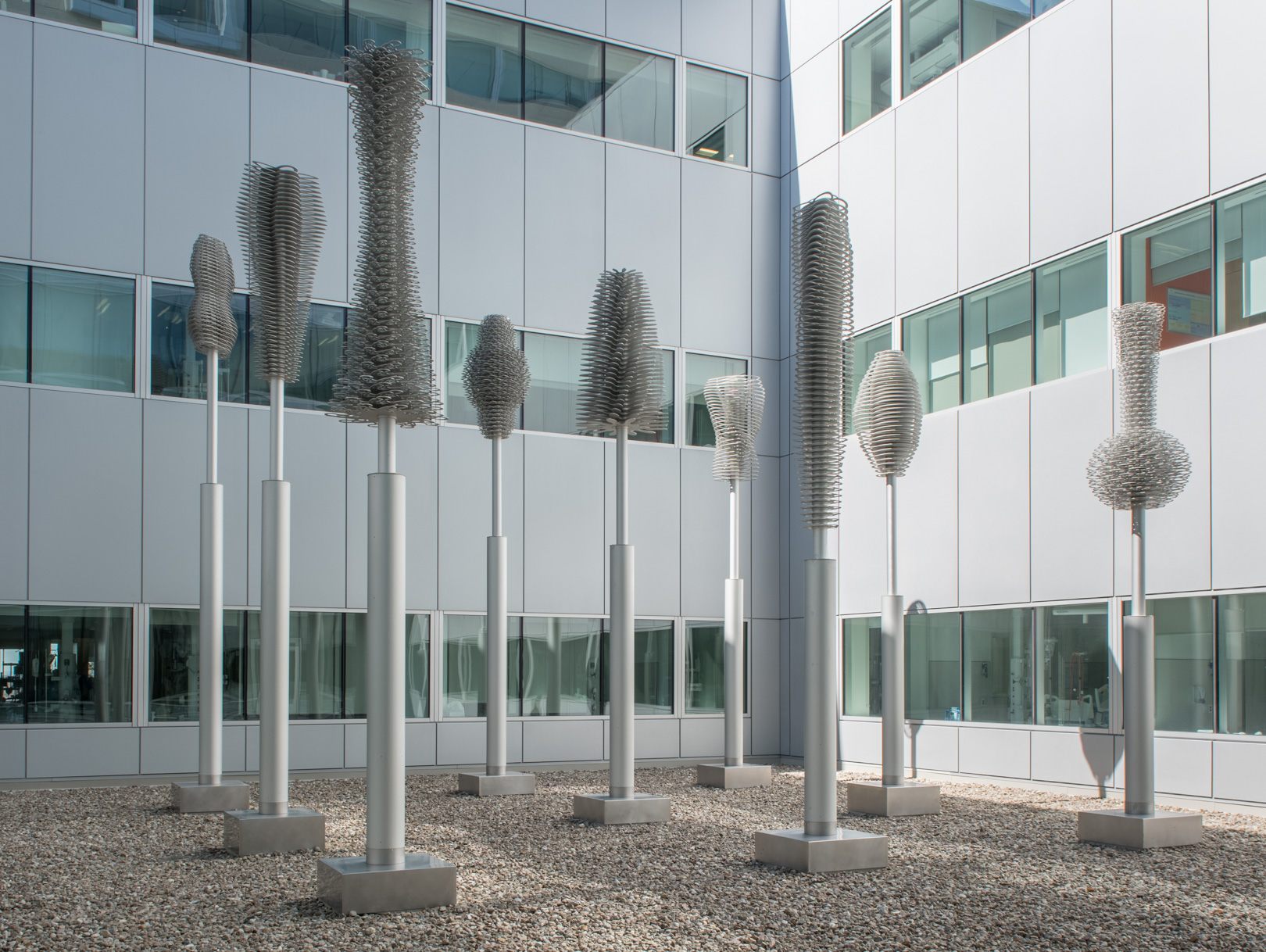 © Pierre Fournier (2016) -
Crédit photo : Jean Marcotte (2016)
Les jardins
2014
Pierre Fournier was born in Sherbrooke in 1957. He graduated with a degree in plastic arts before completing a Bachelor's and then a Master's in the same field at the Université du Québec à Montréal – the artist still lives and works in the island metropolis. He then received training in computer graphics at Cégep de Maisonneuve a little later in his career.
Though Pierre Fournier is well renown for his public art works and his prowess in integrating art to architecture (almost ten projects since 1993), he also does short-scale sculpture. His sculptures are often kinetic (Mouvements factices, Occurrence, 1989) and sonorous (Machines sensibles, Optica, 1986). As they are created for galleries, his sculptures have elements of interactive art and "technological art" and sometimes even include drawing, photography and performance. Since 1983, his pieces were regularly showcased in special exhibitions in galleries, museums and for contemporary art events primarily in Montreal but also across Canada (Sherbrooke, Victoriaville, Hull and Ottawa) and several times in France. He often participated in collective exhibitions, which allowed him to showcase his work across Canada and elsewhere (France, Japan).
Pierre Fournier's sculptural work is based on the elaboration of lurid structures – a crisscross of scattered shapes. The artist uses repetition and organic imagery in an almost scientific fashion: the movement that binds these techniques makes the viewer question the very relation between art and technology, between our inner and outer selves. The objects in his art question the perception of reality by how they are arranged by structural variations.
Read more
Details
Acquisition mode
Politique d'intégration des arts à l'architecture et à l'environnement, Government of Quebec
Materials
anodized aluminum, lighting device, steel
Overall size
Height between 5 and 7 m
Technique(s)
galvanized, laser cut out, machined, mounted, threaded
Location

Location
Location
Jewish General Hospital
Localization
Inner courtyard, Pavilion K, level 2
Adress
5767 Rue Légaré, Montréal, QC H3T 1E4
Artwork description
We are invited to enter a figurative, sculpted French garden, a playful composition of geometric shapes that create the illusion of matter and power over nature. With this ensemble of sculpted objects, the artist is attempting to communicate a feeling of lightness, and offer, through these forms, an analogy of the way in which our universe is ordered. The work's cohesiveness creates a feeling of uncertainty in the face of what appears both solid and immutable. This assembly focuses primarily on views of the empty spaces as well as those of packed spaces; it offers us a fragmented vision of its own wholeness by taming the strange and conflicting force of empty shapes through assorted perceptions of the world around us.