{"title":"Jeu, geste et corps | Art Public Montr\u00e9al","thisUrl":"https:\/\/artpublicmontreal.ca\/en\/oeuvre\/jeu-geste-et-corps-game-motion-and-body\/","body_class":"apm_artwork-template-default single single-apm_artwork postid-54839 apm lang-en apm-full-js nav-env-filters","query_hud":null,"active_filter":null,"alternate_language_url":"https:\/\/artpublicmontreal.ca\/oeuvre\/jeu-geste-corps\/","clear_filter_collection":0,"clear_filter_tour":"clear","data_attributes":{"data-view-type":"apm_artwork"},"filter_root_url":"\/collection\/","artworkNav":false,"mapMarkers":[{"id":54839,"slug":"jeu-geste-et-corps-game-motion-and-body","title":"Jeu, geste et corps","permalink":"https:\/\/artpublicmontreal.ca\/en\/oeuvre\/jeu-geste-et-corps-game-motion-and-body\/","year":"2012","loc":{"lat":"45.510132637030914","long":"-73.61125230789185"},"artist_names":"<span>Pierre<\/span> <strong>Fournier<\/strong>","thumb":"https:\/\/artpublicmontreal.ca\/wp-content\/uploads\/2015\/09\/UdeM_FOURNIER_1-150x150.jpg","infoBox":false,"cat_color":"#e50f09","env":"outdoor","singleArtwork":true}]}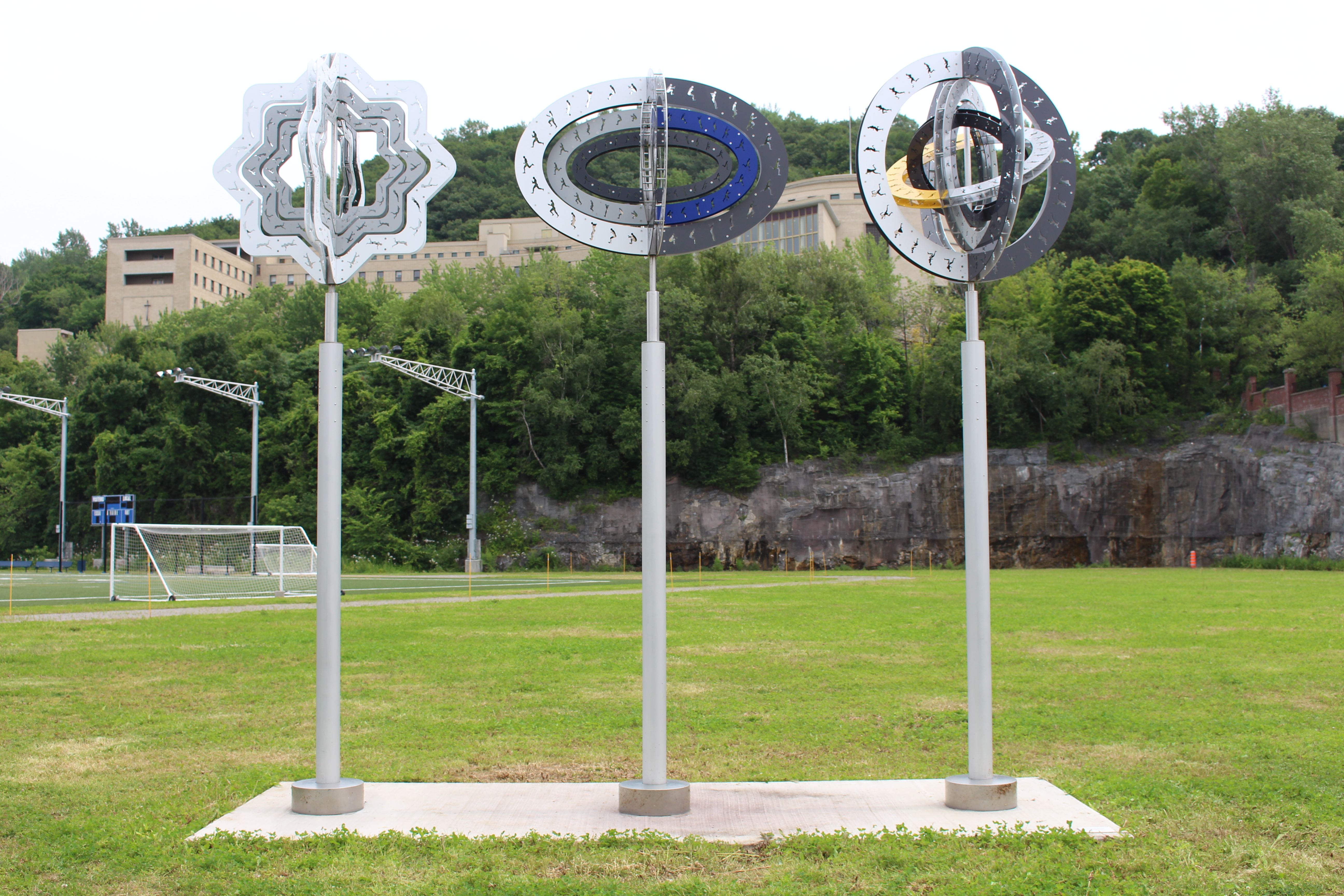 © PIerre Fournier (2012) -
Crédit photo : Patrick Mailloux (2015)
Jeu, geste et corps
2012
Pierre Fournier was born in Sherbrooke in 1957. He graduated with a degree in plastic arts before completing a Bachelor's and then a Master's in the same field at the Université du Québec à Montréal – the artist still lives and works in the island metropolis. He then received training in computer graphics at Cégep de Maisonneuve a little later in his career.
Though Pierre Fournier is well renown for his public art works and his prowess in integrating art to architecture (almost ten projects since 1993), he also does short-scale sculpture. His sculptures are often kinetic (Mouvements factices, Occurrence, 1989) and sonorous (Machines sensibles, Optica, 1986). As they are created for galleries, his sculptures have elements of interactive art and "technological art" and sometimes even include drawing, photography and performance. Since 1983, his pieces were regularly showcased in special exhibitions in galleries, museums and for contemporary art events primarily in Montreal but also across Canada (Sherbrooke, Victoriaville, Hull and Ottawa) and several times in France. He often participated in collective exhibitions, which allowed him to showcase his work across Canada and elsewhere (France, Japan).
Pierre Fournier's sculptural work is based on the elaboration of lurid structures – a crisscross of scattered shapes. The artist uses repetition and organic imagery in an almost scientific fashion: the movement that binds these techniques makes the viewer question the very relation between art and technology, between our inner and outer selves. The objects in his art question the perception of reality by how they are arranged by structural variations.
Read more
Details
Acquisition mode
Politique d'intégration des arts à l'architecture et à l'environnement, Government of Quebec
Materials
anodized aluminum, painted aluminum, stainless steel
Overall size
450 x 508 cm
Technique(s)
anodized, laser cut out, multiple techniques, painted
Location

Location
Location
Bellingham field
Adress
Corner Vincent D'indy avenue and Mont-Royal boulevard
Artwork description
Jeu, geste et corps was created  for the Programme d'intégration des arts à l'architecture et à l'environnement and was part of the renovations made to Centre d'éducation physique et des sports de l'Université de Montréal (CEPSUM). It is located in the Bellingham field, at the base of the pavilion of the Faculté de musique, close to CEPSUM at the intersection between the main path and the service path which leads to the bleachers and the playing field.
The artist's representation regroups three vertical components with similar dimensions, though each of the upper components are different. Each component includes a mast over 3 meters high, surrounded by concentric mobile hoops that form a specific geometrical volume (one sphere, one egg-shaped hoop and another star-shaped one) which form a structure that is approximately 1.5 meters wide. Fournier combined stainless steel, clear anodized aluminum and painted aluminum in order to obtain a color scheme of white, blue, yellow and tones of gray – a first in the repertoire of the artist's kinetic sculpture.
In order to relate the piece to its site, each hoop that forms the upper components is perforated by forms that represent persons to illustrate the decomposition of a given movement (jump, run, walk) – a reference to pioneer Eadweard Muybridge's (1830-1904) chronophotography.
The contrast between the flat field and the vertical structures adds a dynamic to the playing field and creates a visual marker for those who use the field. The masts around which are installed the objects imagined by Fournier accompany those already there. The objects' kinetic character, rotating and tumbling into each other, allows spectators to appreciate the structure in different angles while they move subtly, as if a kind of a geometry of the movement was created before their very eyes.