{"title":"Hommage \u00e0 Janine Sutto | Art Public Montr\u00e9al","thisUrl":"https:\/\/artpublicmontreal.ca\/en\/oeuvre\/hommage-a-janine-sutto\/","body_class":"apm_artwork-template-default single single-apm_artwork postid-62015 apm lang-en apm-full-js nav-env-filters","query_hud":null,"active_filter":null,"alternate_language_url":"https:\/\/artpublicmontreal.ca\/oeuvre\/hommage-a-janine-sutto\/","clear_filter_collection":0,"clear_filter_tour":"clear","data_attributes":{"data-view-type":"apm_artwork"},"filter_root_url":"\/collection\/","artworkNav":false,"mapMarkers":[{"id":62015,"slug":"hommage-a-janine-sutto","title":"Hommage \u00e0 Janine Sutto","permalink":"https:\/\/artpublicmontreal.ca\/en\/oeuvre\/hommage-a-janine-sutto\/","year":"2016","loc":{"lat":"45.5218704","long":"-73.56420939999998"},"artist_names":"<span>Kevin<\/span> <strong>Ledo<\/strong>","thumb":"https:\/\/artpublicmontreal.ca\/wp-content\/uploads\/2017\/01\/MU_MONTCALM_2016_FINALE_Kevin_Ledo_creditsOlivierBousquet1-150x150.jpg","infoBox":false,"cat_color":"#e50f09","env":"outdoor","singleArtwork":true}]}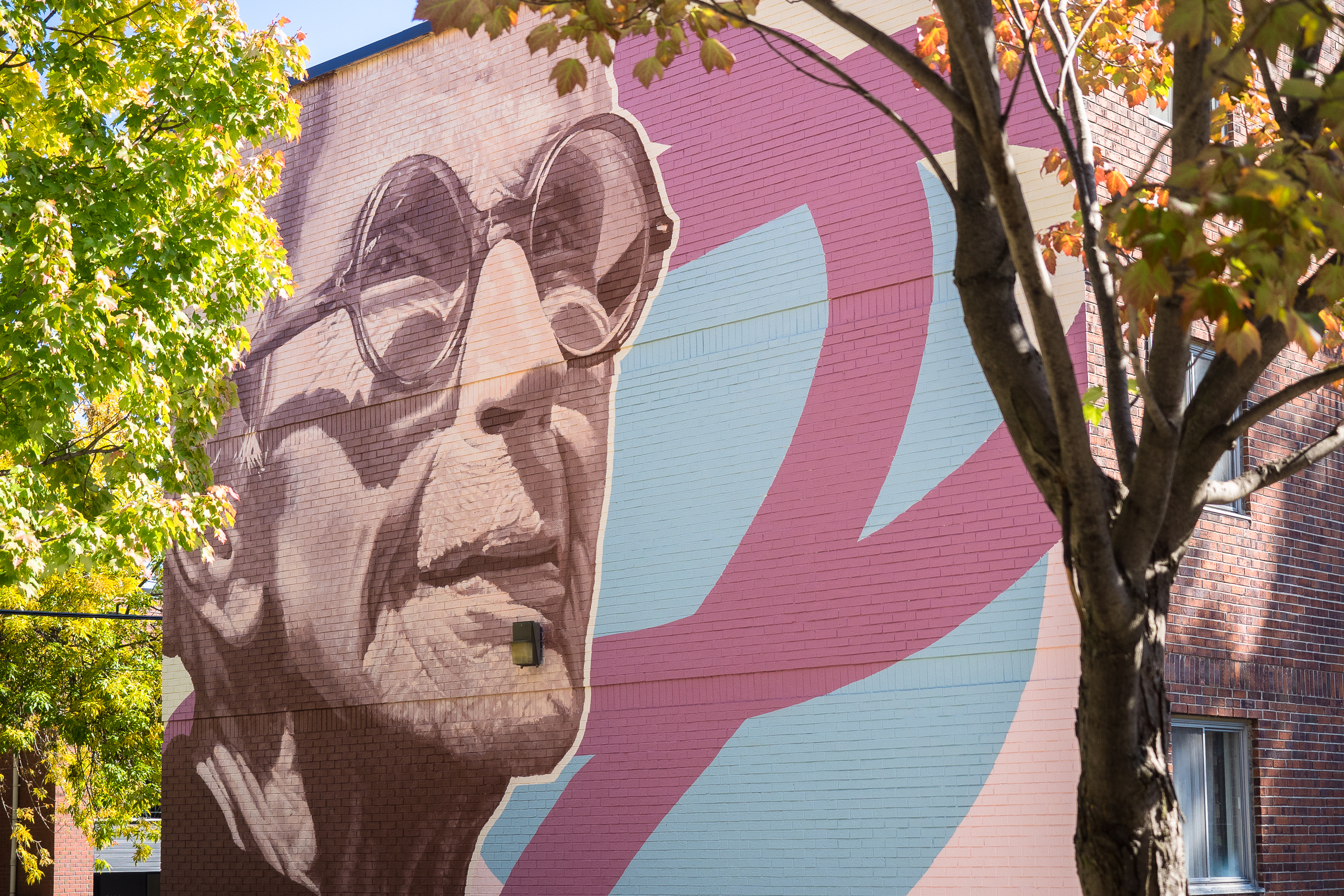 © Kevin Ledo, produced by MU -
Crédit photo : Olivier Bousquet (2016)
Hommage à Janine Sutto
2016
Kevin Ledo's artistic practice crosses back and forth through the boundaries of mural/street art, fine art, and gold leaf art installations. Ledo aims to create visually bold, and iconic compositions, focusing on portraiture and the human form interlaced with stylized abstract forms. Ledo's figures are mostly void of foreground and background, and are suspended in a minimalistic and slightly surreal world, captured in moments of contemplation, intimacy, emotion and wonderment.
Ledo has created murals and exhibited his artwork in many places throughout the world, notably in the ModeMuseum in Hasselt, Belgium and Arsenal in Montreal, Canada. As an on going participant of the En Masse project since 2009, Ledo has painted with the group at numerous art fairs, museums and events across the USA and Canada, including the Musée des beaux- arts de Montréal and Art San Diego.
Read more
Details
Funding
Arrondissement de Ville-Marie, Office municipal d'habitation de Montréal, Ville de Montréal
Location

Location
Location
Habitations Montcalm
Localization
Near the F.-A. Savard park
Adress
2130-­2150, rue Montcalm, Montréal (QC) H2L 3H7
Artwork description
2016 marked the celebration of many anniversaries in Quebec's theatre world. MU wished to take the opportunity to produce two murals which pay tribute to both Théâtre du Quat'Sous, which is celebrating its 60th anniversary, and to Janine Sutto, who celebrated her 95th birthday earlier in the year.
Kevin Ledo, a mural artist who is well-known for the quality and realism of his portraits, was given the task of illustrating Ms. Sutto on a grand scale on one of the Office municipal d'habitation de Montréal's units.
The artist was assisted by Marianne Blondeau during the execution of the project.
The work was produced as a part of our Montreal's Great Artists collection, which aims to recognize the tremendous contribution that Montreal's creators have made to a variety of artistic disciplines. The collection includes artists who were born in Montreal, as well as adoptive Montrealers, whose work has been influential locally, nationally, and internationally.