{"title":"Tribute to Daisy Peterson Sweeney | Art Public Montr\u00e9al","thisUrl":"https:\/\/artpublicmontreal.ca\/en\/oeuvre\/tribute-to-daisy-peterson-sweeney\/","body_class":"apm_artwork-template-default single single-apm_artwork postid-66154 apm lang-en apm-full-js nav-env-filters","query_hud":null,"active_filter":null,"alternate_language_url":"https:\/\/artpublicmontreal.ca\/oeuvre\/hommage-a-daisy-peterson-sweeney\/","clear_filter_collection":0,"clear_filter_tour":"clear","data_attributes":{"data-view-type":"apm_artwork"},"filter_root_url":"\/collection\/","artworkNav":false,"mapMarkers":[{"id":66154,"slug":"tribute-to-daisy-peterson-sweeney","title":"Tribute to Daisy Peterson Sweeney","permalink":"https:\/\/artpublicmontreal.ca\/en\/oeuvre\/tribute-to-daisy-peterson-sweeney\/","year":"2018","loc":{"lat":"45.490093","long":" -73.571537"},"artist_names":"<span>Kevin<\/span> <strong>Ledo<\/strong>","thumb":"https:\/\/artpublicmontreal.ca\/wp-content\/uploads\/2018\/12\/MU_2018_Sud_Ouest_Kevin_Ledo_FINALE_creditsphoto_OlivierBousquet-P9140033-150x150.jpg","infoBox":false,"cat_color":"#e50f09","env":"outdoor","singleArtwork":true}]}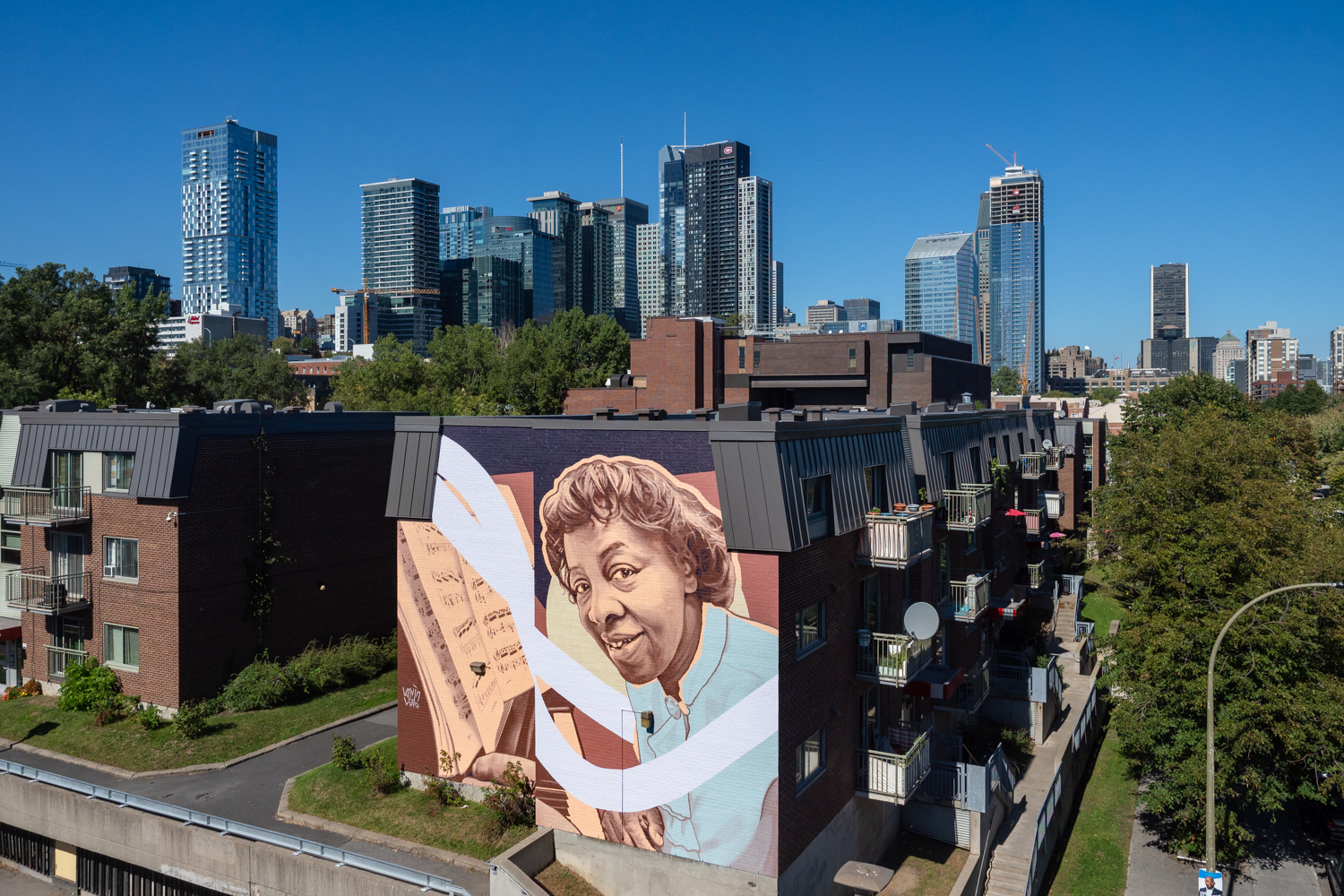 ©Kevin Ledo 5 septembre 2018 - Crédit photo : Olivier Bousquet, 2018 -
Crédit photo : Olivier Bousquet, 2018
Tribute to Daisy Peterson Sweeney
2018
Kevin Ledo's artistic practice crosses back and forth through the boundaries of mural/street art, fine art, and gold leaf art installations. Ledo aims to create visually bold, and iconic compositions, focusing on portraiture and the human form interlaced with stylized abstract forms. Ledo's figures are mostly void of foreground and background, and are suspended in a minimalistic and slightly surreal world, captured in moments of contemplation, intimacy, emotion and wonderment.
Ledo has created murals and exhibited his artwork in many places throughout the world, notably in the ModeMuseum in Hasselt, Belgium and Arsenal in Montreal, Canada. As an on going participant of the En Masse project since 2009, Ledo has painted with the group at numerous art fairs, museums and events across the USA and Canada, including the Musée des beaux- arts de Montréal and Art San Diego.
Read more
Details
Source mention
Murale produite par l'organisme MU Montréal
Location

Location
Localization
Saint-Jacques et Saint-Martin street
Adress
1791 rue Saint-Jacques, Montréal
Accessibility
At all time
Artwork description
This is the fourth mural in a series celebrating jazz and exploring Little Burgundy's musical heritage. Dedicated to Daisy Peterson Sweeney, older sister and first piano teacher to the acclaimed musician Oscar Peterson, it is also the twentieth in MU's collection Montreal's Great Artists, which highlights the creative minds and forces who have made outstanding contributions to Montreal's cultural scene.
An accomplished pianist, Sweeney was the older sister and first piano teacher to the acclaimed musician, Oscar Peterson. She grew up in Montreal's Little Burgundy neighborhood (called Saint-Henri at the time) and earned a music degree from McGill University. She is one of the most renowned teachers of the Black Community Center, where she gave piano, singing and music theory lessons. Many of her students, such as Oliver Jones, Joe Sealy, Reg Wilson and Ken Skinner, Jr, went on to have accomplished music careers. Along with Trevor Payne, Sweeney co-founded, Montreal's Black Community Youth Choir (1974-1981) of the Union United Church which, in 1982, became the Montreal Jubilation Gospel Choir. This mural recognizes Daisy Peterson Sweeney's profound influence on Montreal's musical life.