{"title":"Hommage \u00e0 Marguerite Bourgeoys | Art Public Montr\u00e9al","thisUrl":"https:\/\/artpublicmontreal.ca\/en\/oeuvre\/hommage-a-marguerite-bourgeoys\/","body_class":"apm_artwork-template-default single single-apm_artwork postid-49965 apm lang-en apm-imported-item apm-full-js nav-env-filters","query_hud":null,"active_filter":null,"alternate_language_url":"https:\/\/artpublicmontreal.ca\/oeuvre\/hommage-a-marguerite-bourgeoys\/","clear_filter_collection":0,"clear_filter_tour":"clear","data_attributes":{"data-view-type":"apm_artwork"},"filter_root_url":"\/collection\/","artworkNav":false,"mapMarkers":[{"id":49965,"slug":"hommage-a-marguerite-bourgeoys","title":"Hommage \u00e0 Marguerite Bourgeoys","permalink":"https:\/\/artpublicmontreal.ca\/en\/oeuvre\/hommage-a-marguerite-bourgeoys\/","year":"1988","loc":{"lat":"45.507373","long":"-73.555063"},"artist_names":"<span>Jules<\/span> <strong>Lasalle<\/strong>","thumb":"https:\/\/artpublicmontreal.ca\/wp-content\/uploads\/imported\/1721_4612-150x150.jpg","infoBox":false,"cat_color":"#e50f09","env":"outdoor","singleArtwork":true}]}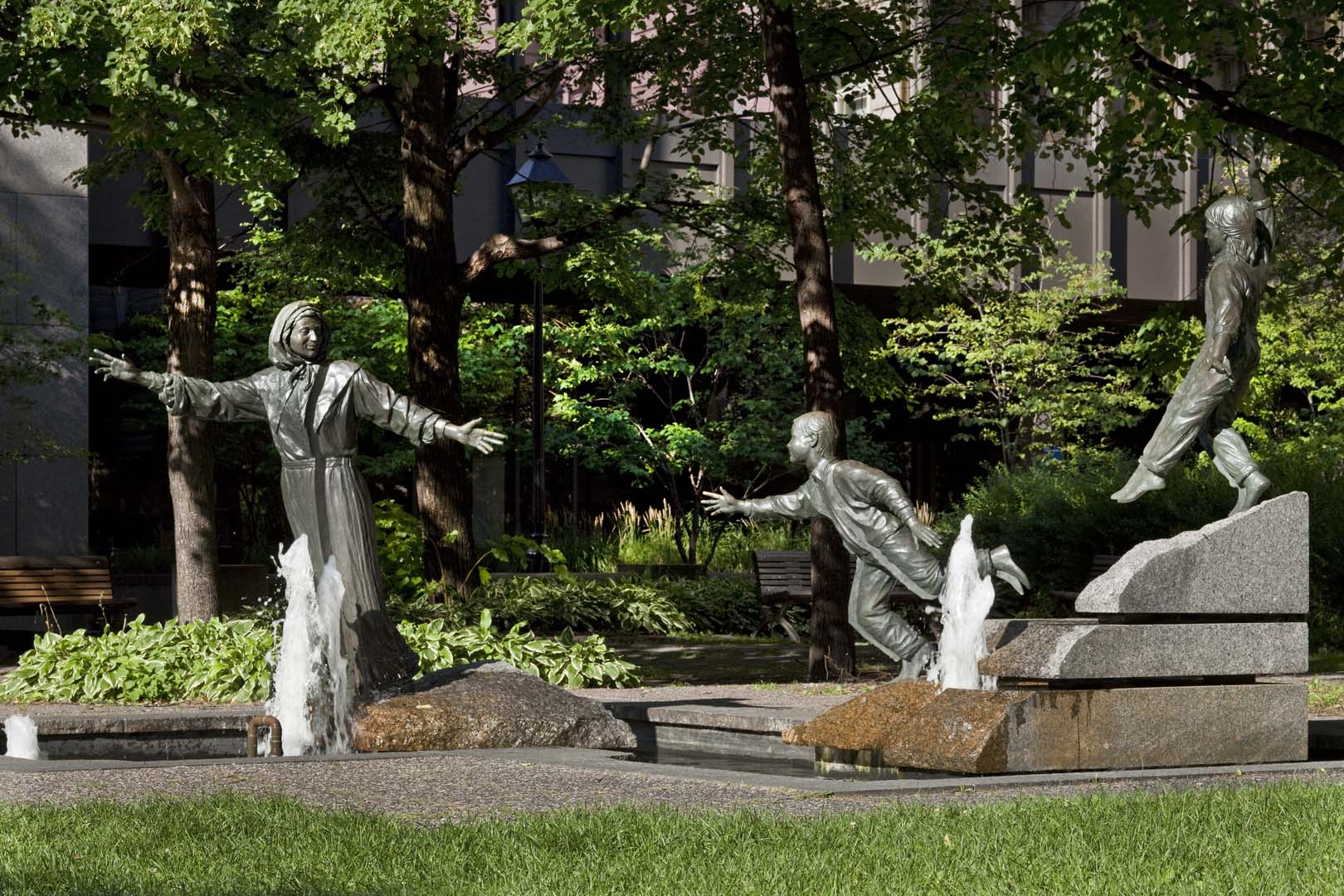 © Jules Lasalle, 2007 -
Crédit photo: Michel Dubreuil, 2010
Hommage à Marguerite Bourgeoys
1988
Sculptor and modeller Jules Lasalle lives and works in Montréal, where he directs the studio Attitude enr. In 1979, he completed a bachelor's degree in visual arts at the Université du Québec à Montréal. From 1981 to 1983, he undertook a number of sculpture internships in Paris at establishments such as the École nationale supérieure des arts appliqués, Les Ateliers Hervé Cappelli, and the Ministère de la Culture. He has produced a number of other works of public art in Montréal, including Hommage à Marguerite Bourgeoys (1988), on Rue Notre-Dame East, and Monument à Maurice Richard (1997), at the entrance to the eponymous arena.
Read more
Details
Acquisition mode
Commission in partnership
Materials
bronze, concrete, granite
Overall size
178 x 414 cm
Technique(s)
cast bronze, cire perdue
Location

Location
Location
Place Marguerite-Bourgeoys
Adress
85, rue Notre-Dame est
Artwork description
This fountain sculpture is installed in Place Marguerite-Bourgeoys, facing 85 Rue Notre-Dame Est. To create a more direct link between the sculptural grouping and viewers, the sculptor designed the three figures life size, and they stand in the centre of the basin.
The portrayal of Marguerite Bourgeoys is particularly unusual. The nun, a vertical figure, extends her left hand to two teenagers. Their body language creates a dynamic that enlivens the static presentation usually reserved for religious monuments. The artwork constitutes an invitation to know more about this generous, dynamic woman and to let oneself be guided by her. When he made this likeness, the artist was inspired by the posthumous painted portrait of Marguerite Bourgeoys, as well as by the habit and cross of the congregation that she had created. Lasalle has said about Marguerite Bourgeoys, "A woman of courage and energy, a woman of action, she did not fear the movement imposed on her by the secular nature of her work. It is in this attitude that I chose to represent her, in a motion of walking forward."