{"title":"La danse des mains l\u00e9g\u00e8res | Art Public Montr\u00e9al","thisUrl":"https:\/\/artpublicmontreal.ca\/en\/oeuvre\/la-danse-des-mains-legeres\/","body_class":"apm_artwork-template-default single single-apm_artwork postid-71260 apm lang-en apm-full-js nav-env-filters","query_hud":null,"active_filter":null,"alternate_language_url":"https:\/\/artpublicmontreal.ca\/oeuvre\/la-danse-des-mains-legeres\/","clear_filter_collection":0,"clear_filter_tour":"clear","data_attributes":{"data-view-type":"apm_artwork"},"filter_root_url":"\/collection\/","artworkNav":false,"mapMarkers":[{"id":71260,"slug":"la-danse-des-mains-legeres","title":"La danse des mains l\u00e9g\u00e8res","permalink":"https:\/\/artpublicmontreal.ca\/en\/oeuvre\/la-danse-des-mains-legeres\/","year":"2019","loc":{"lat":45.49379619999999846413629711605608463287353515625,"long":-73.581133499999992864104569889605045318603515625},"artist_names":"<span>Mathieu<\/span> <strong>Bories (Mateo)<\/strong>","thumb":"https:\/\/artpublicmontreal.ca\/wp-content\/uploads\/2021\/11\/MU_2019_ECO-QUARTIER_PETER_MCGILL_MATEO_creditsphoto_OlivierBousquet-P7300105-1-950x640-1-150x150.jpg","infoBox":false,"cat_color":"#e50f09","env":"outdoor","singleArtwork":true}]}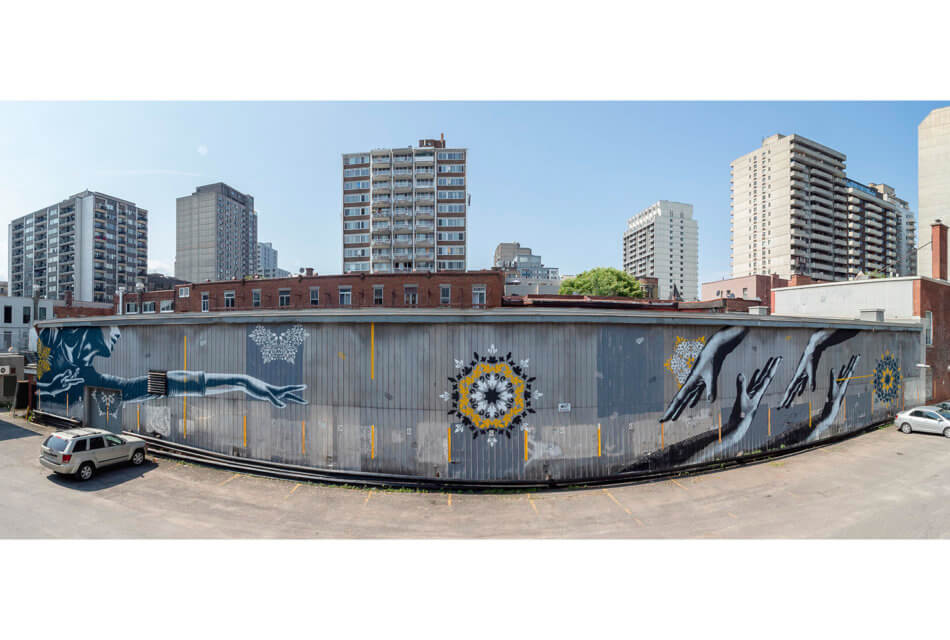 Mateo -
Crédit photo : Olivier bousquet
La danse des mains légères
2019
Collage and Stencil artist, Mathieu Bories alias Mateo questions the perception of the world which surrounds us. His humanistic approach emphasizes a nostalgia of childhood as well as a romanticism erased in our contemporary society. Forgotten images, photography, travel documents accumulated in search of timeless knowledge are the raw material of a personal composition, a monologue of the soul.
Read more
Location

Location
Localization
the Royal Montreal Curling Club
Adress
1850 boulevard de Maisonneuve Ouest Montréal, QC H3H 1J8
Accessibility
At all time
Artwork description
MU was asked to create a mural on the walls of the Royal Montreal Curling Club by Éco-Quartier Peter-McGill, which believes that mural art is an important tool for embellishing, revitalizing and improving neighbourhood residents' quality of life. The artist Mateo applies a humanist approach that highlights childhood nostalgia and a romanticism that is increasingly lacking in contemporary society. His work is primarily influenced by street art, collage and stenciling.
The mural's title, La danse des mains légères (the dance of light hands) evokes notions of mutual support, compassion, and human touch: three key elements representing curling. This project was possible thanks to support from the Ville Marie borough, the city of Montreal, Innovation Jeunes and Accès Location.