{"title":"Le village imagin\u00e9. \u00abLe renard l'emporte, le suit \u00e0 la trace\u2026\u00bb | Art Public Montr\u00e9al","thisUrl":"https:\/\/artpublicmontreal.ca\/en\/oeuvre\/le-village-imagine-le-renard-lemporte-le-suit-a-la-trace\/","body_class":"apm_artwork-template-default single single-apm_artwork postid-49396 apm lang-en apm-imported-item apm-full-js nav-env-filters","query_hud":null,"active_filter":null,"alternate_language_url":"https:\/\/artpublicmontreal.ca\/oeuvre\/le-village-imagine-le-renard-lemporte-le-suit-a-la-trace\/","clear_filter_collection":0,"clear_filter_tour":"clear","data_attributes":{"data-view-type":"apm_artwork"},"filter_root_url":"\/collection\/","artworkNav":false,"mapMarkers":[{"id":49396,"slug":"le-village-imagine-le-renard-lemporte-le-suit-a-la-trace","title":"Le village imagin\u00e9. \u00abLe renard l'emporte, le suit \u00e0 la trace\u2026\u00bb","permalink":"https:\/\/artpublicmontreal.ca\/en\/oeuvre\/le-village-imagine-le-renard-lemporte-le-suit-a-la-trace\/","year":"2005","loc":{"lat":45.4754278999999996813130564987659454345703125,"long":-73.5581547000000028901922632940113544464111328125},"artist_names":"<span>Pierre<\/span> <strong>Bourgault<\/strong>","thumb":"https:\/\/artpublicmontreal.ca\/wp-content\/uploads\/imported\/1463_4152-150x150.jpg","infoBox":false,"cat_color":"#e50f09","env":"outdoor","singleArtwork":true}]}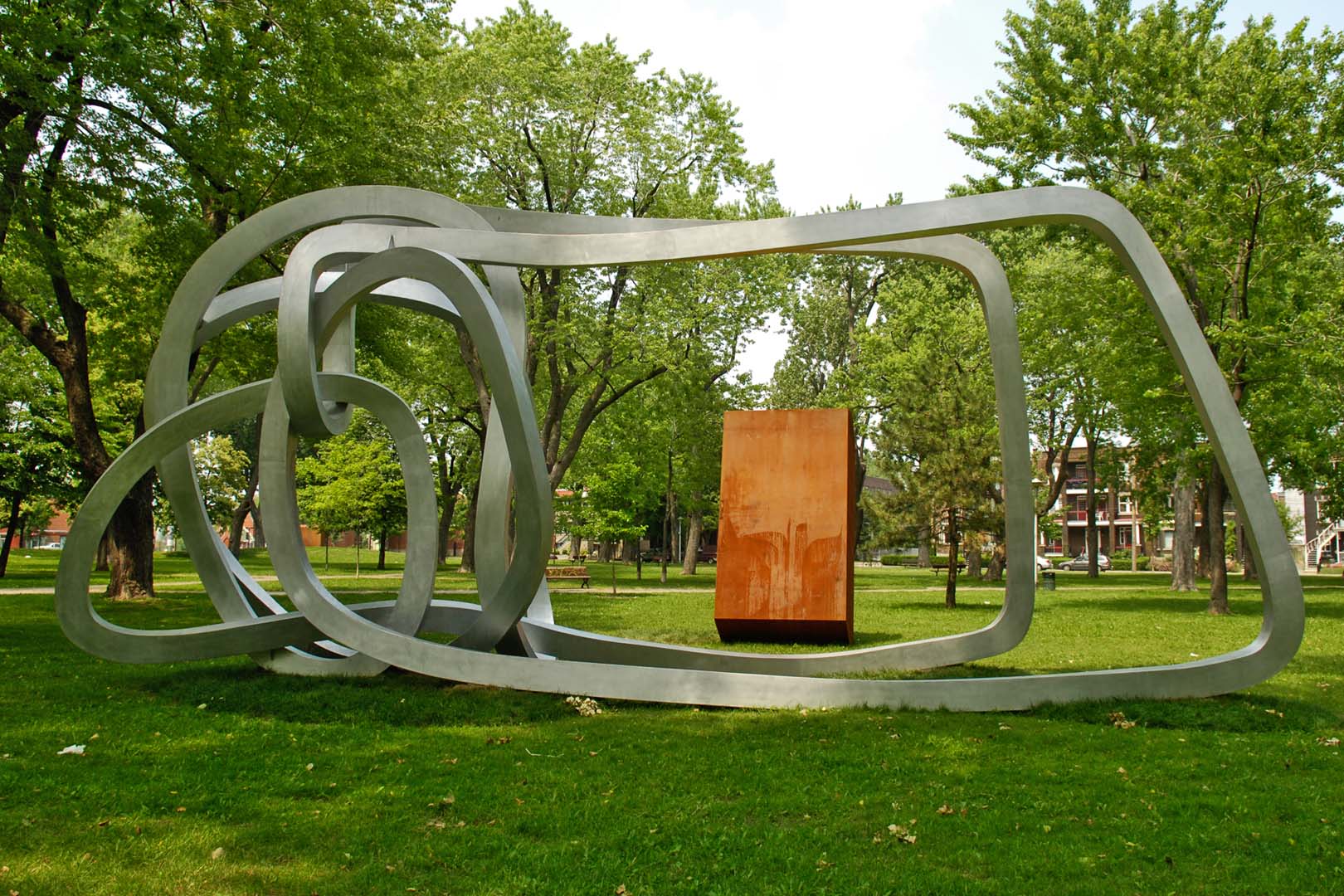 © Pierre Bourgault / SOCAN (2021) -
Crédit photo :
Le village imaginé. «Le renard l'emporte, le suit à la trace…»
2005
Born into a large family of sculptors in Saint-Jean-Port-Joli in the Lower St. Lawrence region, Pierre Bourgault still lives in his hometown. He is an artist, teacher, storyteller, researcher, and navigator. In 1967, he founded the sculpture school in Saint-Jean-Port-Joli. Since the 1970s, he has created numerous habitable works of public art influenced by the river and horizontality, and he has had works in a large number of exhibitions in Canada and abroad. In 1996, he earned a master's degree in visual arts from Université Laval, in Québec City.
Read more
Details
Acquisition mode
Public commission from the Ville de Montréal
Materials
aluminum, chrome, corten steel, manganese
Overall size
Ensemble de l'œuvre : 98 x 115 m
Technique(s)
assembled, welded
Location

Location
Location
Parc Marguerite-Bourgeoys
Artwork description
Situated in Parc Marguerite-Bourgeoys, Le Village imaginé – Ayarak Le Renard l'emporte, le suit à la trace is composed of five elements set in various parts of the park. The string knot, whose overlapping fluid curves are reminiscent of drawing, is made of aluminum. Its form evokes an Ayarak, an Inuit string game. This piece is the central element of the artwork; around it are placed four houses made of weathering (Corten) steel, the surface of which oxidizes and turns orange. The houses, each unique in shape, are set at regular intervals in the park. Their polygonal or irregular shapes, massive and heavy, present a strong contrast with the light, airy string sculpture. A dialogue is established between the materials and between the shapes. Installed in the centre of the park, the knot is a metaphor for the village, whereas the houses reflect the cultural diversity of the neighbourhood. Through the theme of habitat, which recurs in Bourgault's work, the artwork evokes the colony's difficult early days.