{"title":"Migration | Art Public Montr\u00e9al","thisUrl":"https:\/\/artpublicmontreal.ca\/en\/oeuvre\/migration\/","body_class":"apm_artwork-template-default single single-apm_artwork postid-50264 apm lang-en apm-imported-item apm-full-js nav-env-filters","query_hud":null,"active_filter":null,"alternate_language_url":"https:\/\/artpublicmontreal.ca\/oeuvre\/migration\/","clear_filter_collection":0,"clear_filter_tour":"clear","data_attributes":{"data-view-type":"apm_artwork"},"filter_root_url":"\/collection\/","artworkNav":false,"mapMarkers":[{"id":50264,"slug":"migration","title":"Migration","permalink":"https:\/\/artpublicmontreal.ca\/en\/oeuvre\/migration\/","year":"1967","loc":{"lat":"45.514075","long":"-73.534655"},"artist_names":"<span>Robert<\/span> <strong>Roussil<\/strong>","thumb":"https:\/\/artpublicmontreal.ca\/wp-content\/uploads\/imported\/1878_4976-150x150.jpg","infoBox":false,"cat_color":"#e50f09","env":"outdoor","singleArtwork":true}]}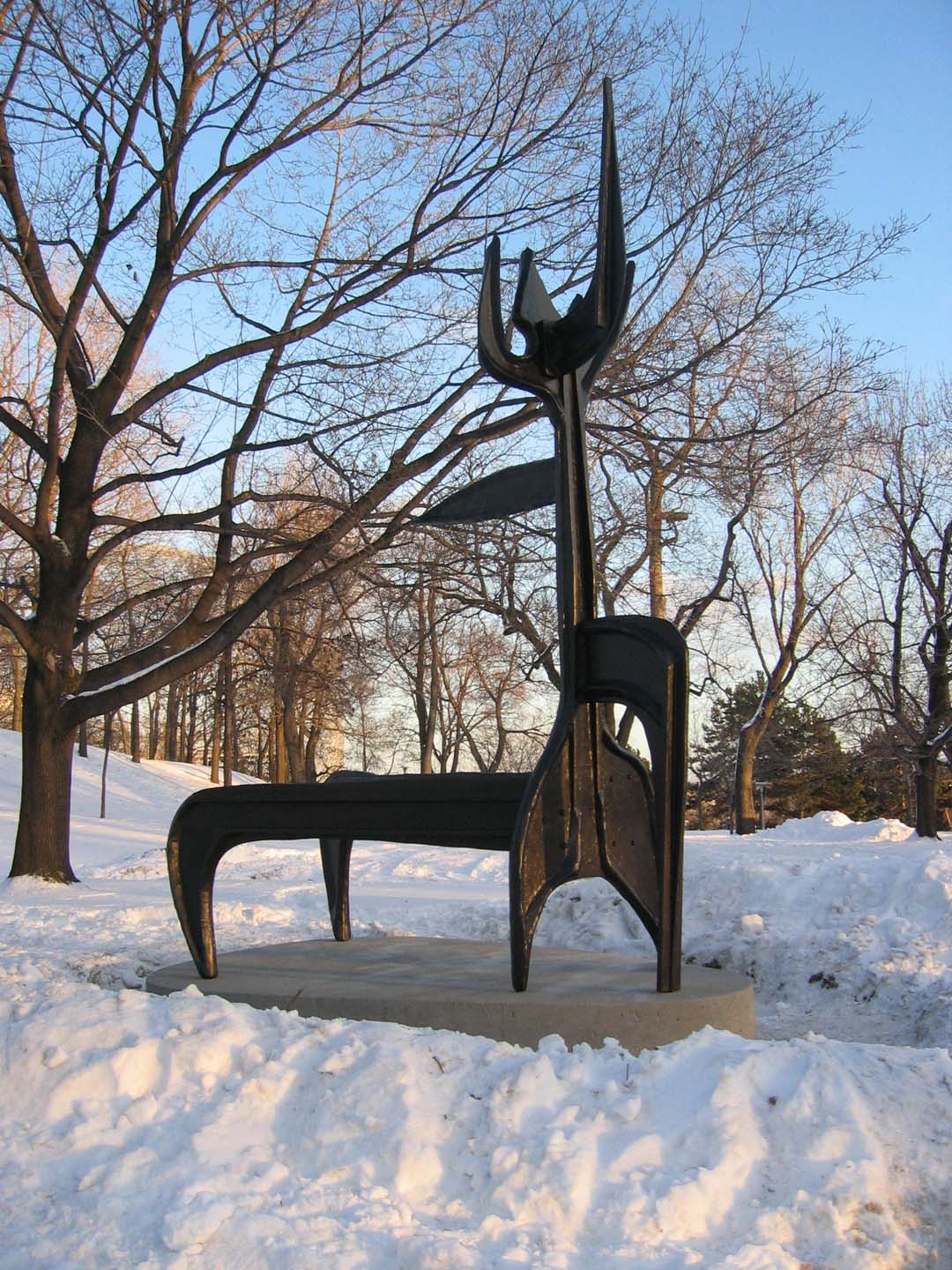 Crédit photo: Dolléans Art Conservation, 2004
Migration
1967
1925 - 2013
Robert Roussil did a thousand or so odd jobs before enrolling in the Canadian army from 1942 to 1944. When the war was over, he benefited from a scholarship offered by the government to attend the École du Musée des beaux-arts. Professor and director Arthur Lismer encouraged him pursue a career as a sculptor and hired him to teach stone sculpture. In 1949, his wood sculpture La famille showing a naked man and woman was held in custody by the police. This turn of events led Roussil to leave his job.
His frank manner of speaking, his way of speaking, his relationships with militants of the Canadian communist party and the liberty of his artistic production led him to constantly challenge censorship. Roussil defined himself as entrepreneurial artisan, favoring a direct relationship with the client without going through museum – the refusal of artistic institutions. For him, it was essential to live from his art and to make art a way of life. Art must be visible to all and the artist must be anarchistic.
His participation in the 1952 World Peace Council made him realize that he loved the idea of creating international symposiums to allow sculptors to work on very large pieces.  He helped found the International Sculpture Symposium in Montreal in 1964. His active participation in the creation of a studio and the Place des Arts is a testament to his interest for action, for the exchange of ideas without any form of censorship.
In 1956, Roussil left Montreal to live in an abandoned windmill in Tourettes-sur-Loup, where he would build a garden of sculptures. His mainly monumental pieces are displayed in public areas in Quebec and in France. We can spot several of them in the city of Montreal at around it. Roussil also built a huge amount of sculptures on the roof of a water treatment plant in Saint-Laurent-Du-Var in France.
Read more
Details
Acquisition mode
Donation
Overall size
465 x 230 x 400 cm
Technique(s)
bolted, cast
Location

Location
Location
Parc Jean-Drapeau, Île Sainte-Hélène
Artwork description
Migration is an abstract sculpture 4.65 metres high and 4.06 metres wide. With its curves, this sculptural composition of six pieces of bolted cast iron evokes forms that are either organic or animal, or mechanical.
The sculpture's 11 points, anchored in the ground or pointing at the sky, form an axis between sky and earth, a transit between two forces, two worlds. From this oscillation emanates a double effect of stability and lightness that radically transforms the site.
In 2004, the artwork was restored and moved to enhance its visibility. It is now near Chemin du Tour-de-l'Isle in Parc Jean-Drapeau on St. Helen's Island. This new site refers to its context for creation and its original vocation, both linked to Expo 67.