{"title":"Untitled | Art Public Montr\u00e9al","thisUrl":"https:\/\/artpublicmontreal.ca\/en\/oeuvre\/untitled-37\/","body_class":"apm_artwork-template-default single single-apm_artwork postid-54901 apm lang-en apm-full-js nav-env-filters","query_hud":null,"active_filter":null,"alternate_language_url":"https:\/\/artpublicmontreal.ca\/oeuvre\/sans-titre-7\/","clear_filter_collection":0,"clear_filter_tour":"clear","data_attributes":{"data-view-type":"apm_artwork"},"filter_root_url":"\/collection\/","artworkNav":false,"mapMarkers":[{"id":54901,"slug":"untitled-37","title":"Untitled","permalink":"https:\/\/artpublicmontreal.ca\/en\/oeuvre\/untitled-37\/","year":"1985","loc":{"lat":"45.501184807169075","long":"-73.61715853214264"},"artist_names":"<span>Robert<\/span> <strong>Roussil<\/strong>","thumb":"https:\/\/artpublicmontreal.ca\/wp-content\/uploads\/2015\/09\/UdeM_ROUSSIL_1-150x150.jpg","infoBox":false,"cat_color":"#e50f09","env":"outdoor","singleArtwork":true}]}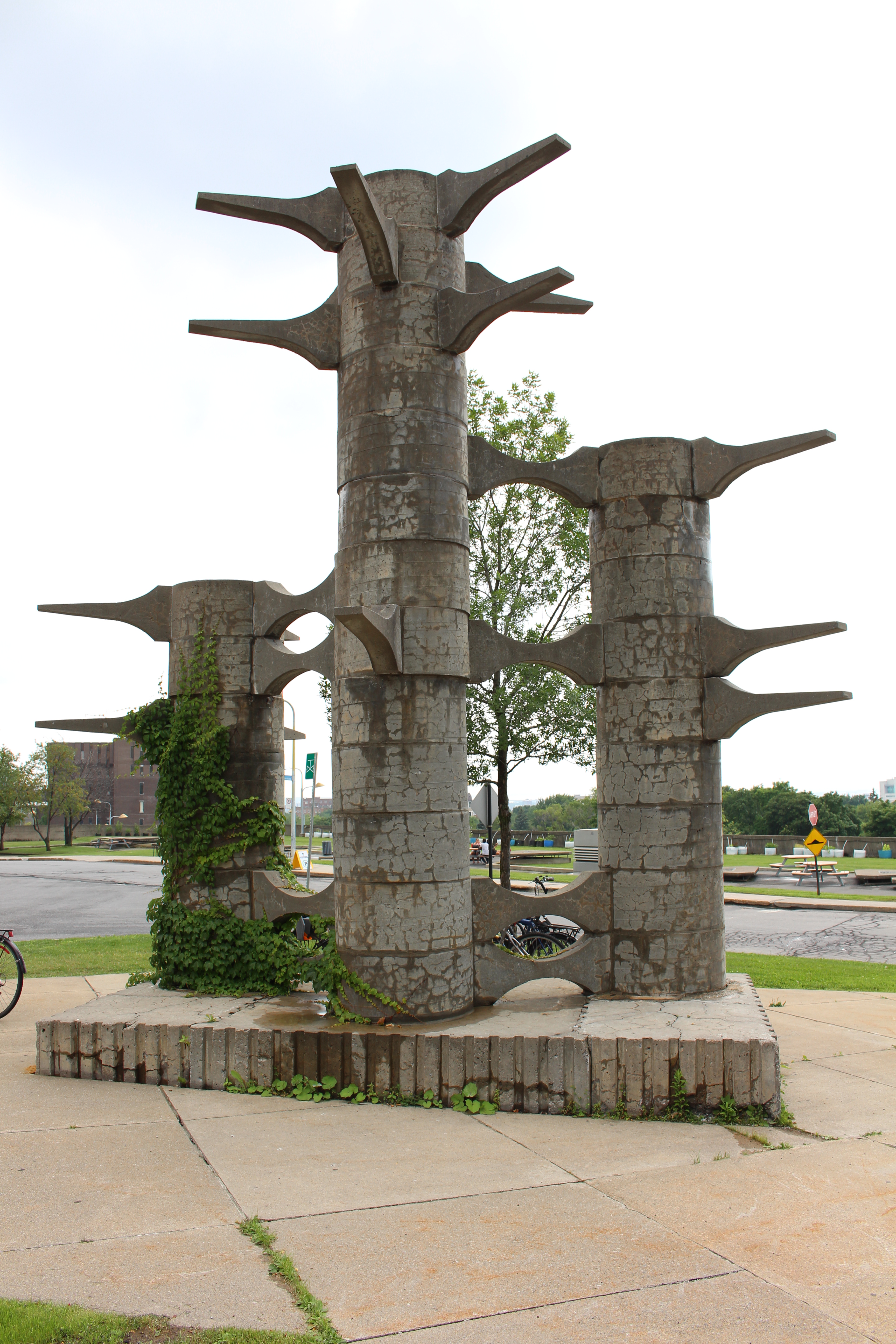 © Succession Robert Roussil (2015) -
Crédit photo :
Untitled
1985
1925 - 2013
Robert Roussil did a thousand or so odd jobs before enrolling in the Canadian army from 1942 to 1944. When the war was over, he benefited from a scholarship offered by the government to attend the École du Musée des beaux-arts. Professor and director Arthur Lismer encouraged him pursue a career as a sculptor and hired him to teach stone sculpture. In 1949, his wood sculpture La famille showing a naked man and woman was held in custody by the police. This turn of events led Roussil to leave his job.
His frank manner of speaking, his way of speaking, his relationships with militants of the Canadian communist party and the liberty of his artistic production led him to constantly challenge censorship. Roussil defined himself as entrepreneurial artisan, favoring a direct relationship with the client without going through museum – the refusal of artistic institutions. For him, it was essential to live from his art and to make art a way of life. Art must be visible to all and the artist must be anarchistic.
His participation in the 1952 World Peace Council made him realize that he loved the idea of creating international symposiums to allow sculptors to work on very large pieces.  He helped found the International Sculpture Symposium in Montreal in 1964. His active participation in the creation of a studio and the Place des Arts is a testament to his interest for action, for the exchange of ideas without any form of censorship.
In 1956, Roussil left Montreal to live in an abandoned windmill in Tourettes-sur-Loup, where he would build a garden of sculptures. His mainly monumental pieces are displayed in public areas in Quebec and in France. We can spot several of them in the city of Montreal at around it. Roussil also built a huge amount of sculptures on the roof of a water treatment plant in Saint-Laurent-Du-Var in France.
Read more
Details
Acquisition mode
Donation
Source mention
Donated by SNC Lavalin inc.
Overall size
591.5 x 472 x 245 cm
Location

Location
Location
Claire-McNicoll Pavilion
Localization
In front of the pavilion, at the intersection of Chemin de la Tour and Chemin des Services
Adress
2900, boul. Édouard-Montpetit, Montréal, QC H3T 1J4
Tour
17 Artworks

2h

Snowdon metro station

Parc François-Perrault
Artwork description
This monumental sculpture can be observed from far away. Three concrete columns, the tallest of which is more than eight meters high, are erected atop a fluted base. The cylinders have grooves that give the impression of rounds stacked on top of each other. The only ornaments are arrows which link the three columns and form arches which balance the sculpture. Other arrows point towards the cardinal points, relating the sculpture to its location in the intersection. The artist, who likes to work with raw materials shows his mastery of large-scale sculptures.
Roussil describes himself as a generous creator: he creates several models before sculpting his pieces. He uses engraving, ceramics, drawing and wood sculpting to make his grand projects a reality.
Some years before this project, the artist built large modular sculptures out of wood, a material which he masters. In this piece, he used the same approach with concrete. He tried to make it seem lighter by taking concrete's intrinsic qualities into account and searched to find a balance between its density and the lines suppleness.
This untitled is the first piece of a series of sculptures followed by Hommage à René Lévesque (1988) in the park also named in honor to the politician, in Lachine. This piece is composed of nine torches spurting out of cylindrical bases illuminated from the inside. In 1990, Ville Saint-Laurent organized a symposium during which Roussil created another untitled sculpture which resembles the Hommage à René Lévesque by its crowns, but also the Univerisité's untitled, by
its composition in a network form and its configuration on the ground.