{"title":"Monument aux h\u00e9ros de la guerre des Boers | Art Public Montr\u00e9al","thisUrl":"https:\/\/artpublicmontreal.ca\/en\/oeuvre\/monument-aux-heros-de-la-guerre-des-boers\/","body_class":"apm_artwork-template-default single single-apm_artwork postid-49836 apm lang-en apm-imported-item apm-full-js nav-env-filters","query_hud":null,"active_filter":null,"alternate_language_url":"https:\/\/artpublicmontreal.ca\/oeuvre\/monument-aux-heros-de-la-guerre-des-boers\/","clear_filter_collection":0,"clear_filter_tour":"clear","data_attributes":{"data-view-type":"apm_artwork"},"filter_root_url":"\/collection\/","artworkNav":false,"mapMarkers":[{"id":49836,"slug":"monument-aux-heros-de-la-guerre-des-boers","title":"Monument aux h\u00e9ros de la guerre des Boers","permalink":"https:\/\/artpublicmontreal.ca\/en\/oeuvre\/monument-aux-heros-de-la-guerre-des-boers\/","year":"1907","loc":{"lat":"45.499610","long":"-73.570967"},"artist_names":"<span>George William<\/span> <strong>Hill<\/strong>","thumb":"https:\/\/artpublicmontreal.ca\/wp-content\/uploads\/imported\/1666_4544-150x150.jpg","infoBox":false,"cat_color":"#e50f09","env":"outdoor","singleArtwork":true}]}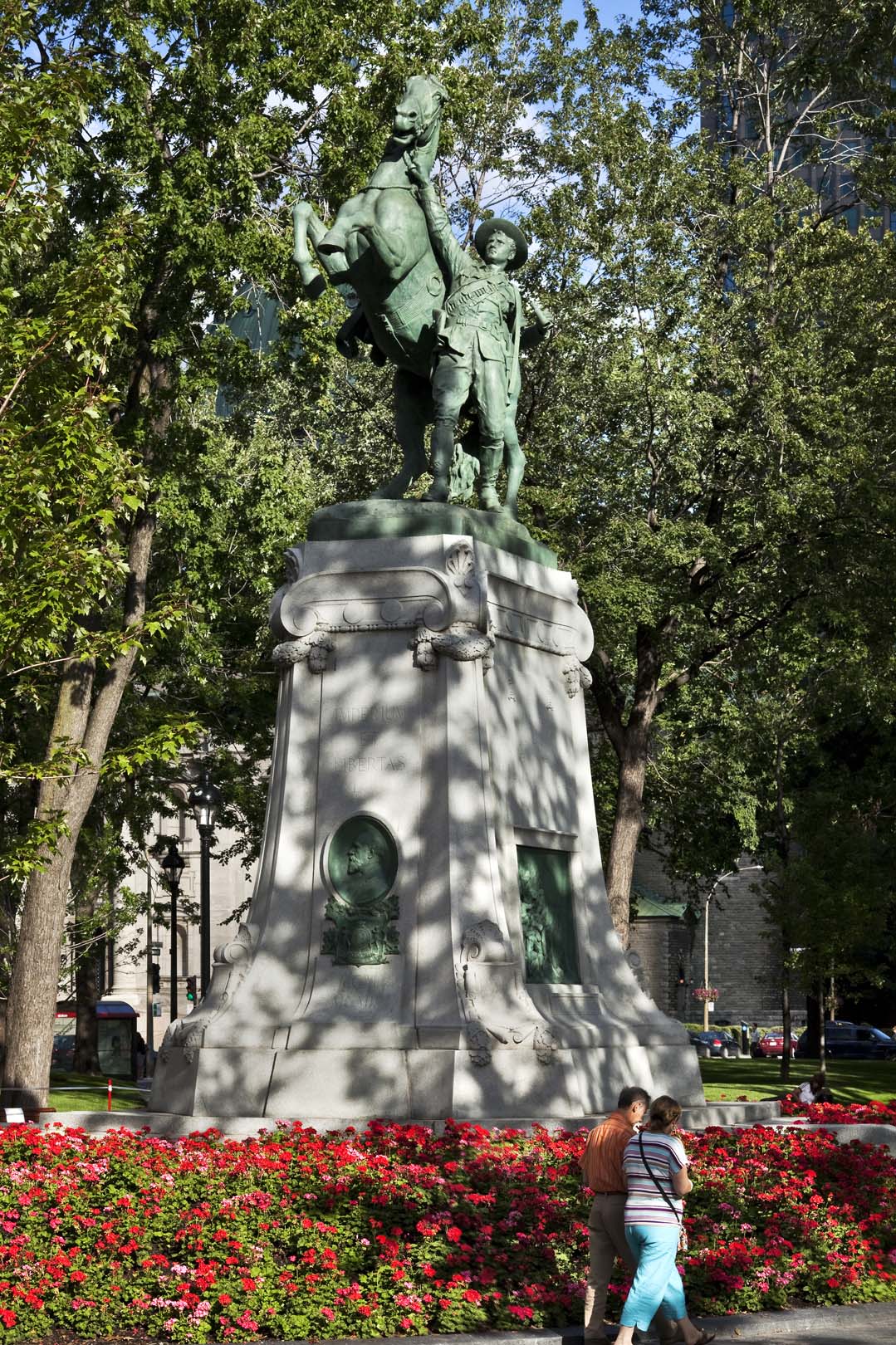 Crédit photo: Michel Dubreuil, 24 août 2010
Monument aux héros de la guerre des Boers
1907
1862 - 1934
George William Hill was born in Shipton, Eastern Townships, in 1862. He learned to carve marble in his father's company, after he graduated from college. Between 1889 and 1894, he left Québec to study sculpting at the École nationale des beaux-arts and Académie Julian in Paris. When he returned to Montréal, he opened a studio and worked with the architect Robert Findlay and brothers Edward and William S. Maxwell. Known for his public monuments and war memorials, he is now considered one of the most important Canadian sculptors of the early twentieth century. The National Gallery of Canada, the Musée du Québec, and the Montréal Museum of Fine Art have artworks by him in their collections.
Read more
Details
Acquisition mode
Donation by public subscription
Overall size
920 x 2200 x 1600 cm
Location

Location
Location
Square Dorchester
Tour
Tour
Walk among the skyscrapers
19 Artworks

1h

1000 de la Gauchetière

McCord Museum
Artwork description
The monument stands in the centre of Dorchester Square and faces north. It was financed by public subscription, and the subscription committee commissioned the artwork and chose the site.
The monument is composed of a bronze equestrian statue placed on a parallelepiped grey-granite pedestal adorned with three bronze bas-reliefs and numerous inscriptions. Two of the bas-reliefs relate episodes in the war in which Canadian soldiers stood out: the battle of Paarleberg, in which the Boers surrendered to the Canadian infantry, and the battle of Komati River, in which the Canadian artillery seized the enemy's guns. The third bas-relief is a portrait in profile of Lord Strathcona. The sculpture at the top presents a scout from Lord Strathcona's Horse having dismounted, holding with his right hand the bridle of his frightened and rearing horse. The imposing equestrian group is one and a half times life size.
It is the only equestrian monument in Montréal and one of the few in Canada. It was also the first major commission that Hill produced. The architects Edward and William S. Maxwell designed the pedestal.