{"title":"Tango de Montr\u00e9al | Art Public Montr\u00e9al","thisUrl":"https:\/\/artpublicmontreal.ca\/en\/oeuvre\/tango-de-montreal\/","body_class":"apm_artwork-template-default single single-apm_artwork postid-50047 apm lang-en apm-imported-item apm-full-js nav-env-filters","query_hud":null,"active_filter":null,"alternate_language_url":"https:\/\/artpublicmontreal.ca\/oeuvre\/tango-de-montreal\/","clear_filter_collection":0,"clear_filter_tour":"clear","data_attributes":{"data-view-type":"apm_artwork"},"filter_root_url":"\/collection\/","artworkNav":false,"mapMarkers":[{"id":50047,"slug":"tango-de-montreal","title":"Tango de Montr\u00e9al","permalink":"https:\/\/artpublicmontreal.ca\/en\/oeuvre\/tango-de-montreal\/","year":"1999","loc":{"lat":"45.524229","long":"-73.581463"},"artist_names":"<strong>Les Industries perdues<\/strong>","thumb":"https:\/\/artpublicmontreal.ca\/wp-content\/uploads\/imported\/1762_5243-150x150.jpg","infoBox":false,"cat_color":"#e50f09","env":"outdoor","singleArtwork":true}]}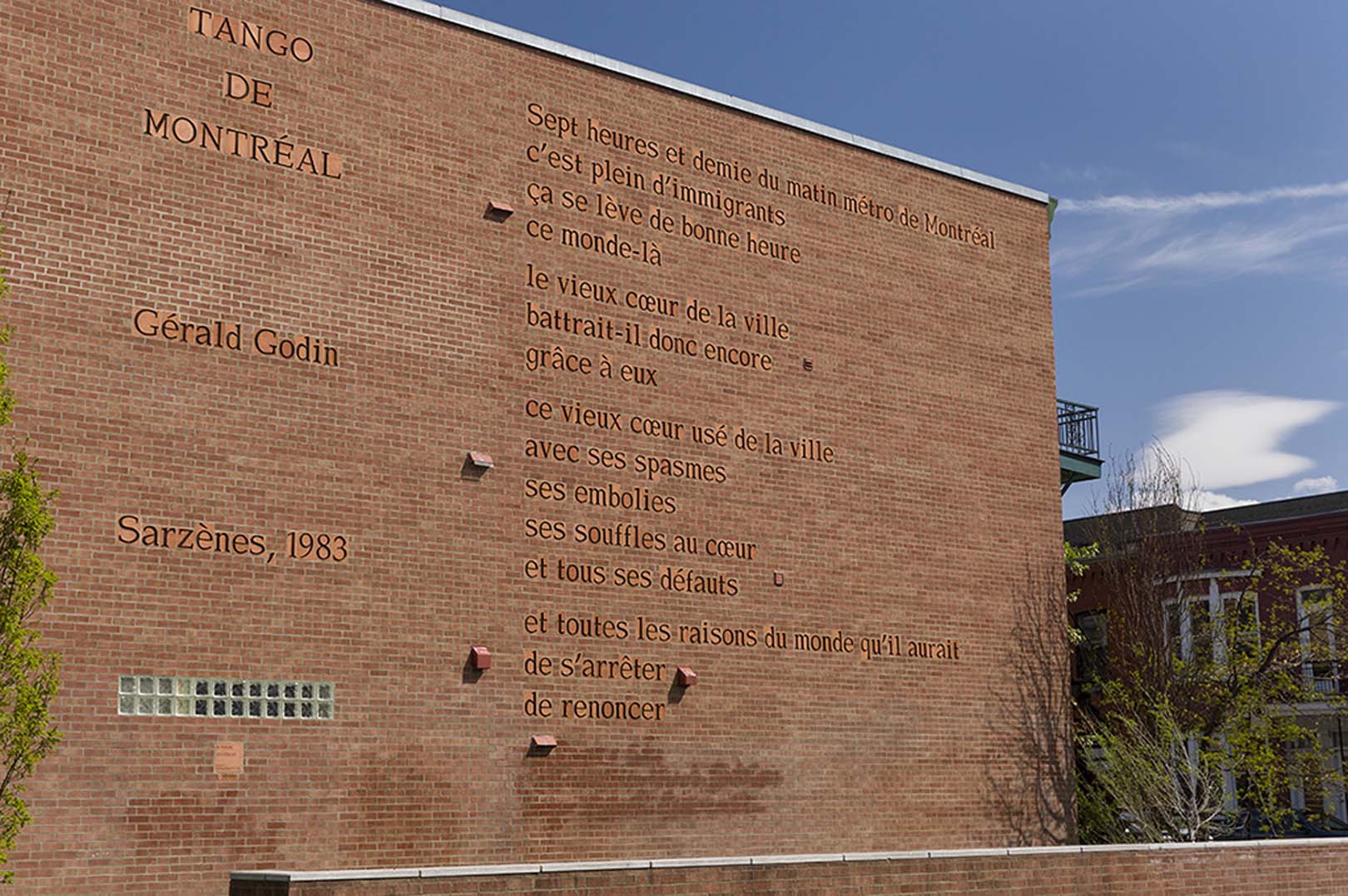 Crédit photo: Guy L'Heureux, 2014
Tango de Montréal
1999
In 1991, Richard Purdy founded the Les industries perdues collective; François Hébert joined the same year. Each has a master's degree in visual arts and a good number of solo exhibitions to his credit. Truly integrated into the urban environment and deliberately narrative in nature, their artworks appropriate objects by slipping them into an existing or invented mythical context. Among their productions are L'Horizon vertical (1997) at Théâtre de Nouveau Monde, Deus ex machina (1995) at Usine C, and La vivrière (1995) in Place de la FAO in Québec City.
Read more
Details
Acquisition mode
Competition by invitation
Overall size
1040 x 1740 cm
Technique(s)
moulding of raw clay
Location

Location
Location
Place Gérald-Godin
Adress
4433-4435-4437, rue Rivard, Place Gérald Godin
Artwork description
Situated in Place Gérald-Godin, in the heart of Plateau-Mont-Royal Borough, facing the Maison de la culture du Plateau-Mont-Royal, the artwork is integrated into the north wall of the building at 4433-4435-4437 Rue Rivard. It is a large-format reproduction of Gérald Godin's poem "Tango de Montréal," written in 1983 and published in the collection Sarzène that year.
This poem is representative of Godin's literary output, his attachment to Montréal, and his human preoccupations. Each of the 327 typographic characters of the poem was sculpted in clay, which was baked at a high temperature to form a high-quality brick. The 327 bricks were incorporated into the building's brick wall, transforming the wall into a page. The characters are related to those that the Romans sculpted in marble, and the black mortar joints highlight the contrast so that the poem can be read from a distance. The artists felt that Godin's voice as a poet, more discreet and less well known than his political activity, are also a part of history, and they chose to give him a voice in a place that is in use for daily activity – leaving for work in the morning, coming home in the evening, people who leave, who pass by, and who arrive for the first time.