{"title":"Paquets de lumi\u00e8re | Art Public Montr\u00e9al","thisUrl":"https:\/\/artpublicmontreal.ca\/en\/oeuvre\/paquets-de-lumiere\/","body_class":"apm_artwork-template-default single single-apm_artwork postid-68994 apm lang-en apm-full-js nav-env-filters","query_hud":null,"active_filter":null,"alternate_language_url":"https:\/\/artpublicmontreal.ca","clear_filter_collection":0,"clear_filter_tour":"clear","data_attributes":{"data-view-type":"apm_artwork"},"filter_root_url":"\/collection\/","artworkNav":false,"mapMarkers":[{"id":68994,"slug":"paquets-de-lumiere","title":"Paquets de lumi\u00e8re","permalink":"https:\/\/artpublicmontreal.ca\/en\/oeuvre\/paquets-de-lumiere\/","year":"2017","loc":{"lat":45.50588989999999967039912007749080657958984375,"long":-73.5681671999999906574885244481265544891357421875},"artist_names":"<span>Gilles<\/span> <strong>Mihalcean<\/strong>","thumb":"https:\/\/artpublicmontreal.ca\/wp-content\/uploads\/2019\/10\/Mihalcean_Paquet_de_lumi\u00e8re_1_ult-1-150x150.jpg","infoBox":false,"cat_color":"#e50f09","env":"outdoor","singleArtwork":true}]}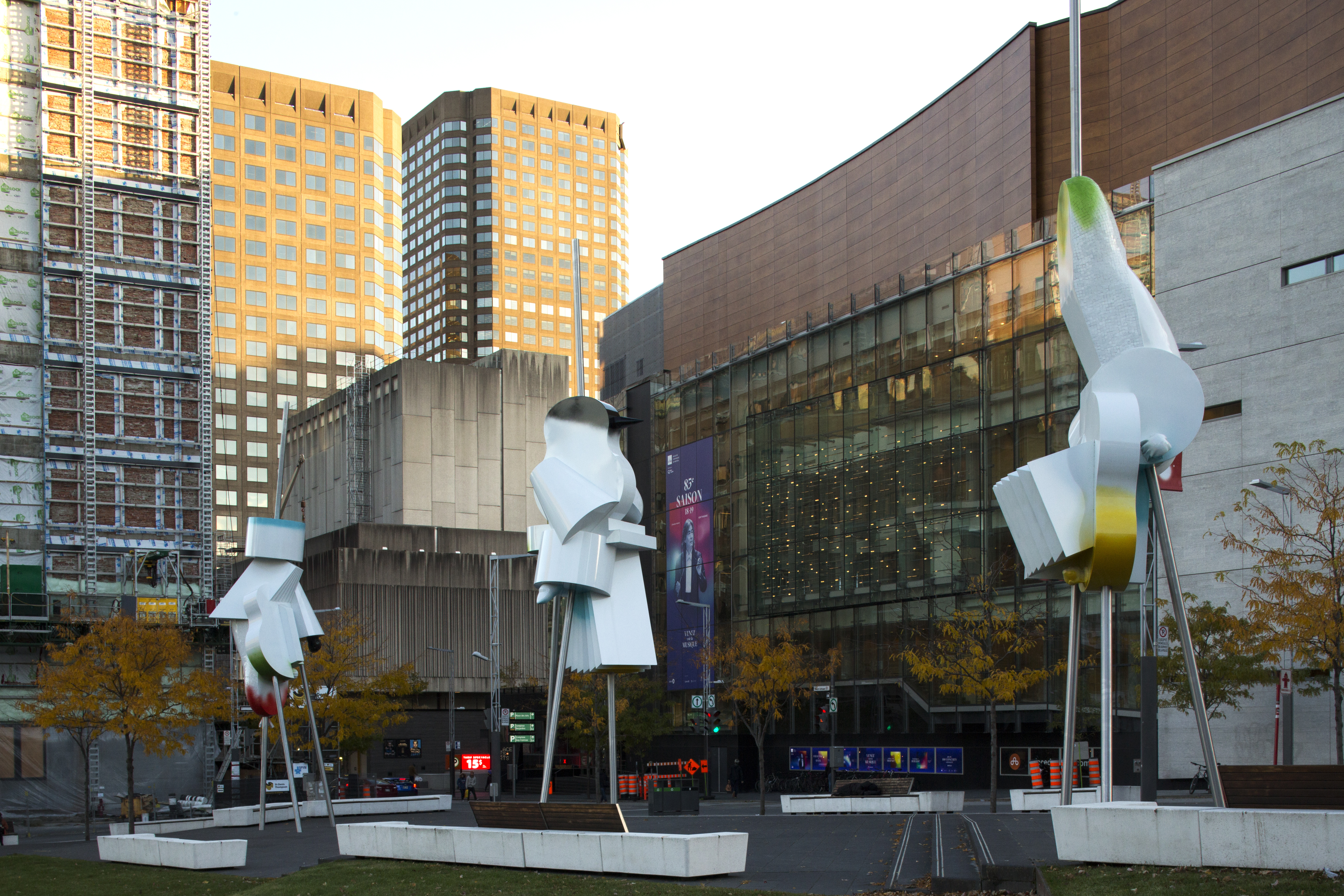 Gilles Mihalcean - Crédit photo : © -
Crédit photo : © Michel Dubreuil
Paquets de lumière
2017
Gilles Mihalcean has been a self-taught sculptor since 1969. Though he spent a bit of time teaching at the Université Laval, he has devoted himself to his art since 1972.
As well as working on monumental pieces for public art projects and to integrate art to architecture, he also regularly presents his work in collective and special exhibitions. Since 1980, he has been one of the major names in the resurgence of sculpture. His work was showcased at the Musée d'art contemporain de Montréal (1988) for contemporary sculpture exhibits and at The Power Plant in Toronto (1988). As a solo artist, his art was showcased in Montreal galleries and art centers (René Blouin, Chantal Boulanger, Roger Bellemare and Circa) as well as Canadian ones (Southern Alberta Art Gallery) and in New York (49th Parallel, Centre for Contemporary Canadian Art). In 1995, the Musée d'art contemporain de Montréal dedicated a retrospective exhibit to him, and was recently on display at the Musée d'art de Joliette (2007).
Mihalcean's sculptural work is deeply lucid and leads us to more lurid and critical pieces. Time is a fundamental aspect of his art; may it be the time needed by the creator, the time token by the spectator when observing the piece and the time absorbed by history – visible in nearly all his art.
Mihalcean is known for his pieces filled with conceptual dichotomies which lead the observer to reflect. His pieces are often tripartite and the meaning that somebody could find in the close proximity between two elements is often shattered by the third. This principle is supported by the use of contrasting materials and many interrelationships. It also isn't rare that the artist invite spectators to touch his sculptures and feel them in order to better understand them.
Read more
Details
Acquisition mode
Legacies of the Government of Quebec on the occasion of the celebrations of Montreal's 375th anniversary, Public commission from the Ville de Montréal
Materials
aluminum, and paint, stainless steel
Location

Location
Location
Le Parterre, public plaza beside Place des Arts
Adress
1435, rue Saint-Alexandre, local 500, Montréal, H3A 2G4
Accessibility
At all time
Artwork description
Like a theatre stage, the granite slabs of Le Parterre present an interplay of three vertical sculptures to passersby. Directly inspired by the cultural institutions that surround it, the triptych of sculptures created by Gilles Mihalcean express variations around the performance arts. Like a music score or a choreography, the components common to the three works are orchestrated in a constantly changing way. These freely assembled objects (including a dance shoe, an accordion, and a guitar) are highlighted with patches of colour and sprinkled with unexpected objects (a chicken, a log, and an airplane, among others). The contrasts allow for a multitude of interpretations and associations of ideas, and they invite our imagination to a show in this location devoted to hosting various types of performances every year.
Quotation: "As an abstract arrangement of figurative and recognizable elements, my work encourages associations of ideas, which are never the same from person to person." Gilles Mihalcean
Paquets de lumière was produced following a Québec-wide competition by public notice held in 2016. Integrated into Le Parterre, a public plaza beside Place des Arts, this work contributes to the neighbourhood-revitalization strategy. With its adaptability and privileged geographic siting, Le Parterre, designed by Daoust Lestage, is both an ideal location for festivals and a place for people visiting the downtown area to relax. The work is a bequest by the Gouvernement du Québec for the 375th anniversary of the foundation of Montréal.