{"title":"The Wheel (Cold Dog - Indian Summer) | Art Public Montr\u00e9al","thisUrl":"https:\/\/artpublicmontreal.ca\/en\/oeuvre\/the-wheel-cold-dog-indian-summer\/","body_class":"apm_artwork-template-default single single-apm_artwork postid-54130 apm lang-en apm-full-js nav-env-filters","query_hud":null,"active_filter":null,"alternate_language_url":"https:\/\/artpublicmontreal.ca\/oeuvre\/la-roue\/","clear_filter_collection":0,"clear_filter_tour":"clear","data_attributes":{"data-view-type":"apm_artwork"},"filter_root_url":"\/collection\/","artworkNav":false,"mapMarkers":[{"id":54130,"slug":"the-wheel-cold-dog-indian-summer","title":"The Wheel (Cold Dog - Indian Summer)","permalink":"https:\/\/artpublicmontreal.ca\/en\/oeuvre\/the-wheel-cold-dog-indian-summer\/","year":"1955","loc":{"lat":"45.503166234950136","long":"-73.56155097484589"},"artist_names":"<span>Jean-Paul<\/span> <strong>Riopelle<\/strong>","thumb":"https:\/\/artpublicmontreal.ca\/wp-content\/uploads\/2015\/09\/MBAM_Riopelle_Roue-150x150.jpg","infoBox":false,"cat_color":"#e50f09","env":"indoor","singleArtwork":true}]}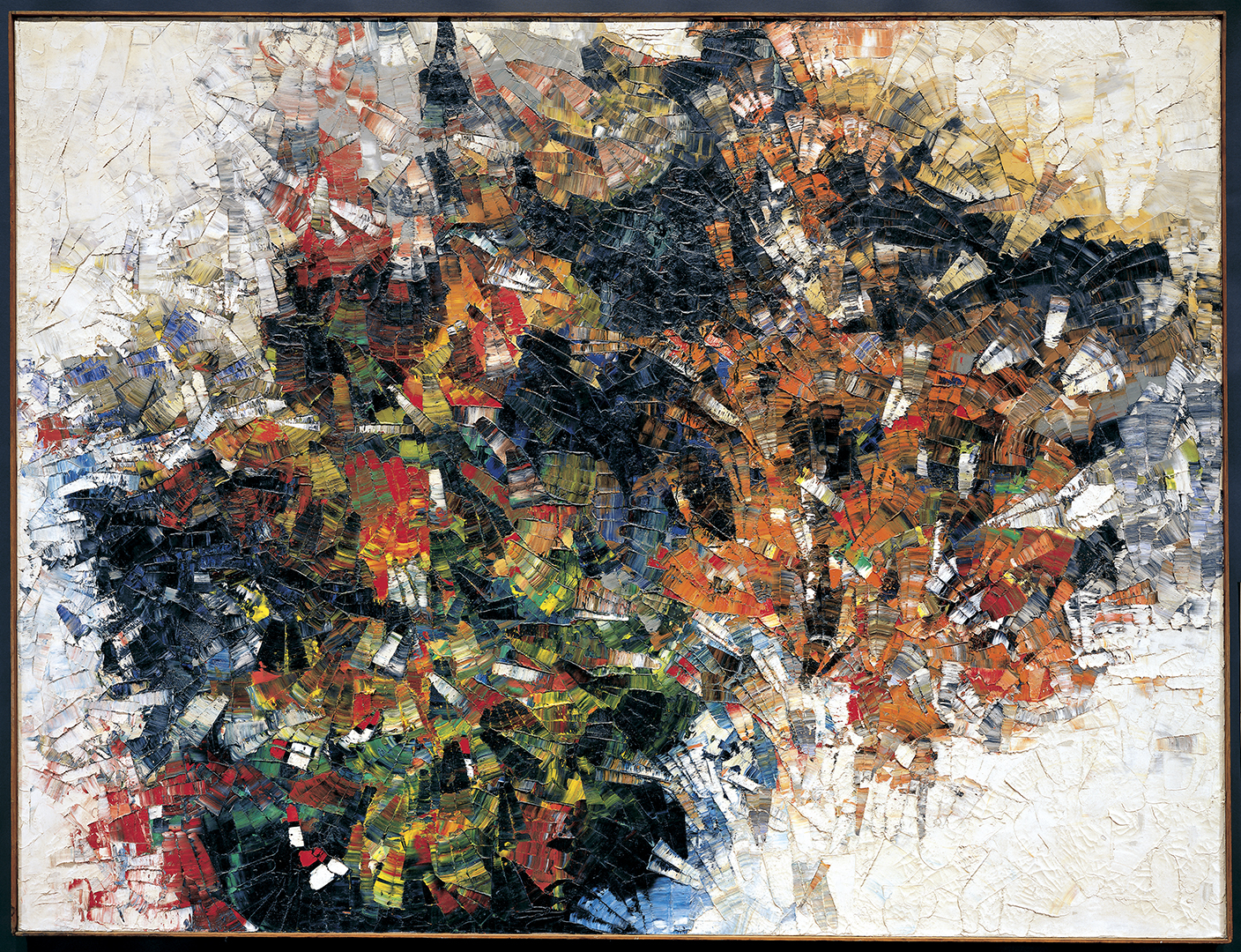 © Succession Jean-Paul Riopelle / SODRAC (2015) -
Crédit photo : MBAM / MMFA, Denis Farley
The Wheel (Cold Dog – Indian Summer)
1955
1923 - 2002
Born in Montreal in 1923, Jean-Paul Riopelle studied at the École Polytechnique (1941) and at the École des beaux-arts de Montréal (1942-1944), attending Paul-Émile Borduas' workshop and joining the Automatistes group with whom he signed the "Refus Global" manifesto in 1948. In the late 1940s, he also settled in France where he briefly entertained ties with members of the Surrealist movement. These experiences had considerable impact on Riopelle's early practice, in which he developed a unique visual language based on spontaneous gesture and repetition, creating beautiful abstract works by throwing colorful spurts of paint in filament-like marks that embrace the entire pictorial surface.
During the first half of the 1950s, he graduated to a mature style, working a thick impasto from paint applied directly from the tube and shaped with a spatula in an "all-over" fashion that suggested parallels with Abstract Expressionism. Rendering large-scale paintings that incorporated captivating contrasts and textures in mosaic-like compositions, Riopelle quickly gained international notoriety. Starting in the late 1960s, he started spending more time in Canada, eventually returning to Quebec. His work from the  1970s and 1980s is marked by a gradual return to representative forms inspired by the animal theme, and by the artist's adoption of a new technique based on the use of stencils and aerosol paint.
One of Canada's most prominent artists, Jean-Paul Riopelle distinguished himself amongst his contemporaries and his art continues to draw international attention today. He received an honorable mention from the Guggenheim International Award in 1958, participated in the Venice Biennale (1952, 1954, 1962) and the São Paulo Biennale (1955). Major solo exhibitions of his work were presented at the Kölnischer Kunstverein in Cologne (1958), the National Gallery of Canada (1963) and the Musée du Québec (1967). In 1982, The Musée d'art contemporain de Montréal hosted "Jean-Paul Riopelle : peintures 1946-1977", an exhibition organized by the Centre Georges Pompidou in Paris and by the Musée national des beaux-arts du Québec. In 1991, the Montreal Museum of Fine Arts also organized a major retrospective of the artist's work which then travelled to the Hermitage Museum in St. Petersburg. Riopelle received several honorary degrees, notably those delivered by the University of Manitoba (1972) and by McGill University (1968). He was made Companion of the Order of Canada (1969) and won the prestigious Prix Paul-Émile Borduas (1981) as well as the Grand Prix de la Ville de Paris (1985). Riopelle died on March 12, 2002 in Île-aux-Grues, Québec, at the age of 78.
Read more
Details
Acquisition mode
Purchase
Source mention
Purchase directly from the artist, through exceptional support from the Quebec government
Overall size
250 x 331 cm
Location

Location
Location
The painting is on loan at the Caisse de dépôt et placement du Québec
Localization
Jacques-Parizeau building, Jean-Paul-Riopelle hall
Adress
1000 Place Jean-Paul-Riopelle, Montréal, QC, H2Z 2B3
Accessibility
Monday to friday
Tour
Tour
Where the business world and art come together
18 Artworks

1h10min

Place-d'Armes metro station

Square-Victoria-OACI metro station
Artwork description
The artwork produced in 1954–55, presented for the first time at the Kunsthalle in Basel, Switzerland, is considered one of the most beautiful examples of Riopelle's classic "mosaic" period of 1954–55, alongside pieces such as Pavane (NGC), Autriche (MMFA), and Poussière de soleil (MQ). Breaking with the homogeneous occupation of the surface characterizing his production of 1952 and 1953, Riopelle reintroduced a semblance of composition by dividing the surface, under the accumulated effects of knife cuts, into large zones of different colours; the palette, with its ochres and half-tones, seems to have been acclimated to the French influence. La roue presents a large dark zone surrounded by white, thus forming a fragment of a spiral or wheel. The raw energy of his previous paintings has given way, here, to an effect of dizzying movements that peter out toward the right and are enhanced by the dark mass overflowing beyond the edges of the work.
[Source: Archives du Musée des beaux-arts de Montréal]