{"title":"Breath of spring | Art Public Montr\u00e9al","thisUrl":"https:\/\/artpublicmontreal.ca\/en\/oeuvre\/breath-of-spring\/","body_class":"apm_artwork-template-default single single-apm_artwork postid-59717 apm lang-en apm-full-js nav-env-filters","query_hud":null,"active_filter":null,"alternate_language_url":"https:\/\/artpublicmontreal.ca\/oeuvre\/breath-of-spring\/","clear_filter_collection":0,"clear_filter_tour":"clear","data_attributes":{"data-view-type":"apm_artwork"},"filter_root_url":"\/collection\/","artworkNav":false,"mapMarkers":[{"id":59717,"slug":"breath-of-spring","title":"Breath of spring","permalink":"https:\/\/artpublicmontreal.ca\/en\/oeuvre\/breath-of-spring\/","year":"2011","loc":{"lat":"45.5127950586245","long":"-73.56291575581969"},"artist_names":"<span>Phillip<\/span> <strong>Adams<\/strong>, <span>David<\/span> <strong>Guinn<\/strong>","thumb":"https:\/\/artpublicmontreal.ca\/wp-content\/uploads\/2016\/08\/Spring_1-150x150.jpg","infoBox":false,"cat_color":"#e50f09","env":"outdoor","singleArtwork":true}]}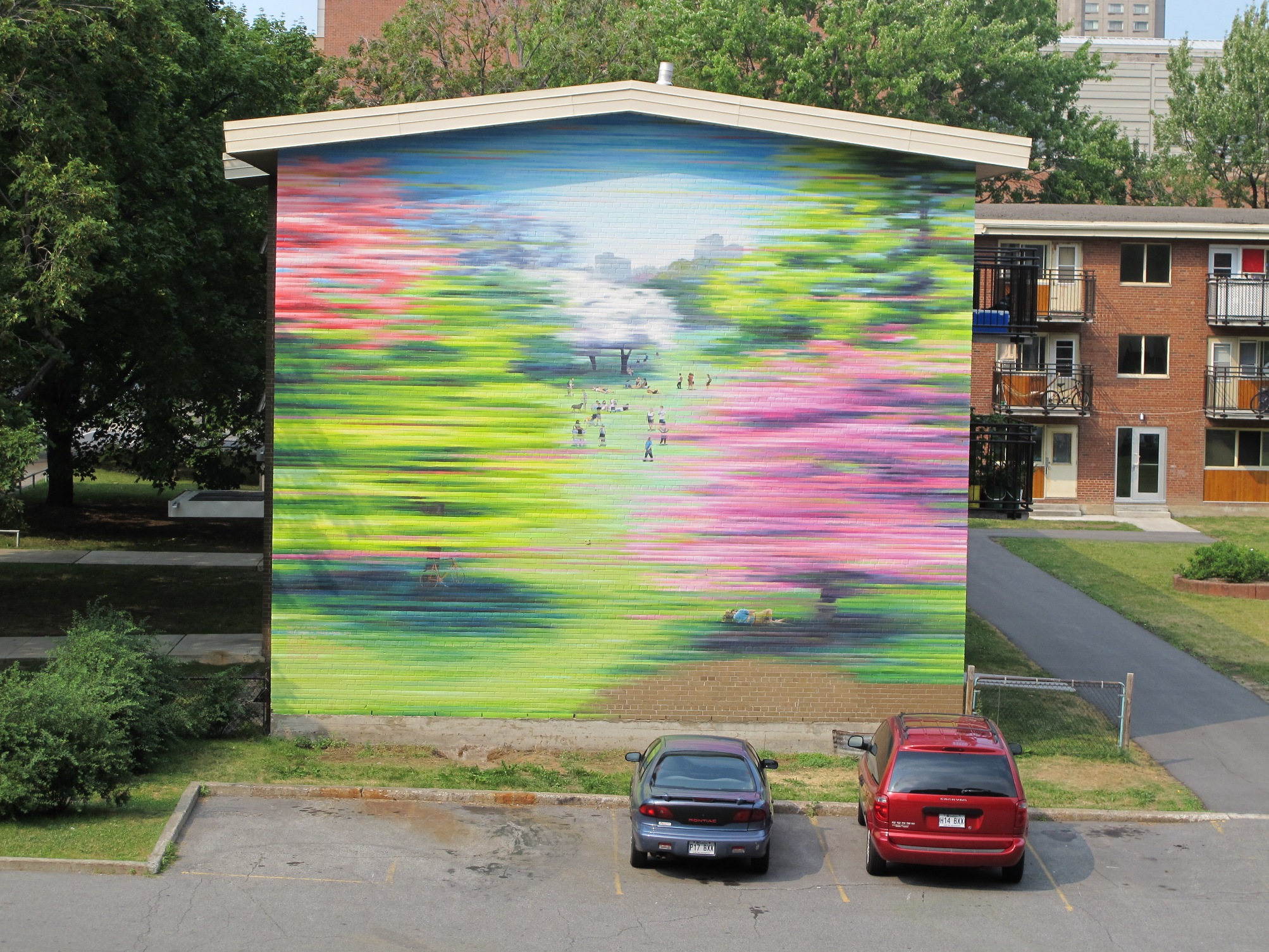 © Phillip Adams / David Guinn, produced by MU -
Crédit photo : Phillip Adams (2011)
Breath of spring
2011
Atlanta native and resident of Philadelphia, Phillip Adams holds a Master's degree in Fine Arts from Philadelphia University. He is sensitive to western mass culture and the dehumanisation linked to our consumer society. His mural art esthetic is anamorphic, as much in the classical trompe-l'oeil as in a contemporary and playful style that he is known for. He has more than 10 murals to his credit.
Read more
David Guinn was born and currently lives in Philadelphia. His architectural training influences his style that resembles a reproduction of pixel images. The cubist movement inspires him, especially Paul Klee. Guinn takes into account the immediate surroundings of the mural, the urban landscape, the colours and the residents as essential elements of his creation. He creates more than 20 murals through the United-States, one of which is 150 feet in length at the Philadelphia International Airport. David Guinn is one of the important players in the North American mural art sphere.
Read more
Details
Funding
Ville de Montréal
Source mention
In collaboration with other financial partners
Location

Location
Adress
270 Maisonneuve boulevard east, Montréal, QC H2X 1J7
Artwork description
Phillip Adams and David Guinn completed the Habitations Jeanne Mance (HJM) series Les saisons montréalaises (Montreal Seasons) with an ode to Spring. The work immortalizes montrealers taking advantage of the colours, odours, and picnics and flowering trees that characterize the arrival of good weather and of spring. The horizontal lines appearing in each mural are inspired by the movement produced by automobile, bicycle and pedestrian traffic on De Maisonneuve East Boulevard. The pair of first murals produced in 2009 illustrates contemporary landscapes representing a scene of autumnal colours and a more dramatic winter scene, while the 2010 mural depicts the fireworks, crowds and festivals that represent the summer season in Montreal.
The ensemble of the HJM murals is themed on nature and vegetation. This artistic direction was developed with the HJM Corporation in order to create continuity with other site improvements, notably allowing the site to position itself as the "green" heart of the city of Montreal.