{"title":"La peur | Art Public Montr\u00e9al","thisUrl":"https:\/\/artpublicmontreal.ca\/en\/oeuvre\/la-peur\/","body_class":"apm_artwork-template-default single single-apm_artwork postid-50087 apm lang-en apm-imported-item apm-full-js nav-env-filters","query_hud":null,"active_filter":null,"alternate_language_url":"https:\/\/artpublicmontreal.ca\/oeuvre\/la-peur\/","clear_filter_collection":0,"clear_filter_tour":"clear","data_attributes":{"data-view-type":"apm_artwork"},"filter_root_url":"\/collection\/","artworkNav":false,"mapMarkers":[{"id":50087,"slug":"la-peur","title":"La peur","permalink":"https:\/\/artpublicmontreal.ca\/en\/oeuvre\/la-peur\/","year":"1993","loc":{"lat":"45.501361","long":"-73.555219"},"artist_names":"<span>Gilles<\/span> <strong>Mihalcean<\/strong>","thumb":"https:\/\/artpublicmontreal.ca\/wp-content\/uploads\/imported\/1779_4711-150x150.jpg","infoBox":false,"cat_color":"#e50f09","env":"outdoor","singleArtwork":true}]}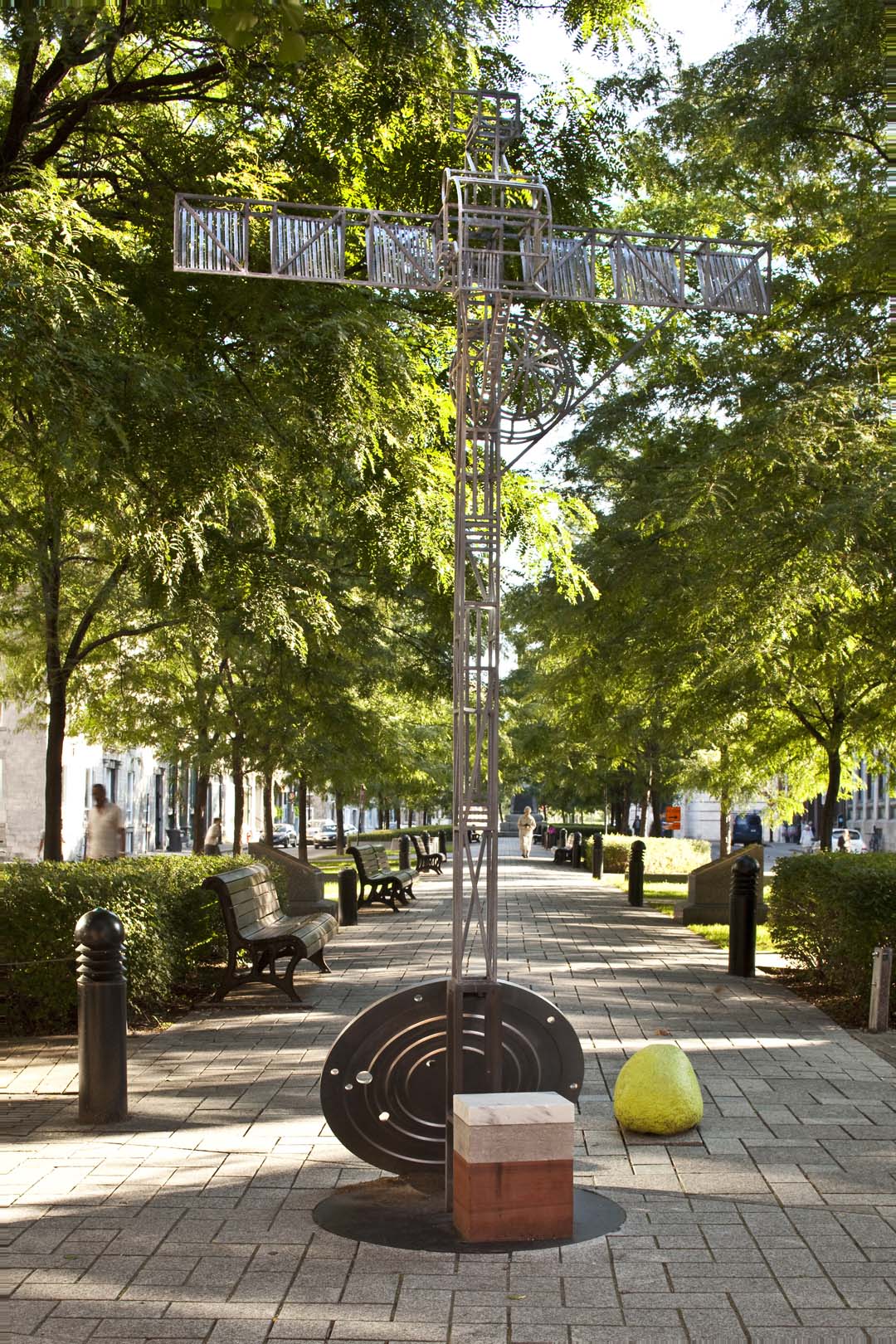 © Gilles Mihalcean, 2007 -
Crédit photo: Michel Dubreuil, 11 août 2010
La peur
1993
Gilles Mihalcean has been a self-taught sculptor since 1969. Though he spent a bit of time teaching at the Université Laval, he has devoted himself to his art since 1972.
As well as working on monumental pieces for public art projects and to integrate art to architecture, he also regularly presents his work in collective and special exhibitions. Since 1980, he has been one of the major names in the resurgence of sculpture. His work was showcased at the Musée d'art contemporain de Montréal (1988) for contemporary sculpture exhibits and at The Power Plant in Toronto (1988). As a solo artist, his art was showcased in Montreal galleries and art centers (René Blouin, Chantal Boulanger, Roger Bellemare and Circa) as well as Canadian ones (Southern Alberta Art Gallery) and in New York (49th Parallel, Centre for Contemporary Canadian Art). In 1995, the Musée d'art contemporain de Montréal dedicated a retrospective exhibit to him, and was recently on display at the Musée d'art de Joliette (2007).
Mihalcean's sculptural work is deeply lucid and leads us to more lurid and critical pieces. Time is a fundamental aspect of his art; may it be the time needed by the creator, the time token by the spectator when observing the piece and the time absorbed by history – visible in nearly all his art.
Mihalcean is known for his pieces filled with conceptual dichotomies which lead the observer to reflect. His pieces are often tripartite and the meaning that somebody could find in the close proximity between two elements is often shattered by the third. This principle is supported by the use of contrasting materials and many interrelationships. It also isn't rare that the artist invite spectators to touch his sculptures and feel them in order to better understand them.
Read more
Details
Acquisition mode
Purchase
Materials
aluminum, epoxy paint, galvanized steel, granite, limestone, marble, sandstone
Overall size
365 x 121 x 320 cm
Technique(s)
assembled, painted, welded
Location

Location
Location
Place D'Youville
Artwork description
Situated at the end of the walkway linking the Centre d'histoire de Montréal and the Pointe-à-Callière archaeology and history museum, in a square described by its architects as "a counterpoint of sidewalks and green space," La Peur brings together an assortment of highly symbolic elements. From a granite slab rises a cross formed of a complex assemblage of square steel rods. On the ground, an aluminum disk adorned with an index finger, made from a cast of the artist's finger, leans on the cross, and a layered block of sandstone, limestone, and marble is placed on the base. At a slight distance is a granite rock painted green.
Made from manufactured, processed, and raw materials, La Peur reflects the different stages in the development of civilization. The rock and the block made of strata of stone refer to the most ancient times. The cross, the essential symbol of Christianity, refers to the active participation of religion in Québec's development; from a geographic point of view, it echoes, on a human scale, the cross on Mount Royal. An unusual shape appended to it evokes a satellite placed in orbit in space. The finger, inserted into the disk transformed into a shield, is read as a metaphor for fear.
This unique assemblage, inspired by memories of childhood, was Mihalcean's first outdoor artwork. It engenders a form of semantic indeterminacy that appeals to the imagination. Like many of the artist's works, it is the viewer's interpretation that creates the true poem. In Mihalcean's view, it is "an attempt to create a scene by multiplying images that could be associated with it, so … that the sculpture is presented … as a sort of story in motion" (1998; our translation).